Spotlights
Similar Titles
Cardiology Physician Assistant, Certified Physician Assistant (PA-C), Emergency Medicine Physician Assistant (Emergency Medicine PA), Family Practice Physician Assistant, Orthopaedic Physician Assistant, Orthopedic Physician Assistant, Physician Assistant (PA), Physician's Assistant, Surgical Critical Care Physician Assistant (Surgical Critical Care PA), Surgical Physician Assistant (Surgical PA)
Job Description
Physician Assistants provide healthcare services typically performed by a physician, under the supervision of a physician. They conduct complete physicals, provide treatment, and counsel patients. 
Rewarding Aspects of Career
Helping people get better and be healthy
Good pay 
In high demand 
Good work / life balance 
2018 Employment
118,800
2028 Projected Employment
155,700
The Inside Scoop
Job Responsibilities
Take or review patients' medical histories
Examine patients
Order and interpret diagnostic tests, such as x rays or blood tests
Diagnose a patient's injury or illness
Give treatment, such as setting broken bones and immunizing patients
Educate and counsel patients and their families—for example, answering questions about how to care for a child with asthma
Prescribe medicine
Assess and record a patient's progress
Research the latest treatments to ensure the quality of patient care
Conduct or participate in outreach programs, talking to groups about managing diseases and promoting wellness
Physician assistants work on teams with physicians or surgeons and other healthcare workers. Their specific duties and the extent to which they must be supervised by physicians or surgeons differ from state to state.
In some areas, especially rural and medically underserved communities, physician assistants may be the primary care providers at clinics where a physician is present only 1 or 2 days per week. In these locations, physician assistants collaborate with the physician as needed and as required by law.
Click here to read a Day in the Life of a Neurohospitalist PA
Different specialties
Like physicians, physician assistants can specialize in medical specialties: 
Pathology
Dermatology
Emergency Medicine 
Critical Care Medicine
Surgical Subspecialties 
General Surgery 
Adolescent Medicine
Gynecology
Pediatrics
Obstectrics 
Anethesiology
Family Medicine 
Hospice / Palliative 
Preventative
Psychiatry
Urology
Pain Management
Internal Medicine
Occupational Medicine
Physical Medicine
Radiology
Skills Needed
Patient and care team communications: Communicate clearly and compassionately with patients and their colleagues within often stressful settings. 
Analytical skills
Interpersonal skills
Technical skills
Detail-oriented
Strong math and science background
Life-long learner 
Strong work ethic
Different places of employment
Offices of physicians
Hospitals
Outpatient care centers
Educational services; state, local, and private
Expectations and Sacrifices
Work on your feet for extended periods of the day
What kind of things did people in this career enjoy doing when they were younger…
Loved to help people
Liked talking with people from a wide range of backgrounds
Was interested in health and wellness topics 
Liked math and science classes
"I think what drives anyone in medicine is an interest in science and helping people.  In emergency medicine you are seeing people on one of the worst days of their lives and the ability to think quickly and act compassionately is key.  People in medicine tend to be curious people who like to ask questions and dig deeper into a problem, as medicine is all about fixing what we can." Cyndy Flores, Senior Director Advanced Providers, Vituity
Education Needed
Physician Assistants (PAs) need a master's in PA Studies, accredited by the

Accreditation Review Commission on Education for the Physician Assistant, Inc

.

Undergraduate degrees vary but must provide sufficient preparation for a rigorous PA program. Common undergrad majors include anatomy, biology, health sciences, chemistry, microbiology, and physiology. Many grad school applicants have to take prerequisites to qualify if they didn't take the right prep classes 

Common prereqs

are anatomy, general chemistry, physiology, microbiology, statistics, and general psychology

In addition, PA grad school applicants need real-world patient care experience. That's why it is not uncommon for PA students to have work backgrounds as Registered Nurses, EMTs, or Paramedics

Note, some applicants earn patient care experience through volunteerism

Master's programs involve in-class and lab instruction in pathology, human anatomy, physiology, clinical medicine, pharmacology, physical diagnosis, and medical ethics

Other training includes supervised clinical rotations in settings such as family medicine, internal medicine, emergency medicine, and pediatrics

All states require PAs to pass the National Commission on Certification of Physician Assistants'

Physician Assistant National Certifying Examination

(PANCE). Those who pass are "Physician Assistant - Certified" and can apply for licensure

The PANCE is tough but has a

high pass rate

for first-time test takers, ranging from 98% in 2018 to 93% in 2021)

Certified PAs must maintain currency through continuing education plus retaking their exam every decade

Licensure criteria also dictate that PAs need an agreement with a supervising physician

There are several additional certifications that PAs can earn, such as:
How to get patient care experience
What to do in HS and college
"Obviously, take science courses and study.  Volunteer!  Volunteer at hospitals, nursing homes, health fairs, homeless shelters or maybe medical missions.  Most of these do not require any medical knowledge, but they are places that need help and there is a place for everyone.  Another great idea is to join "pre-PA" groups to continue to learn about the profession and if you find the opportunity shadow a PA (or more) while they are working to get a better understanding of what the role is all about." Cyndy Flores, Senior Director Advanced Providers, Vituity
PA hopefuls need real-world patient care experience to get accepted into a graduate program. Many gain experience by working as an EMT, paramedic, registered nurse, or nursing assistant

Sufficient relevant volunteerism may be enough to qualify to admission into a PA graduate program, but check with the programs you're interested in

Relevant volunteer experiences might include working at hospitals, clinics, nursing homes, or governmental-sponsored sites (such as homeless shelters)

Take college prep classes in high school, including anatomy, physiology, biology, math, English, and communications. Study hard to earn good grades so you can get accepted into a suitable college program

Shadow or interview a working PA

Consider which major you want to pursue a bachelor's in. Make sure it covers the necessary prerequisites for entry into a master's program later

Join relevant student clubs and participate in professional organizations like the

American Academy of PAs

(see our list of

Resources > Websites

)

Read or watch interviews with PAs and learn about their various daily duties

Think about where you want to work. PAs are employed in doctor's offices, hospitals, outpatient care centers, for governmental agencies, and for educational services

Consider writing articles for publication on healthcare websites and in print journals! Writing credits always look great on a resume or CV! 

Learn about the specific licensure requirements for the state you plan to work in

Stay out of trouble so you can pass the background check (if applicable)!

Develop a personal workout schedule so you can stay in shape and help patients, when needed
Typical Roadmap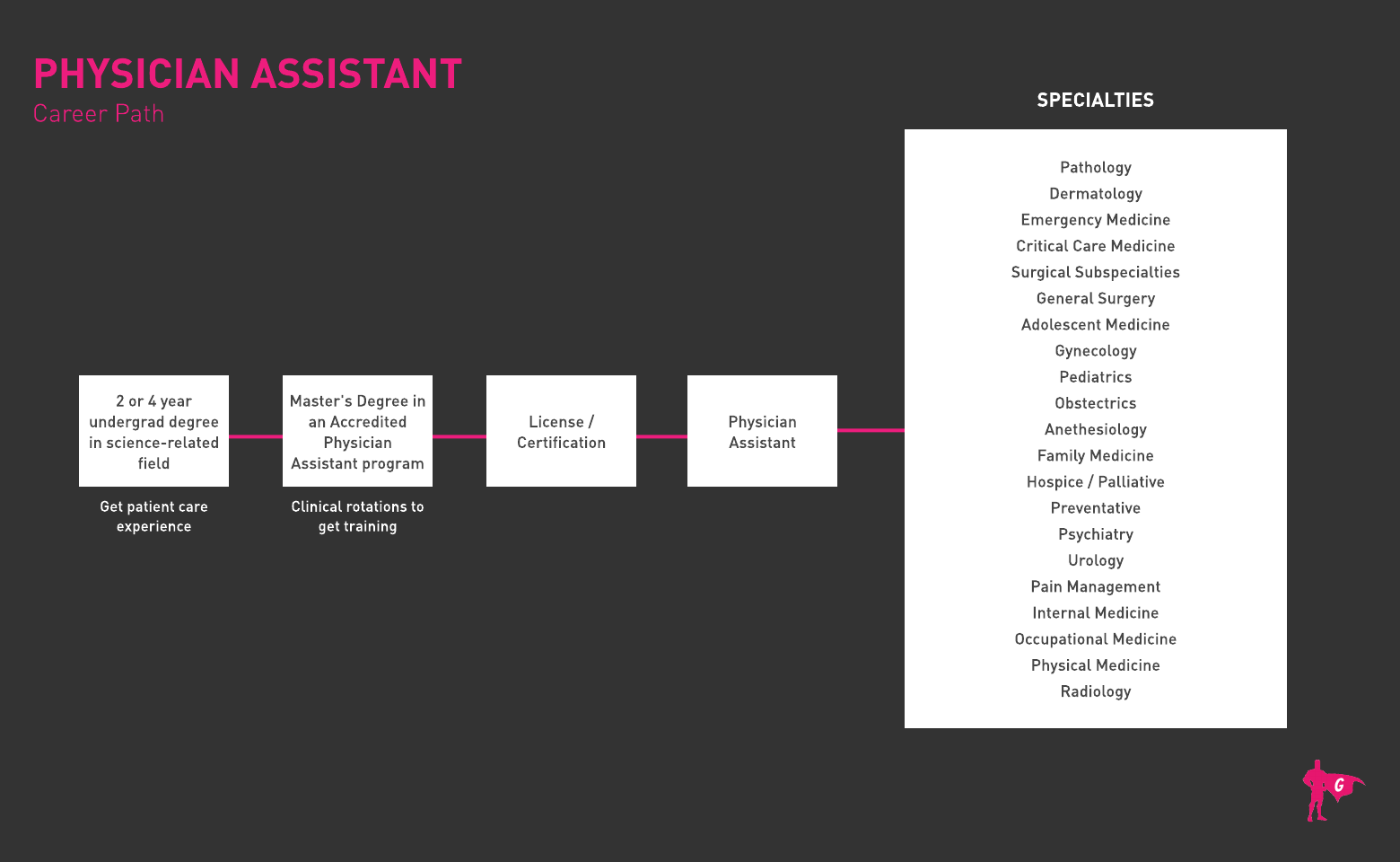 Landing the Job
"The great thing about PA work….is there are more jobs than PAs out there!  It is one of the fastest-growing healthcare jobs in the US, so finding a job isn't usually difficult.  Don't worry if it isn't your dream job, that will come.  I tell people though, get a job that feels right, you are looking for your work family and unlike your regular family you can choose your work family." Cyndy Flores, Senior Director Advanced Providers, Vituity
Build strong connections while doing clinical practice. Many times clinical rotations lead to permanent employment.

Look for jobs on

Indeed

,

Simply Hired

,

Glassdoor

, or other popular job portals

Create a professional

LinkedIn

account and list all of your experiences

Keep your social media professional, too. Potential employers may do a little online research about candidates

Knock out a specialization certificate to boost your credentials (see the

Education Needed

tab for a list of options) 

Note, per the Bureau of Labor Statistics, in the years to come PA services will be increasingly needed to help America's

aging population

as people live and stay active longer. Thus, geriatric-related specialities might be areas to study up on

Stay involved with professional organizations. Attend events, offer to be a guest speaker, and network with peers!

Go where the most PA jobs are! The states with the

highest concentration

of jobs for Physician Assistants are Connecticut, Maryland, New York, Alaska, and North Carolina. The highest employment levels are in California, New York, Texas, Pennsylvania, and Florida

Check out

Physician Assistant resume templates

for ideas on formatting and phrasing

Review sample

Physician Assistant interview questions 

Make sure to conduct a few practice

mock interviews

and remember to

dress for interview success

!
Newsfeed Featured Jobs Online Courses and Tools Annual Salary Expectations