Spotlights
Similar Titles
First Responder, EMT, EMT – Basic, EMT – Intermediate, Paramedic, Flight Paramedic
Job Description
EMTs respond to emergency calls, perform medical services and transport patients to medical facilities. 
Rewarding Aspects of Career
Helping people every day! 
Everyday is a different day. 
The rush! 
"Helping others! The best is when you actually see the thankful people later. Sometimes I'd bump into people I've cared for at the store or something. I had a lady hug me once and told me I was an angel because I picked her husband up several times when he was having withdrawals.  Getting cardiac arrest patients back feels awesome…Breaking down doors or windows to get to patients is always cool." Nidya Lopez, EMT
The Inside Scoop
Day in the Life
Note: Varies between stations. 
0600: Shift change. Receive outgoing report. Clean/Check equipment. Check supply and medicine inventory.
0600-0700: Clean station
0700-0800: Breakfast
0800-1200: Training/Personal time
1200-1300: Lunch
1300-1800: Training/Personal Time/Work out
1800-1900: Dinner
1900-0545: Personal time/Sleep
0545: Wake up tones 
Calls
The above schedule obviously does not include the average 10-20 calls per day that are split between the fire stations in the area. The time spent on a call can vary from 30 minutes to several hours or more and may involve one or two engines or every piece of available apparatus. This can have a significant impact on the schedule for the day and many times training or maintenance must be rescheduled to another day. 
Job Responsibilities
Responds to 911 calls for emergency medical assistance, such as cardiopulmonary resuscitation (CPR) or bandaging a wound.
Assesses a patient's condition and determines a course of treatment.
Follows guidelines that they learned in training and that they receive from physicians who oversee their work.
Uses backboards and restraints to keep patients still and safe in an ambulance for transport.
Help stransfer patients to the emergency department of a healthcare facility and reports their observations and treatment to the staff.
Creates a patient care report; documenting the medical care they gave the patient.
Replaces used supplies and check or clean equipment after use.
Skills Needed on the Job
Physical strength: Must be able to lift heavy objects.
Communication skills: Must be able to clearly articulate patient's condition to healthcare provider to which you are transferring patient.  
Stress management: Must be able to deal with stress and extreme environments. 
Empathy and compassion: Must be able to provide emotional support patients in an emergency. 
Problem-solving skills under stressful situations
Listening skills: Must listen well to the patients to determine the injury or illness. 
Documentation skills: accuracy and thorough recordings of situation, injury or illness. 
Types of Emergency Medical Service
1. 911 services: Integrated into fire departments and respond to emergencies.
2. Transfer services: Transfers patients between hospitals and other care facilities. 

Modes of transport: ambulance, rescue vehicle, helicopter, fixed-wing aircraft, motorcycle, or fire suppression apparatus (aka fire truck).
Expectations/Sacrifices Necessary
You are on the front line: You are pre-hospital care so you will see all types situations (trauma, gunshot victim, gruesome accidents...etc.). 
Dangerous and life-threatening.
Irregular and long hours when on call. 
What kinds of things did people in this career enjoy doing when they were younger…
Liked the outdoors.
Liked helping people in need. 
Attracted to adrenaline-filled activities. 
2016 Employment
248,000
2026 Projected Employment
285,400
Education Needed
At a minimum, Emergency Medical Technicians (EMTs) must complete a non-degree EMT program, which can be completed at either a community college or vocational training institute

These programs usually require prior completion of the American Heart Association's

Basic Life Support CPR course

Programs should be accredited by the

Commission on Accreditation of Allied Health Education Programs

. Hybrid programs feature online components

EMT training can run from only three months up to a year

The

National Registry of Emergency Medical Technicians

(NREMT) lists the following training levels: 

EMTs must pass the NREMT's national exam and obtain state licensure to work. Some states may have additional requirements, including passing a background check
What to do in HS and college
In high school, stock up on classes such as anatomy and physiology

Sign up for an EMT training program that works for your schedule. The more hands-on training you can get, the better, but plenty of the subject matter can be effectively learned remotely

Remember, you aren't just learning to pass tests but to help save lives in real-world situations 

Knock out your American Heart Association's

Basic Life Support CPR course

and make sure it is still valid when applying for jobs. Certification is good for two years, then a renewal class must be taken

EMT field internships may be a way for qualified students to gain experience 

Engage in routine physical exercise to build the strength and stamina needed for long shifts

EMTs treat a wide range of patients under stressful circumstances. Become familiar with other cultures so you can ensure good communications 

In particular, knowing Spanish can give you an advantage in many employment situations

Learn tips for

staying calm under pressure

and for

helping patients stay calm, too
Education Stats
17% with HSDiploma
20% with Associate's
12.7% with Bachelor's
1.6% with Master's
1.1% with Doctoral
Typical Roadmap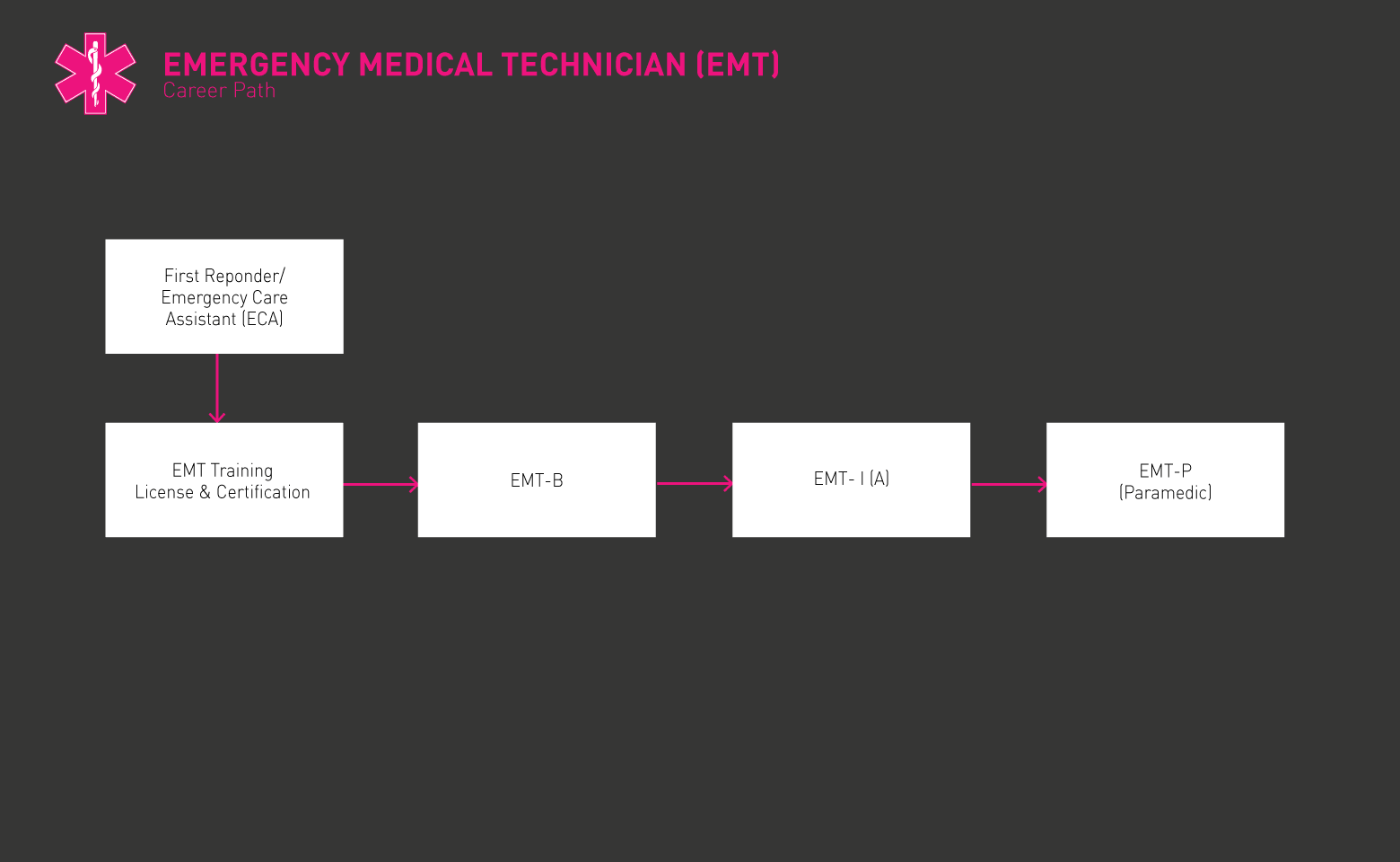 Landing the Job
If possible, apply for

Emergency Medical Technicians internships

while still a student! Most departments will have on the job type training b/c you are required 120+ hours of ride outs or precepting (instruction) for EMT-B's. It's a testing phase to see where you are in skills and patient care. Work hard and make relationships when you are training at these hospitals.

Work hard and learn as much as you can during your intern experience. Ask your direct supervisor if they can serve as a reference when you go to apply for jobs

Be proficient in using all

EMT-related

airway equipment, trauma supplies, medical devices, IVs, syringes, splints, disinfectants, and personal protective equipment 

Look for jobs and internships on

Indeed

,

Simply Hired

,

Glassdoor

, or other job portals 

Ask teachers for tips on job seeking! If your school has a career center, get help with your

EMT resume

and practice

mock interviewing

skills 

Review sample

EMT interview questions

to prepare ahead of time

Always

dress for interview success

!
How to stay competitive
Having additional certifications like ACLS, ITLS, PALSAMLS, PHTLS, PEEP, BTLS make your resume more appealing. Most of those are required for paramedics and are provided by the organization after hire. 
Plan B
Alternate careers: Registered Nurse (very common), Firefighter
Words of Advice
"Don't be afraid to ask questions. You will always work under a supervisor and they are there to assist you on those tough calls." Nidya Lopez, EMT
Newsfeed Featured Jobs Online Courses and Tools