Spotlights
Job Description
Technical writers develop, gather, and disseminate technical information among customers, designers, and manufacturers. They produce instruction manuals and other supporting documents to communicate complex and technical information more easily.
Rewarding Aspects of Career
In high demand: there are a lot of jobs out there and the demand is growing.
Exciting new field: Technology is constantly changing and growing. You get to be part of this exciting industry.
Pay is good right off the bat: A lot of writers when they first start off their career, they have to supplement their writing jobs with other jobs to support themselves. With technical writing, that is not the case.
The Inside Scoop
Job Responsibilities
Determines the needs of end users of technical documentation.
Studies product samples and talks with product designers and developers.
Works with technical staff to make products easier to use, and thus need fewer instructions.
Organizes and writes supporting documents for products.
Selects photographs, drawings, diagrams, and charts that increase users' understanding.
Gets usability feedback from customers, designers, and manufacturers.
Revises documents as new issues arise.
What kind of things do they create?
Operating instructions
How-to manuals
Assembly instructions
"Frequently asked questions" pages to help technical support staff, consumers, and other users within a company or an industry.
Product design changes: After a product is released, technical writers also may work with product liability specialists and customer service managers to improve the end-user experience through product design changes.
Applying their knowledge of the user of the product, technical writers may serve as part of a team conducting usability studies to help improve the design of a product that is in the prototype stage. Technical writers may conduct research on their topics through personal observation, library and Internet research, and discussions with technical specialists.
Skills Needed on the Job
Attention to detail
Initiative
Writing and communication skills: Often work with engineers, scientists, computer specialists, and software developers to manage the flow of information among project workgroups during development and testing. Therefore, technical writers must be able to understand complex information and communicate the information to people with diverse professional backgrounds.
Time management
Resourcefulness
Problem solving skills
Software skills: Microsoft Office Suite, Adobe FrameMaker, Adobe Creative Suite, Madcap Flare, Author-it, Camtasia Studio, Microsoft Visio, Lotus Notes and HTML coding.
Where do they work?
Computer systems design and related services firm
Architectural, engineering and related firm
Management, scientific, technical consulting service
Software publisher
Scientific research and development services
In small firms, beginning technical writers may work on projects right away.
In larger companies with more standard procedures, beginners may observe experienced technical writers and interact with specialists before being assigned projects.

You can also work for a:
Technical consulting firms: work on short-term or recurring assignments.
Freelance: get paid per assignment.
Expectations/Sacrifices Necessary
Technical writing jobs are usually concentrated in locations with information technology or scientific and technical research companies, such as San Francisco, Los Angeles, D.C., Boston, Austin, Toronto, Ottawa, Vancouver, New York City, Houston, San Diego, Seattle, Portland, Atlanta and Dallas.
Technical writers may be expected to work evenings and weekends to coordinate with those in other time zones or to meet deadlines.
Current Industry Trends
Increasingly, technical information is being delivered online, and technical writers are using the interactive technologies of the Web to blend text, graphics, multidimensional images, sound, and video.
Increased outsourcing to India, however, because there is still a lot of demand for technical writing and because the best technical writing requires collaborating with other team members, outsourcing hasn't hit too hard yet.
What kinds of things did people in this career enjoy doing when they were young...
Passion for technology and has digital literacy – basically you like computers and technology.
Loved to write!
Liked explaining things to people.
Web design
2016 Employment
52,400
2026 Projected Employment
58,100
Education Needed
Bachelor's degree required.

Suggested majors:  Science, engineering, English, history, philosophy.
A major in Technical Writing and Communication is not mandatory.

There are certificates or short-term courses that can be helpful.

A technical writing course/certification should teach the following skills: analyzing information/research, interviewing, documentation, basic computer/graphic design, presentation, testing, editing, publishing and revising.
List of technical writing and communication undergraduate programs
Click here for a list of programs.
Things to do in High School and College
Intern at a technology company as a research assistant.
Write a tech blog: shows your interest/passion in technology and your ability to communicate about technology.
Education Stats
5.2% with HS Diploma
7.3% with Associate's
47.4% with Bachelor's
19.9% with Master's
5.9% with Professional
(% of employees aged 25 to 44 in the occupation whose highest level of educational attainment is)
Typical Roadmap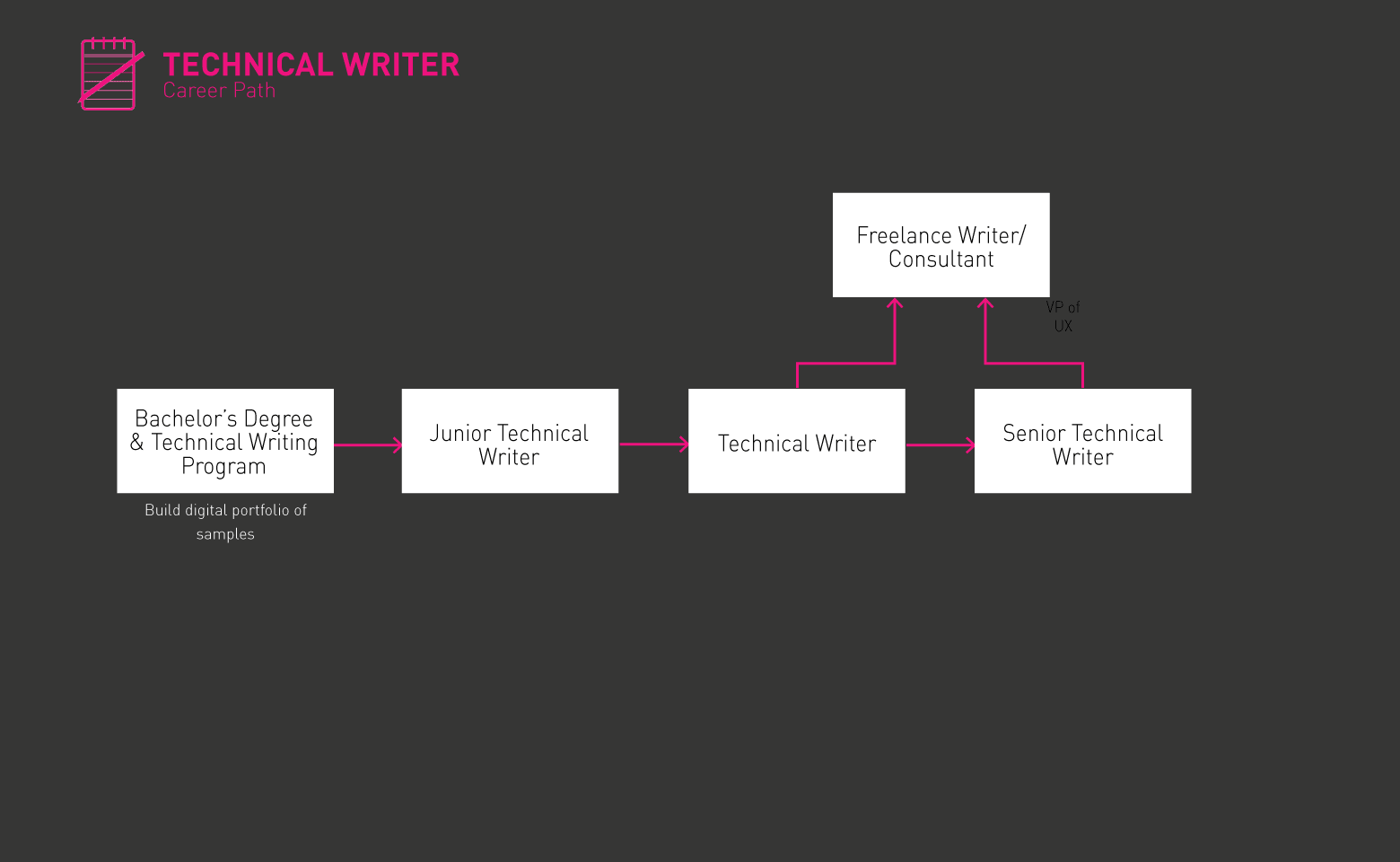 How to Land your 1st job
Join the local chapter of Society for Technical Communication (STC). Read the "Intercom" and "Technical Communication Journal" to get a background on what is currently being published in the technical writing field.
Put together a digital portfolio of your writing samples. Here's how to get samples:

Volunteer: Call or e-mail your local STC chapter and ask if they have volunteer projects available.
Learn new programs or skills and write an instructional manual or video tutorial for them. Offer it for free on a website or blog, so that your work has an audience.
Call local businesses and ask them if they need help creating an instructional manual or technical document. Have some writing samples ready on your website or blog.
Work on an open source project: Open Office, WordPress, LDS Tech are all open source projects that are available for free on the Internet.

On your digital portfolio, include any writing awards you have received in the past, technical education you have received (i.e. majored in Computer science, biomedical engineering…etc).
Some technical writers begin their careers not as writers, but as specialists or research assistants in a technical field.
Network at conferences, meetups, seminars, job fairs.
Apply for entry-level jobs on websites like Indeed.com.
How to stay competitive
Go to conferences like Doc Train West, STC Summit.
Be up to date with the latest and greatest technology: read books, attend webinars.
Recommended Tools/Resources
Plan B
Alternate Careers: Usability specialist, information architect, product manager.
Newsfeed Featured Jobs Online Courses and Tools