Spotlights
Similar Titles
Radiology Technician, Imaging Technician, X-Ray Technician, Radiographer, CT Technician, MRI Technician
Job Description
A radiologic technician performs imaging, such as X-rays, of the human body for diagnosis or treating medical problems.

A radiologic technologist is a radiology technician that specializes in one of more of the following modalities:  Computerized tomography (CT) scan, Magnetic resonance imaging (MRI), mammography, bone densitometry, and fluoroscopes (imaging of various soft tissues within the body). 
Rewarding Aspects of Career
Getting to help people!
Good pay
Job security
The Inside Scoop
Day in the Life
Prepares patients for exams, explains the x-ray procedure, preps patients properly for the x-ray, and positions patients so that the correct part of the body can be radiographed.
Takes the x-rays, develops them, and passes them along to a radiologist (a physician who interprets radiographs) for diagnosis.
Performs arthrograms - assisting the radiologist with injecting contrast or dye into joints for evaluation. Performs myelograms - assisting the radiologist with injecting contrast into the spinal canal.
Keeps patient records and adjust and maintains equipment. They also may prepare work schedules, evaluate equipment purchases or manage a radiology department.
Skills Needed on the Job
Communication skills
Patient handling: Must be able to calm the patient through the process. 
Physical strength: Work on your feet and must assist and lift patients who need help. 
Detail-oriented
Science and math skills
Compassion: passion for a patient's well-being. 
Ability to multi-task
Organizational skills
Flexible: It is not always the way it is as shown in the books. Must be able to modify each exam to fit the needs of different patient's limitations. 
Employment Types
Per diem: Work when they need you on a daily basis, no set hours, no set days.
Temp-to-perm: Temporary employee that could turn into a permanent position.
Full-time permanent: 40 hours per week at a hospital or facility. 
Works in hospitals, imaging clinics, medical laboratories and private practice.
Expectations/Sacrifices Necessary
Schedules constantly change at most facilities.
Work weekends and holidays.
Shift work: days, evenings and graveyard (overnight) shift.
Not much upward mobility without bachelors or masters degree.
Current Industry Trends
Current graduating students might have to get multiple per diem jobs and then one of them might become a full time position at one of the facilities. There are not a lot of full time positions for new graduates but there are many different options to get in the door, just not the traditional full-time positions.
What kinds of things did people in this career enjoy doing when they were younger….
"I was a very active child. I did not spend much time indoors. I rode bikes with neighborhood kids, played soccer, did Greek dancing, cheerleading, competitive swimming, basketball, softball, hiking, and camping. I'm not able to sit still for very long, so a desk job was not an option for me. I need to be on my feet and constantly moving around to keep myself stimulated and alert." Ashley, X-ray Technician
2016 Employment
241,700
2026 Projected Employment
272,000
Education Needed
Radiologic Technologists usually hold an associate's degree in their field. Some go on to become MRI Technologists

Academic programs should be accredited by the

Joint Review Committee on Education in Radiologic Technology

 

Most states require licensure or certification via a state exam or from a credentialing agency, such as the American Registry of Radiologic Technologists. ARRT offers

15 credential options

in:

Bone Densitometry 

Breast Sonography 

Cardiac Interventional Radiography  

Cardiovascular Interventional Radiography 

Computed Tomography  

Magnetic Resonance Imaging  

Mammography  

Nuclear Medicine Technology  

Quality Management 

Radiation Therapy  

Radiography 

Registered Radiologist Assistant  

Sonography 

Vascular Interventional Radiography  

Vascular Sonography 
What to do in HS and college
Take college prep classes in high school, including biology, chemistry, math, and physics

Associate degree courses include:

Basic Radiographic Procedures

Clinical Medical Radiologic Technology

Intermed Radiographic Procedures

Introduction to Radiography and Patient Care

Intro to Anatomy and Physiology

Principles Radiographic Imaging 

Radiation Biology and Protection

Radiographic Imaging Equipment

Radiographic Pathology

Make a good impression during internships, which might lead to future full-time work!

Ask a working Radiologic Technologist if you can do an informational interview with them

Review job ads to learn more about the qualifications local employers are looking for

Consider volunteering with local healthcare-related community organizations, to boost your resume
Additional Training
To become radiologic technologist: Need more certifications in the modalities you want to pursue.
To be a manager: Need a bachelor's degree.
Education Stats
9% with HS Diploma
45% with Associate's
19.4% with Bachelor's
2.2% with Master's
2.3% with Doctoral
Typical Roadmap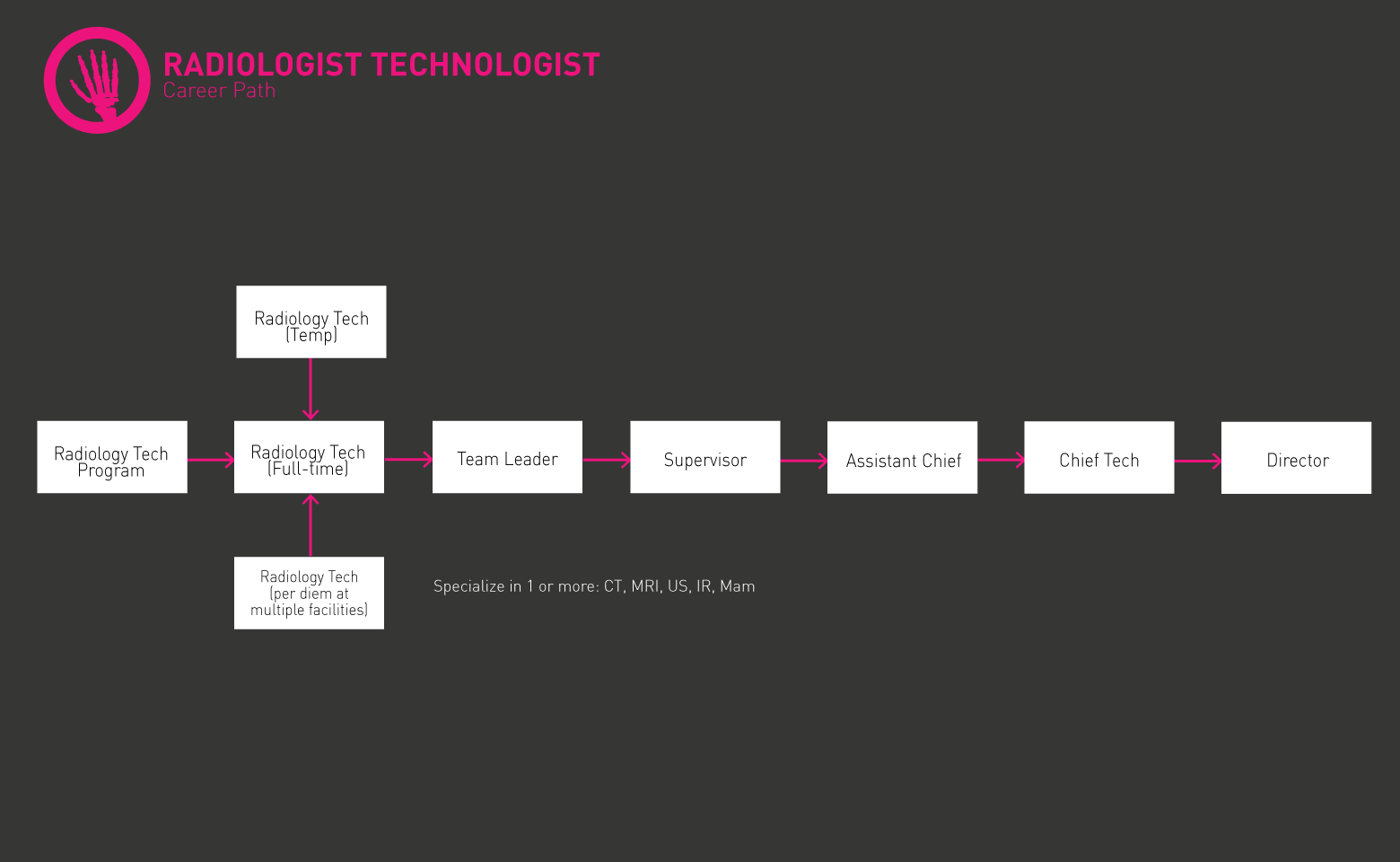 Landing the Job
Intern

!: While you are a student, you will have an opportunity to intern at multiple facilities. During your clinical rotations, you should make a good impression and make good relationships. Even if you do not get hired at the hospital you intern at, the hospitals communicate with each other and internships are good on your resume.

Volunteer

: A lot of the programs are not requiring applicants to do volunteer hours in order to get a feel for the hospital setting. Do as many volunteer hours as possible because you will have a good opportunity to network and show your professionalism, get a reference and eventually a job.

Be flexible

: Might start off as a per-diem employee or temporary employee, make a good impression and they might hire you as a full-time employee.

After completing your education, apply for state licensure or certification, as needed

Reach out to applicable organizations if you have any questions or need help

Considering getting multiple certifications so you can enhance your credentials

Build strong connections while doing internships. Keep an eye open for job opportunities

Look for jobs and internships on

Indeed

,

Simply Hired

,

Glassdoor

, or other popular job portals

Ask your professors and your school's alumni network for job-seeking tips 

Find out if your school offers job placement assistance or other valuable career services such as help with resume writing or interview practice 

If needed, relocate to where the

highest concentration

of Radiologic Technologist jobs are — West Virginia, South Dakota, North Dakota, Mississippi, and Kentucky. Note, the highest

employment levels

are in California, Texas, New York, Florida, and Pennsylvania

Check out

Radiologic Technologist resume templates

for ideas on formatting and phrasing

Study common

Radiologic Technologist interview questions

to help prepare your responses
How to stay competitive and stay in the game
More certifications/specializations you have, the more employable you are: CT (on the job training), MRI (on the job training), mammography (additional schooling), ultrasound (additional schooling, separate license)…etc.
Attend conferences.
Plan B
Alternate careers: Instructor or director in radiologic technology programs, Sales representatives or instructors with equipment manufacturers, Radiation therapists (more certification), Sonographers (more certification). 
Newsfeed Featured Jobs Online Courses and Tools