Spotlights
Job Description
Physical therapists help injured or ill people improve their movement and manage their pain.
Rewarding Aspects of Career
Help people recover from injuries
See progress through treatment
Working with both body and mind
Connecting with people daily
Good salary
2018 Employment
247,700
2028 Projected Employment
301,900
The Inside Scoop
Job Responsibilities
They help injured or ill people improve their movement and manage their pain. These therapists are often an important part of rehabilitation, treatment, and prevention of patients with chronic conditions, illnesses, or injuries.
Physical therapists typically do the following:
Review patients' medical history and any referrals or notes from doctors, surgeons, or other healthcare workers
Diagnose patients' functions and movements by observing them stand or walk and by listening to their concerns, among other methods
Develop individualized plans of care for patients, outlining the patients' goals and the expected outcomes of the plans
Use exercises, stretching maneuvers, hands-on therapy, and equipment to ease patients' pain, help them increase their mobility, prevent further pain or injury, and facilitate health and wellness
Evaluate and record a patient's progress, modifying a plan of care and trying new treatments as needed
Educate patients and their families about what to expect from the recovery process and how best to cope with challenges throughout the process
Physical therapists provide care to people of all ages who have functional problems resulting from back and neck injuries; sprains, strains, and fractures; arthritis; amputations; neurological disorders, such as stroke or cerebral palsy; injuries related to work and sports; and other conditions.
The work of physical therapists varies by type of patient. For example, a patient working to recover mobility lost after a stroke needs different care from a patient who is recovering from a sports injury. Some physical therapists specialize in one type of care, such as orthopedics or geriatrics. Many physical therapists also help patients to maintain or improve mobility by developing fitness and wellness programs that encourage healthier and more active lifestyles.
Physical therapists work as part of a healthcare team, overseeing the work of physical therapist assistants and aides and consulting with physicians and surgeons and other specialists.
Day in the Life
Click here for a physical therapist's day in the life.
Skills Needed
Compassion
Detail oriented
Dexterity - use hands to provide manual therapy and therapeutic exercise
Interpersonal skills
Physical stamina
Different Types of Organizations
Offices of physical, occupational and speech therapists, and audiologists
Hospitals
Home healthcare services    
Nursing and residential care facilities
Self-employed workers
Expectations
On feet often to set up equipment and help treat patients
Must lift and move patients 
May work weekends and nights
Current Trends
Demand for physical therapy will come in part from the large number of aging baby boomers, who are staying more active later in life than their counterparts of previous generations. Older people are more likely to experience heart attacks, strokes, and mobility-related injuries that require physical therapy for rehabilitation.
In addition, a number of chronic conditions, such as diabetes and obesity, have become more prevalent in recent years. More physical therapists will be needed to help these patients maintain their mobility and manage the effects of chronic conditions.
Advances in medical technology have increased the use of outpatient surgery to treat a variety of injuries and illnesses. Medical and technological developments also are expected to permit a greater percentage of trauma victims and newborns with birth defects to survive, creating additional demand for rehabilitative care. Physical therapists will continue to play an important role in helping these patients recover more quickly from surgery.
What kind of things did people in this career enjoy doing when they were younger…
Enjoy helping people
Into science and biology
Played sports and was active
Education and Training Needed
Education 

Bachelor's Degree with prerequisites, such as classes in anatomy, physiology, biology, chemistry, and physics.
3 year Doctor of Physical Therapy (DPT) degree. Most DPT programs require applicants to apply through the Physical Therapist Centralized Application Service (PTCAS).

200 programs for physical therapists accredited by the Commission on Accreditation in Physical Therapy Education (CAPTE). 
Some programs admit college freshmen into 6- or 7-year programs that allow students to graduate with both a bachelor's degree and a DPT. Click here.

Training 

30 weeks of clinical work, during which they gain supervised experience in areas such as acute care and orthopedic care.

~ 1 year clinical residency program 
Fellowship - if you want to specialize in an advanced clinical area 

The American Board of Physical Therapy Residency and Fellowship Education has directories of physical therapist residency and fellowship programs.
Specialities include: Cardiovascular and Pulmonary, Clinical Electrophysiology, Geriatrics, Neurology, Orthopaedics, Pediatrics, Sports Physical Therapy, Women's Health

Licenses, Certifications, and Registrations

All states require to be licensed. 
Licensing requirements vary by state but all include passing the National Physical Therapy Examination administered by the Federation of State Boards of Physical Therapy. Several states also require a law exam and a criminal background check. Continuing education is typically required for physical therapists to keep their license. Check with your state boards for specific licensing requirements.

Board Certified Specialist 

The American Board of Physical Therapy Specialties offers certification in nine clinical specialty areas of physical therapy, including orthopedics, sports, and geriatrics.
Requires passing an exam and at least 2,000 hours of clinical work in the specialty area within the last ten years or completion of an American Physical Therapy Association (APTA)-accredited residency program in the specialty area.
Things to do in high school
Shadow or intern with a physical therapist
Volunteer or work as a health care provider.
Take challenging science courses. 
Earn good grades and SAT scores. 
Apply to colleges with strong science programs. 
Explore freshman entry programs (only if you are absolutely sure you want to be a PT)
Typical Roadmap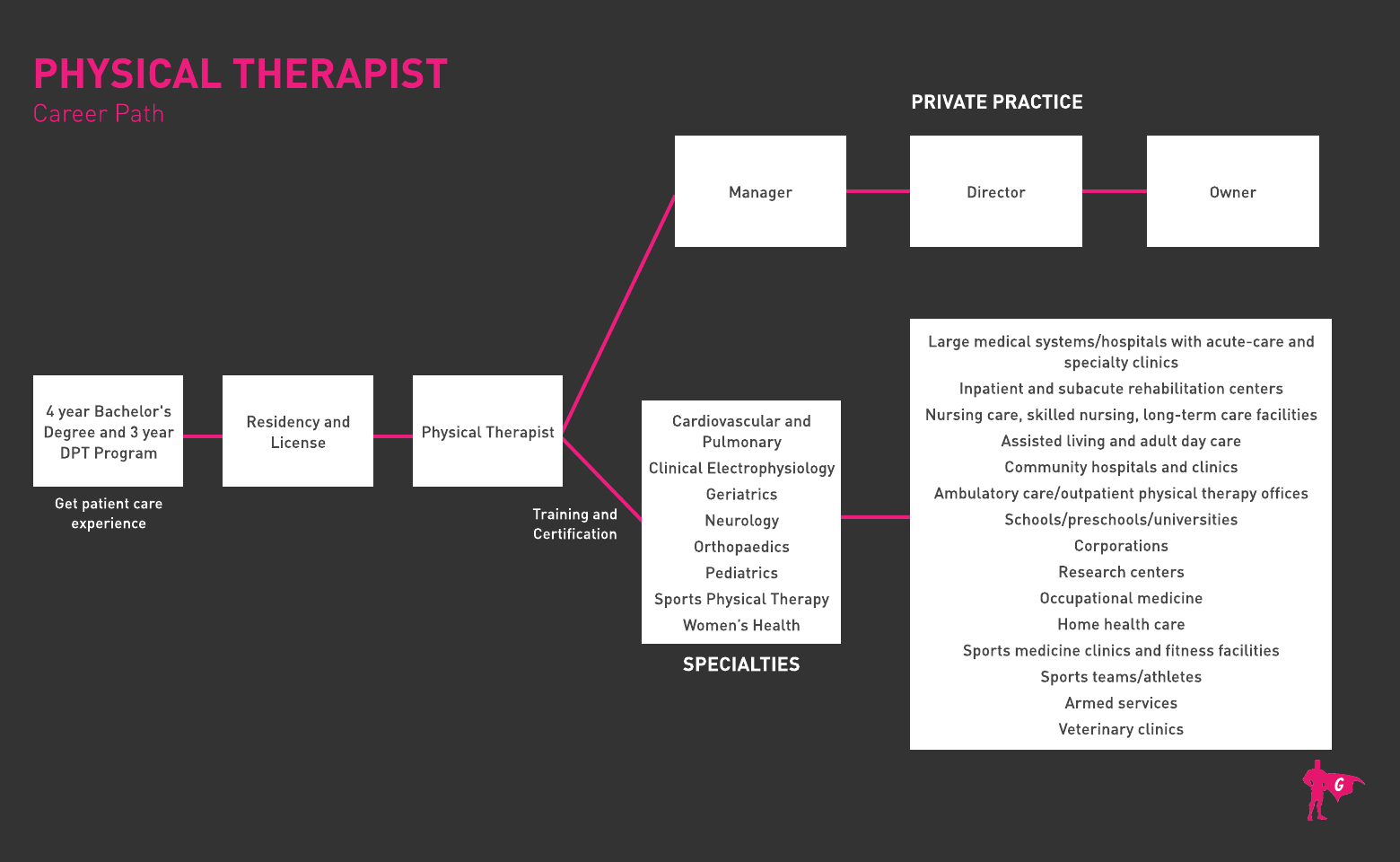 How to land your 1st job
After education and training, apply for jobs in the work environment and specialist you are interested in. 
Advanced Roles
Manager
A leader with an entrepreneurial spirit, and years of experience treating patients.
Responsibilities include:  Supervise, train, and hire staff; oversee day-to-day operations; clinical activities, communication, budgeting, and resource allocation; and ensure clinic compliance. 
Director
Responsibilities include HR, operational, and financial duties. 
Owner
Be your own boss and run your own private practice. 
Professor at DPT Program
 
Recommended Resources
For more information about physical therapists, visit American Physical Therapy Association
For more information about accredited physical therapy programs, visit Commission on Accreditation in Physical Therapy Education
For more information about state licensing requirements and about the National Physical Therapy Exam, visit Federation of State Boards of Physical Therapy
For more information about certification, visit American Board of Physical Therapy Specialties
For more information about residency and fellowship opportunities, visit American Board of Physical Therapy Residency and Fellowship Education
For more information about how to apply to DPT programs, visit Physical Therapist Centralized Application Service (PTCAS)
Newsfeed Featured Jobs Online Courses and Tools