Spotlights
Similar Titles
Acute Care PT (Acute Care Physical Therapist), Doctor of Physical Therapy (DPT), Home Care Physical Therapist (Home Care PT), Inpatient Physical Therapist (Inpatient PT), Outpatient Physical Therapist (Outpatient PT), Pediatric Physical Therapist (Pediatric PT), Registered Physical Therapist (RPT), Therapist
Job Description
Physical therapists help injured or ill people improve their movement and manage their pain.
Rewarding Aspects of Career
Help people recover from injuries
See progress through treatment
Working with both body and mind
Connecting with people daily
Good salary
"Continued learning of my field of interest (human anatomy and function), and in depth connection with individuals needing help to regain function of their bodies" Tommy Wong, Physical Therapist and Naval Officer, US Navy
2018 Employment
247,700
2028 Projected Employment
301,900
The Inside Scoop
Job Responsibilities
They help injured or ill people improve their movement and manage their pain. These therapists are often an important part of rehabilitation, treatment, and prevention of patients with chronic conditions, illnesses, or injuries.
Physical therapists typically do the following:
Review patients' medical history and any referrals or notes from doctors, surgeons, or other healthcare workers
Diagnose patients' functions and movements by observing them stand or walk and by listening to their concerns, among other methods
Develop individualized plans of care for patients, outlining the patients' goals and the expected outcomes of the plans
Use exercises, stretching maneuvers, hands-on therapy, and equipment to ease patients' pain, help them increase their mobility, prevent further pain or injury, and facilitate health and wellness
Evaluate and record a patient's progress, modifying a plan of care and trying new treatments as needed
Educate patients and their families about what to expect from the recovery process and how best to cope with challenges throughout the process
Physical therapists provide care to people of all ages who have functional problems resulting from back and neck injuries; sprains, strains, and fractures; arthritis; amputations; neurological disorders, such as stroke or cerebral palsy; injuries related to work and sports; and other conditions.
The work of physical therapists varies by type of patient. For example, a patient working to recover mobility lost after a stroke needs different care from a patient who is recovering from a sports injury. Some physical therapists specialize in one type of care, such as orthopedics or geriatrics. Many physical therapists also help patients to maintain or improve mobility by developing fitness and wellness programs that encourage healthier and more active lifestyles.
Physical therapists work as part of a healthcare team, overseeing the work of physical therapist assistants and aides and consulting with physicians and surgeons and other specialists.
"I see patients everyday for their injuries and pain. I take anywhere from 30-90 minutes with each person, and sometimes I am juggling multiple people simultaneously. I coordinate with colleagues so everyone is taken care of, and I take care of other non-clinical tasks that involve smooth operation of the clinic, such as reviewing the performance of other staff and attending trainings." Tommy Wong, Physical Therapist and Naval Officer, US Navy
Day in the Life
Click here for a physical therapist's day in the life.
Skills Needed
Compassion
Detail oriented
Dexterity - use hands to provide manual therapy and therapeutic exercise
Interpersonal skills
Physical stamina
Different Types of Organizations
Offices of physical, occupational and speech therapists, and audiologists
Hospitals
Home healthcare services    
Nursing and residential care facilities
Self-employed workers
Expectations
On feet often to set up equipment and help treat patients
Must lift and move patients 
May work weekends and nights
Current Trends
Demand for physical therapy will come in part from the large number of aging baby boomers, who are staying more active later in life than their counterparts of previous generations. Older people are more likely to experience heart attacks, strokes, and mobility-related injuries that require physical therapy for rehabilitation.
In addition, a number of chronic conditions, such as diabetes and obesity, have become more prevalent in recent years. More physical therapists will be needed to help these patients maintain their mobility and manage the effects of chronic conditions.
Advances in medical technology have increased the use of outpatient surgery to treat a variety of injuries and illnesses. Medical and technological developments also are expected to permit a greater percentage of trauma victims and newborns with birth defects to survive, creating additional demand for rehabilitative care. Physical therapists will continue to play an important role in helping these patients recover more quickly from surgery.
What kind of things did people in this career enjoy doing when they were younger…
Enjoy helping people
Into science and biology
Played sports and was active
Education Needed
Physical Therapists are doctors who hold a Doctor of Physical Therapy (DPT) degree

Some PTs start out as assistants with an Associate of Applied Science in Physical Therapist Assistant

Most DPT students complete a bachelor's such as a Bachelor of Health Sciences or Bachelor of Exercise and Sports Science, followed by a Master's in Occupational Therapy, Master's in Therapeutic Recreation, or Master's in Rehabilitation Science

Common bachelor-level courses include anatomy, physiology, biology, chemistry, and physics Advanced courses may include biomechanics, neuroscience, and pharmacology

DPT program applicants apply through the

Physical Therapist Centralized Application Service

. It can take up to 5 weeks for applications to be reviewed

Some programs feature a BS/DPT "bridge" option which can save a year or more!

DPT graduates complete a supervised residency of one year. They have the option to specialize through fellowships

The

American Board of Physical Therapy Residency and Fellowship Education

lists applicable residency and fellowship programs

Accredited

residencies

include:

Acute Care

Cardiovascular & Pulmonary

Clinical Electrophysiology

Faculty residency (nonclinical)

Geriatrics

Neurology

Oncology

Orthopaedics

Pediatrics

Sports

Women's Health

Wound Management

Accredited

fellowships

include:

Critical Care

Hand Therapy

Higher Education Leadership (nonclinical)

Movement System

Neonatology

Orthopaedic Manual Physical Therapy

Performing Arts

Spine

Sports

Upper Extremity Athlete

The

American Board of Physical Therapy Specialties

offers certification in: Cardiovascular & Pulmonary, Clinical Electrophysiology, Geriatrics, Neurology, Oncology, Orthopedics, Pediatrics, Sports, Women's Health, Wound Management

Other organizations which offer certifications include:

All states require Physical Therapists to be licensed, which involves passing the

National Physical Therapy Examination

and, in many cases, a background check

To maintain licensure, PTs must complete continuing education to stay up-to-date
What to do in HS and college
Take college prep classes in high school, including biology, chemistry, math, English, and communications. Study hard to earn good grades so you can get accepted into a suitable college program

Shadow or interview a working PT

Volunteer or intern in healthcare settings where you can learn about patient care

Consider BS/DPT bridge programs if you are sure you want to be a PT!

Read or watch interviews with PTs and learn about the various areas of specialization

Learn about the specific licensure requirements for the state you plan to work in

Stay out of trouble so you can pass the background check!
Things to look for in a program
"Passing rate of licensing board, curriculum solely directed at PTs or mixed with other programs (MDs, dentists, etc), quality of internship programs...:" Tommy Wong, Physical Therapist and Naval Officer, US Navy
Typical Roadmap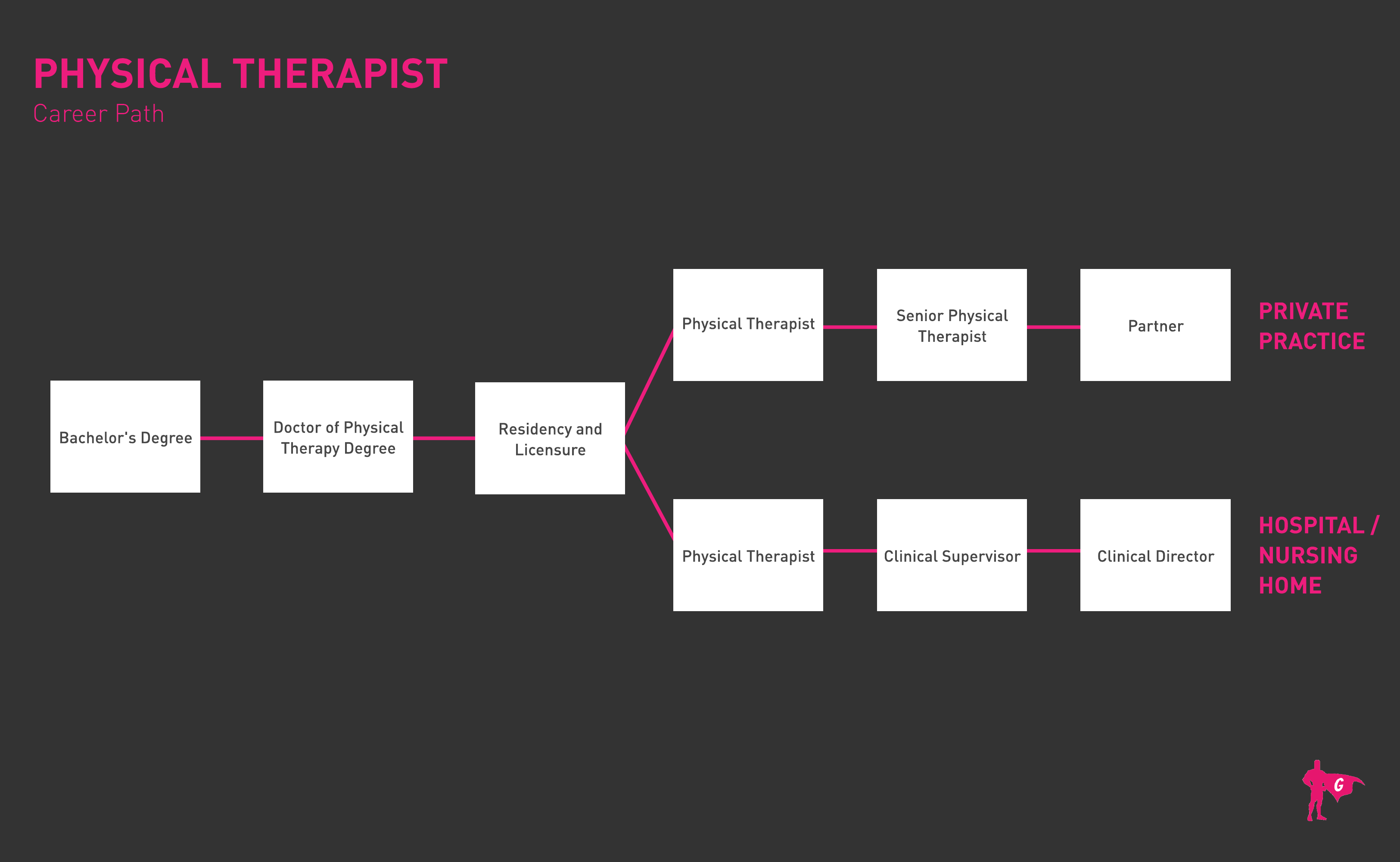 Landing the Job
Build strong connections while doing clinical residencies or fellowships. Keep an eye open for future job opportunities!

Look for jobs on

Indeed

,

Simply Hired

,

Glassdoor

, or other popular job portals

Create a professional

LinkedIn

account and list all of your experiences

Consider earning a certification in an underserved area of specialization

Go where the most PT jobs are! The states with the

highest concentration

of jobs for Physical Therapists are Maine, Montana, Alaska, Vermont, and Wyoming. The highest employment levels are in California, New York, Texas, Florida, and Pennsylvania

Check out

Physical Therapists resume templates

for ideas on formatting and phrasing

Review sample

Physical Therapists interview questions 

Make sure to conduct a few practice

mock interviews

and remember to

dress for interview success

!
Advanced Roles
Manager
A leader with an entrepreneurial spirit, and years of experience treating patients.
Responsibilities include:  Supervise, train, and hire staff; oversee day-to-day operations; clinical activities, communication, budgeting, and resource allocation; and ensure clinic compliance. 
Director
Responsibilities include HR, operational, and financial duties. 
Owner
Be your own boss and run your own private practice. 
Professor at DPT Program
 
How to Climb the Ladder
"PT is a new and growing field, and the science is always improving and changing. PTs have failed for not staying innovative. The information is out there, and if one is truly passionate about the field, then success will come from the pursuit of learning more." Tommy Wong, Physical Therapist and Naval Officer, US Navy
Newsfeed Featured Jobs Online Courses and Tools