Spotlights
Job Description
Human resources specialists recruit, screen, interview, and place workers in a company or organization. They also may handle human resources work in a variety of other areas, such as employee relations, payroll and benefits, and training.
Rewarding Aspects of Career
"You get to help people find jobs that they might not have found otherwise without you. They usually have been out of the job search process for a long time and they don't know the market. They want to make a move or are looking for a job and you get to make it happen for them." Ryan Woo, Recruiter, DeNA Agency
The Inside Scoop
Job Responsibilities
Consult with employers to identify employment needs
Interview applicants about their experience, education, and skills
Contact references and perform background checks on job applicants
Inform applicants about job details, such as duties, benefits, and working conditions
Hire or refer qualified candidates for employers
Conduct or help with new employee orientation
Keep employment records and process paperwork
Human resources specialists are often trained in all human resources disciplines and perform tasks throughout all areas of the department. In addition to recruiting and placing workers, human resources specialists help guide employees through all human resources procedures and answer questions about policies. They sometimes administer benefits, process payroll, and handle any associated questions or problems, although many specialists may focus more on strategic planning and hiring instead of administrative duties. They also ensure that all human resources functions comply with federal, state, and local regulations.
Skills Needed on the Job
Soft Skills
Reading Comprehension 
Critical Thinking
Writing
Interpersonal skills
Decision-making
Detail-oriented
Listening skills: will be interviewing job applicants so must pay careful attention to the candidates' response.
Speaking skills: must be able to clearly convey information.
Technical Skills 
Business intelligence and data analysis software — IBM Cognos Impromptu Hot technology ; MicroStrategy Hot technology ; Oracle Business Intelligence Enterprise Edition Hot technology ; Qlik Tech QlikView Hot technologySee more occupations related to this technology.
Data base user interface and query software — Airtable; Blackboard software; LinkedIn Hot technology ; Oracle software Hot technologySee more occupations related to this technology.
Enterprise resource planning ERP software Hot technology — Microsoft Dynamics GP Hot technology ; NetSuite ERP Hot technology ; Oracle Hyperion Hot technology ; Oracle JD Edwards EnterpriseOne Hot technologySee more occupations related to this technology.
Graphics or photo imaging software — Adobe Systems Adobe Creative Cloud Hot technology ; Adobe Systems Adobe Illustrator Hot technology ; Adobe Systems Adobe Photoshop Hot technology ; SmugMug Flickr Hot technologySee more occupations related to this technology.
Human resources software — ADP Workforce Now Hot technology ; Kronos Workforce HR; Lawson Human Resource Management Suite; Oracle Taleo
Different types of HR specialists
Employment interviewers work in an employment office and interview potential applicants for job openings. They then refer suitable candidates to employers for consideration.  
Recruitment specialists, sometimes known as personnel recruiters, find, screen, and interview applicants for job openings in an organization. They search for job applicants by posting job listings, attending job fairs, and visiting college campuses. They also may test applicants, contact references, and extend job offers.
Placement specialists match employers with qualified jobseekers. They search for candidates who have the skills, education, and work experience needed for jobs, and they try to place those candidates with employers. They also may help set up interviews.
Human resources generalists handle all aspects of human resources work. They may have duties in all areas of human resources including recruitment, employee relations, payroll and benefits, training, and administration of human resources policies, procedures, and programs.
Labor relations specialists interpret and administer a labor contract, regarding issues such as wages and salaries, employee welfare, healthcare, pensions, and union and management practices. They also handle grievance procedures, which are a formal process through which employees can make complaints.
Where do they work?
Staffing Agency: Works for an agency which recruits for many employers (companies).
In-house: Works in the human resources department of one company and recruits new employees for the company (usually a large company).
Expectations/Sacrifices Necessary
Might be some pressure to deliver if you work for an agency. There might be a quota which is a minimum amount of placements you have to make every month. If you work in-house, you won't have that pressure.
Research the agency: There are a lot of new, fly-by-night companies so research the company and see if they have reputable clients and won't shut down anytime soon.
Travel: For some companies you might have to travel to attend job fairs and visit college campuses.
Current Industry Trends
The internet (LinkedIn, Monster) has changed the game for recruitment and placement specialists. You must be able to add much more value to your client or to your company than what the internet can do.
What kinds of things did people in this career enjoy doing when they were young...
"This varies from person to person, but speaking for me, I really enjoyed building things (model cars, Lego cities and homes, etc.). I also enjoyed playing video games with friends."  Javay Walton, Senior Manager, Diversity Equity & Inclusion and Corporate Recruiting, Vituity
2016 Employment
547,800
2026 Projected Employment
586,700
Education Needed
Bachelor's degree recommended in a related field.

"A degree in Business Administration is key for understanding the operational component of how businesses perform both financially and strategically."  Javay Walton, Senior Manager, Diversity Equity & Inclusion and Corporate Recruiting, Vituity
Things to do in High School and College
Talk to people who you don't know. Get out of your comfort zone.
Work in retail as a salesperson.  Do anything that allows you to meet new people on a regular basis and sell things.
Volunteer at your school for a telethon or an event where you have to call alumni for donations.
"Begin your search for college early and the major you want to study. Time management skills are underestimated during the high school and college years but are essential in any industry. Be on time – for classes, with projects, with preparing for tests/exams. Take advantage of advanced classes in high school or student life organizations in college. Seek out internship opportunities – a misconception is that your professional experience starts after college. No, it starts now!" Javay Walton, Senior Manager, Diversity Equity & Inclusion and Corporate Recruiting, Vituity
Education Stats
13.1% with HS Diploma
9.2% with Associate's
37.9% with Bachelor's
13.2% with Master's
1.9% with Professional
Typical Roadmap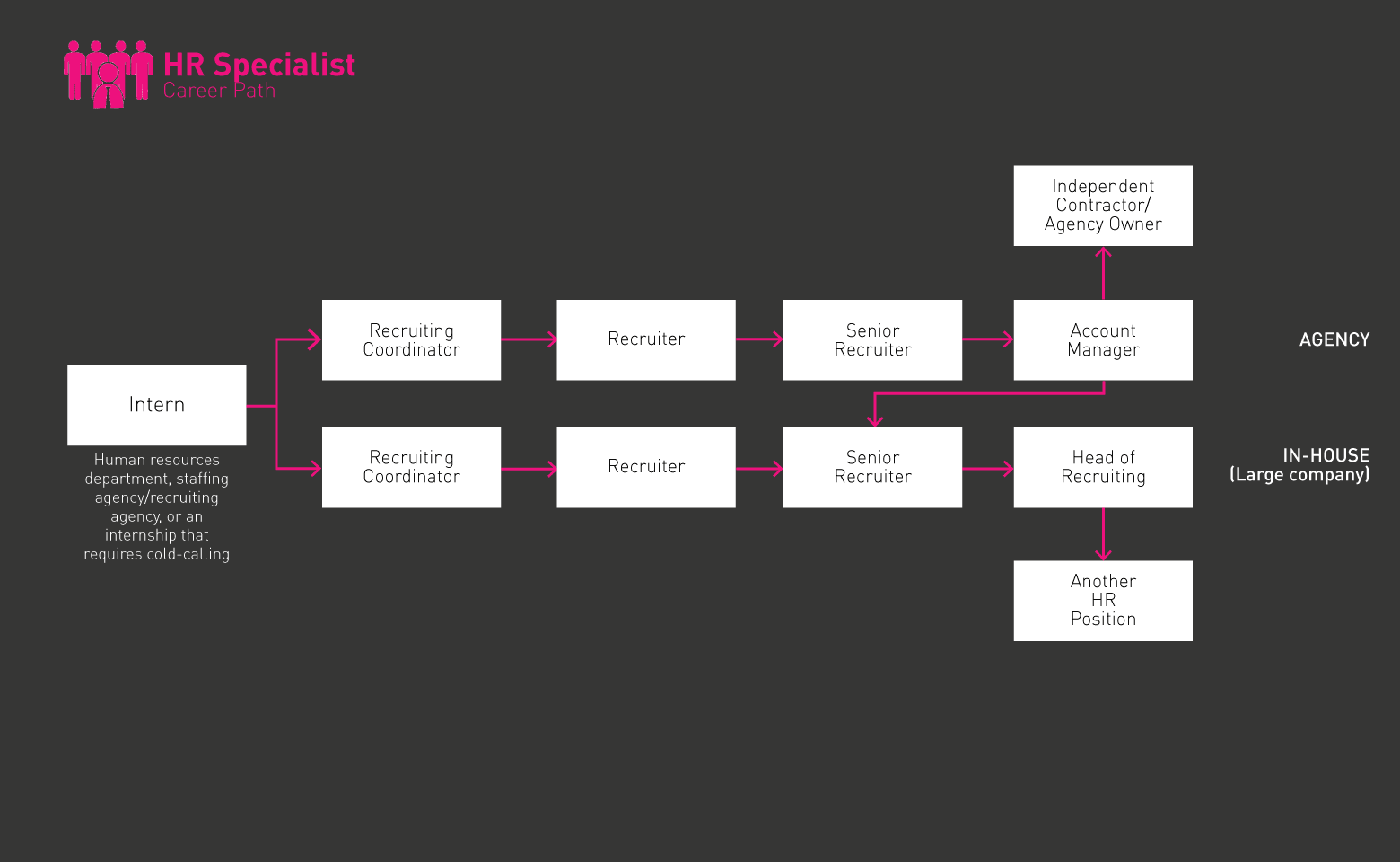 How to Land your 1st job
Intern in human resources or at a company that requires cold-calling.
Apply to both staffing/employment agencies and in-house human resources department at companies. You will mostly like be applying for a "Recruiting Coordinator" entry-level job.
Be persistent, professional and tactful at the same time. The process of you getting your first job is like being a recruiter except you are placing yourself in that company.
Write a great resume and cover letter.
Description of the different positions
Recruiters interface with the talent (employees).  
Account Managers interface with the companies and place the employees in these companies. Their responsibility is also business development which is finding new accounts (companies) to hire their agency for staffing needs.
Qualities of those who climb the ladder
Outgoing
Very proactive
Go-getter
Words of Advice
"Each agency has a different industry focus. Make sure it's an industry you care about. My agency focuses on placing talent in the gaming industry. I have always loved playing games. If you are working for an industry you are passionate about, you will enjoy it and perform better at your job." Ryan Woo, Recruiter, DeNA Agency
"Be Hungry - take advantage of building professional networks and opportunities. Be Humble - remember it is a small world and you never know who knows who and might be able to provide you with a job opportunity in the future, so always be respectful. Be the hardest working person in the room – you may have to make sacrifices (personal and professional) along the way, but never compromise your self-dignity or self-worth!" Javay Walton, Senior Manager, Diversity Equity & Inclusion and Corporate Recruiting, Vituity
Newsfeed Featured Jobs Online Courses and Tools