Spotlights
Similar Titles
Plant Operator, Process Operator (Process Op), Relief Operator, SCADA Operator (Supervisory Control and Data Acquisition Operator), Waste Water Treatment Plant Operator (WWTP Operator), Wastewater Operator (WW Operator), Water Control Dispatcher, Water Plant Operator, Water System Operator (WSO), Water Treatment Operator, Water Treatment Plant Operator
Job Description
Water System Operators (WSO) maintain water treatment facilities and perform crucial work in society. The inflow of wastewater and output of clean drinking water is handled by WSO and without them, the basic operations of a town or city would stop. They maintain equipment, manage plants and facilities, and use chemicals to treat water, among other tasks. Work is performed indoors and outdoors, and can require moderate to heavy physical activity.
Rewarding Aspects of Career
Ability to learn many different plant operations

Help the environment

Job stability

Job openings in most geographic locations in the U.S.

Provide crucial services to society

Work in governmental positions that provide good benefits
The Inside Scoop
Job Responsibilities
WSO has a very wide array of duties depending on the type of facility they work at and the size of the area the facility or plant serves. Smaller plants may rely on one operator to run the entire facility, while larger ones have specialized departments or individuals controlling a narrow or specific portion of the water treatment process. 
Water Treatment Plant and System Operators take fresh water and treat it to make it safe for consumption, while Wastewater Treatment Plant and System Operators take wastewater and treat it so that it is safe to return to the environment. 
Typical Duties
Clean and maintain the plant or facility

Collect and test water and wastewater samples

Document and record data 

Ensure safety standards are met

Follow Environmental Protection Agency rules and procedures

Follow local, state and Federal guidelines for the water treatment process

Monitor the plant for safety concerns

Operate and adjust controls on equipment to purify and clarify water, process or dispose of sewage, and generate power

Provide clean water 

Use chemicals to treat water and other liquids
Additional Responsibilities
Use hand and power tools

Supervise other facility workers

Maintain operational costs and budgets
Skills Needed on the Job
Soft Skills
Active listening

Deductive reasoning

Manual dexterity

Monitoring

Oral communication

Processing information

Troubleshooting

Written communication
Technical Skills
Biology

Document Control Software 

Email

Mathematics

Office Suite Software
Different Types of Organizations
Most WTO will work at plants and facilities that are under the jurisdiction of the local or federal government. Private entities and research facilities also hire WTO to perform their jobs.
Expectations and Sacrifices
Expectations and standards for this job are very demanding. Water treatment standards are highly regulated and require attention to detail and the ability to follow stringent guidelines for their safety and the safety of others and the environment. A WTO is expected to know how to operate intricate machinery and they work daily with dangerous chemicals and fumes. Facilities operate 24/7 and often require working in harsh weather, during emergencies, and on weekends and holidays. 
Current Trends
Advancement in technology means that some WTO work is becoming more and more automated, although individuals will still be needed to operate the systems. Job growth for this position is expected to decline slightly by 3% between 2020 and 2030.
What kinds of things did people in this career enjoy doing when they were younger…
When they were younger, WTO may have had a lot of interest in biology, chemistry or the environment. They may have been found outdoors a lot, especially near water like streams or rivers. Chemistry sets and other science experiments are very popular with kids who grow up to enjoy careers in this field.
Education and Training Needed
A majority of entry-level WTO jobs can be obtained with a high school diploma/equivalent, or with some college, no degree required. On-the-job training is the common way to learn the job, although professional certifications are often acquired through time. Some roles may ask for a Bachelor's Degree in a field like Environmental Science. 
Licensing requirements for facilities and workers vary by state, but often have a staggered system of licenses. In Texas, for example, a Class D license only requires a high school diploma and the completion of a basic wastewater course. 
A Class A license (in Texas) can be obtained in 3 ways: 
Master's Degree/4 years of hands on experience

Bachelor's Degree/5 years of experience

High School Diploma or Equivalent/8 years of experience with 6 of them being "hands on" experience
Every state will have their own certifying body and regulations as to what a particular WTO requires.
THINGS TO LOOK FOR IN A UNIVERSITY
Colleges with great science programs are the first pick for someone who wants to pursue a career in a WTO. You may want to focus on a broader range of studies such as biology or chemistry. Some community colleges even offer water treatment-specific courses with certifications without the need to complete a bachelor's degree.
 Some institutions with relevant educational pathways include:
Things to do in High School and College
Check out certification and licensing requirements for the state you wish to work in

Find and take college prep courses

Find apprenticeships or internships

Look for scholarships for people seeking degrees in Biology or Chemistry, or for ones that focus on career training and certifications

Maintain a high GPA

Search for the geographic area that you wish to live and work in, so you can specialize your education in rural vs urban water treatment

Tour and visit water treatment facilities

Work toward college credits in high school
Typical Roadmap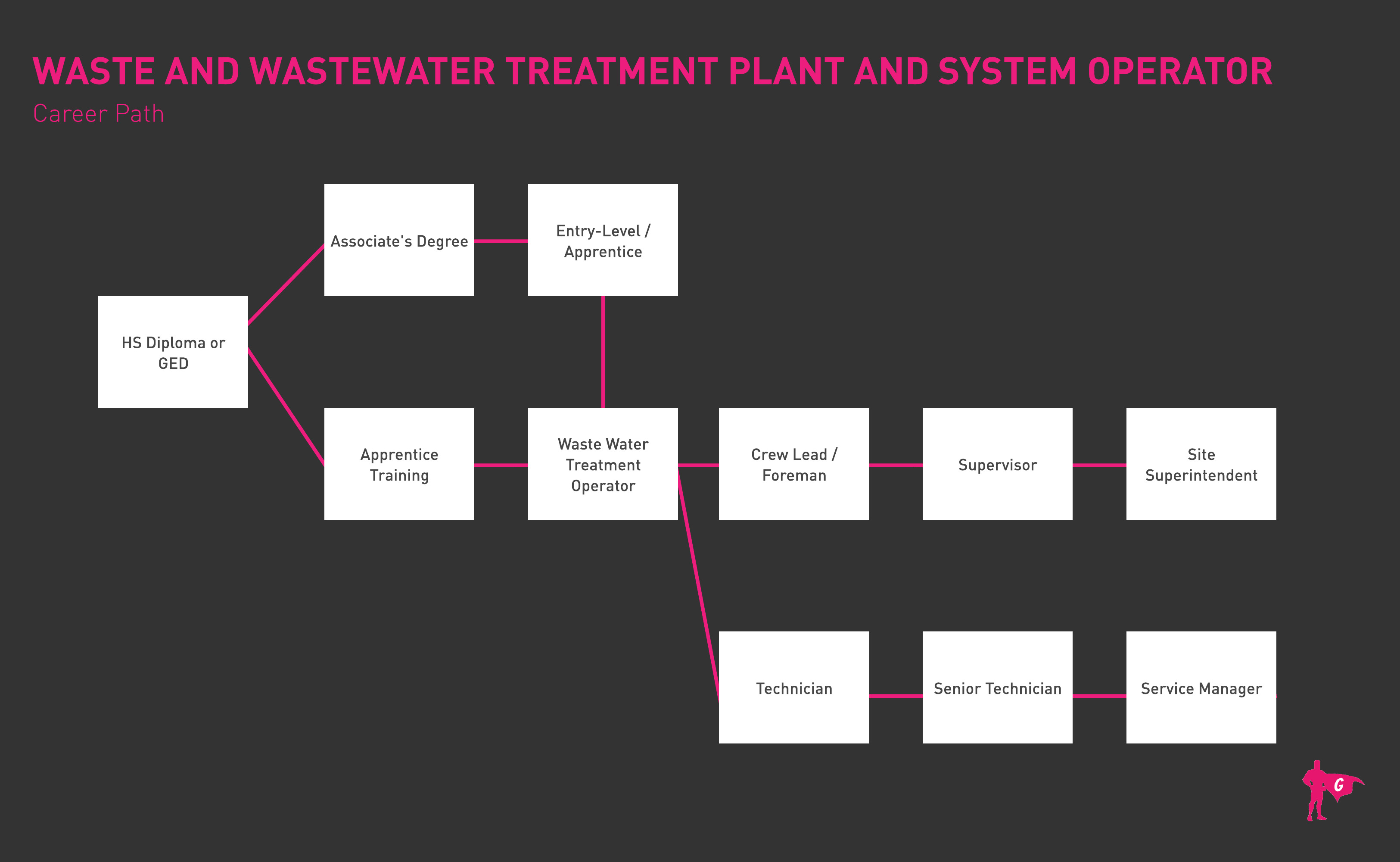 How to Land your 1st job
Find the certifications and licensing requirements for the position to ensure that you have the ones the job requires

Prepare a stellar resume that highlights the education or skills you have that most closely match the job requirements

Read up on local standards and regulations to better understand the specific guidelines for the position you will be working in

Check to see what safety gear you may need to bring to an interview, such as a hard hat or steel-toe shoes
How to Climb the Ladder
Become a member of organizations and committees in your industry

Demonstrate your ability to lead and supervise in order to move to positions like shift supervisor

Keep all certifications or licenses current

Log your 'on the job' time accurately, as this will be required to move up to the next level of licensing

Maintain the highest level of quality in your work

Obtain an Associates or Bachelor's Degree to broaden your education and move from entry level to higher positions
Recommended Tools/Resources
Plan B
Career paths often diverge from the plan, but there are many similar positions to becoming a water treatment operator.  Other options to consider are:
Chemical Plant and System Operators

Gas Compressor and Gas Pumping Station Operators

Hazardous Materials Removal Workers

Hydrologist

Stationary Engineers and Boiler Operators
Newsfeed Featured Jobs Online Courses and Tools