Spotlights
Similar Titles
Certified Surgical Technician, Certified Surgical Technologist (CST), Operating Room Surgical Technician (OR St), Operating Room Technician (OR Tech), Operating Room Technologist (OR Tech), Surgical Scrub Technician, Surgical Scrub Technologist (Surgical Scrub Tech), Surgical Technician, Surgical Technologist (Surgical Tech)
Job Description
Performing surgery on a patient takes extreme focus, which is why surgeons work as part of a larger healthcare team. Each team member has their own unique role, from the surgeon to the anesthesiologist, certified registered nurse anesthetist, operating room nurse, physician assistant, and others. The job of the Surgical Technologist—also known as the Operating Room Tech or "scrub tech"—is to arrive early, review requirements for the day's procedures, gather the needed tools and equipment, then carefully prep patients, equipment, and the room itself. 
During the surgery, they may hand sterile instruments or supplies to the surgeon or their assistant. They may also perform basic steps such as suctioning blood from an incision. As the procedure is being completed, Surgical Technologists take stock of all items to ensure everything is accounted for. They may then help apply bandages, take patients to their recovery area, and return to stock the operating room for the next surgery.
Rewarding Aspects of Career
Ensuring proper medical instruments and equipment are ready

Keeping patients safe by maintaining a sterile environment  

Working as part of a medical team helping patients and saving lives
2021 Employment
110,700
2031 Projected Employment
117,200
The Inside Scoop
Job Responsibilities
Working Schedule
Surgical Technologists work full-time, with shifts that may start very early. If working in an ER, they may be assigned to night, weekend, or holiday shifts. 
Typical Duties
Ensure instruments are kept sterile during medical operations

Take inventory of all supplies and instruments used before and after surgery, to ensure nothing was left inside a patient

Perform scrub cleaning on other team members' hands and arms

Assist others with putting on masks, gloves, and gowns so they don't have to touch anything

Prep patients for their operations. Assist with getting them onto the table and covering them up. Wash and disinfect incision sites

As needed, give sterile instruments or supplies to surgeons or their assistants

Ensure needed solutions and fluid supplies such as saline, blood, or plasma are on hand

Assist with holding various instruments steady while the surgeon is operating

Manage tissue specimens needed for lab analysis

Clean and sterilize operating room equipment

Anticipate needs during surgical procedures

Aid with applying bandages to patients after surgery

Keep all relevant medical supplies in stock. Reorder, as needed

Review the daily schedule of surgeries and ensure all necessary instruments, supplies, and equipment will be on hand

Organize and transfer appropriate instruments, supplies, and equipment to the operating room and arrange items according to the scheduled procedure 

Keep an eye on equipment to ensure proper functioning. Adjust, as needed

Take note of the patient vital signs 
Additional Responsibilities
Train new technologists 

Stay up-to-date on relevant industry changes

Maintain physical and electronic records
Skills Needed on the Job
Soft Skills
Analytical

Compliance-oriented

Detail-oriented

Diligent

Independence

Integrity 

Methodical 

Observant

Organized

Patient

Safety conscious 

Sound judgment 

Stamina

Strong communication skills
Technical Skills
Biological waste handling

Database query software

Electronic medical records and patient tracking

Familiarity with IV fluids such as saline, blood, plasma, and glucose

Medical bandaging

Medical instrument terminology and usage

Medical sanitation and disinfection 

Operating surgery-related medical equipment

Patient vital signs 

Personal protective equipment usage 

Scrub procedures

Supply ordering procedures and programs

Surgery workflow communication programs
Different Types of Organizations
Hospitals and surgical centers (including emergency rooms, intensive care units, and labor/delivery units)

Outpatient care centers

Private practices (including dental, vision, and plastic surgery)
Expectations and Sacrifices
Whether it's open surgery or minimally invasive, surgical operations are inherently risky due to a myriad of factors. Among these is the risk of patient infection from hazardous germs. Patients are already in a compromised state when they're laying on a table under anesthesia, so surgical teams must do everything possible to mitigate the risk by being organized and following stringent protocols. 
Surgical Technologists play a crucial role in this endeavor and must know and follow very methodical procedures to ensure patient safety. Surgical Technologists are at risk themselves, frequently exposed to chemicals, all manner of germs, and potentially hazardous biological materials such as blood or bodily fluids. 
Current Trends
Around the world, hospitals have been grappling with the problem of keeping areas free from germs and infectious diseases. Many have needed to strengthen their cleaning practices to avoid having patients exposed to healthcare-acquired infections, which can be fatal in some cases. The Centers for Disease Control and Prevention has stressed that healthcare institutions closely follow hygiene precautions to protect both patients and healthcare workers. A few trends on this front include the use of continuously active disinfection chemicals and materials. Complimenting these measures, hospitals are turning to innovative disinfectant delivery methods such as misting systems and ultraviolet technology. 
What kinds of things did people in this career enjoy doing when they were younger…
Surgical Technologists were most likely very tidy people who liked to keep things organized. They were probably patient and calm, able to focus on tasks with great attention to detail. They may have enjoyed being part of group activities in school because they work well on teams and are comfortable with juggling responsibilities. 
Education and Training Needed
Education Needed
Surgical Technologists need to complete a certificate or associate's degree program at a vocational school, community college, university, or hospital

Training may last from one year for a certificate to two years for an associate's degree (if going full-time)

Note, some programs may feature an expedited curriculum, but make sure they are accredited and meet state licensing or regulatory requirements

Many classes can be conducted online, but hands-on experience may be preferred for some topics

Common classes include:  

Anatomy

Cleaning and disinfection

Decontamination and sterilization

Infection control and prevention

Inventory management

Medical and surgical terminology

Microbiology

Patient care

Medical equipment setup

Physiology

Surgical instruments usage and storage

Some jobs require techs to have CPR/Basic Life Support training 

Surgical Techs can either work in general surgery or specialize in an area such as cardiology, neurosurgery, organ transplants, orthopedics, pediatrics, or plastic surgery

Optional certifications can boost one's odds of getting hired. Certifying organizations include:

Many Surgical Techs learn their trade as enlisted members in a branch of the military
Things to look for in an University
Surgical Technologists don't need a four-year degree from a university to get started. Students can complete a certificate or associate's at a local community college or vocational training school

General considerations include tuition costs (in-state/out-of-state rates), discounts, scholarships, and course delivery options (on-campus, online, or hybrid program)

Ideally, you'll want a program that offers hands-on work experience
Things to do in High School and College
High school students can prepare by taking classes in health, biology, chemistry, and computer science

Decide if you want to apply to a certificate program or an associate's degree program at a community college, vocational school, or university

Talk to program staff about work opportunities where you can pick up real-world job skills as you learn

Apply for part-time jobs working with healthcare settings to gain experience and have some work history on your resume

Start an exercise program where you can build up stamina needed for standing and working on your feet for long periods or moving equipment 

Keep a list of contacts (including phone numbers or emails) who might serve as future job references 

Check out articles and video tutorials about surgical procedures and think about areas you might want to specialize in

Get started on a draft resume early and keep track of the skills you learn
Typical Roadmap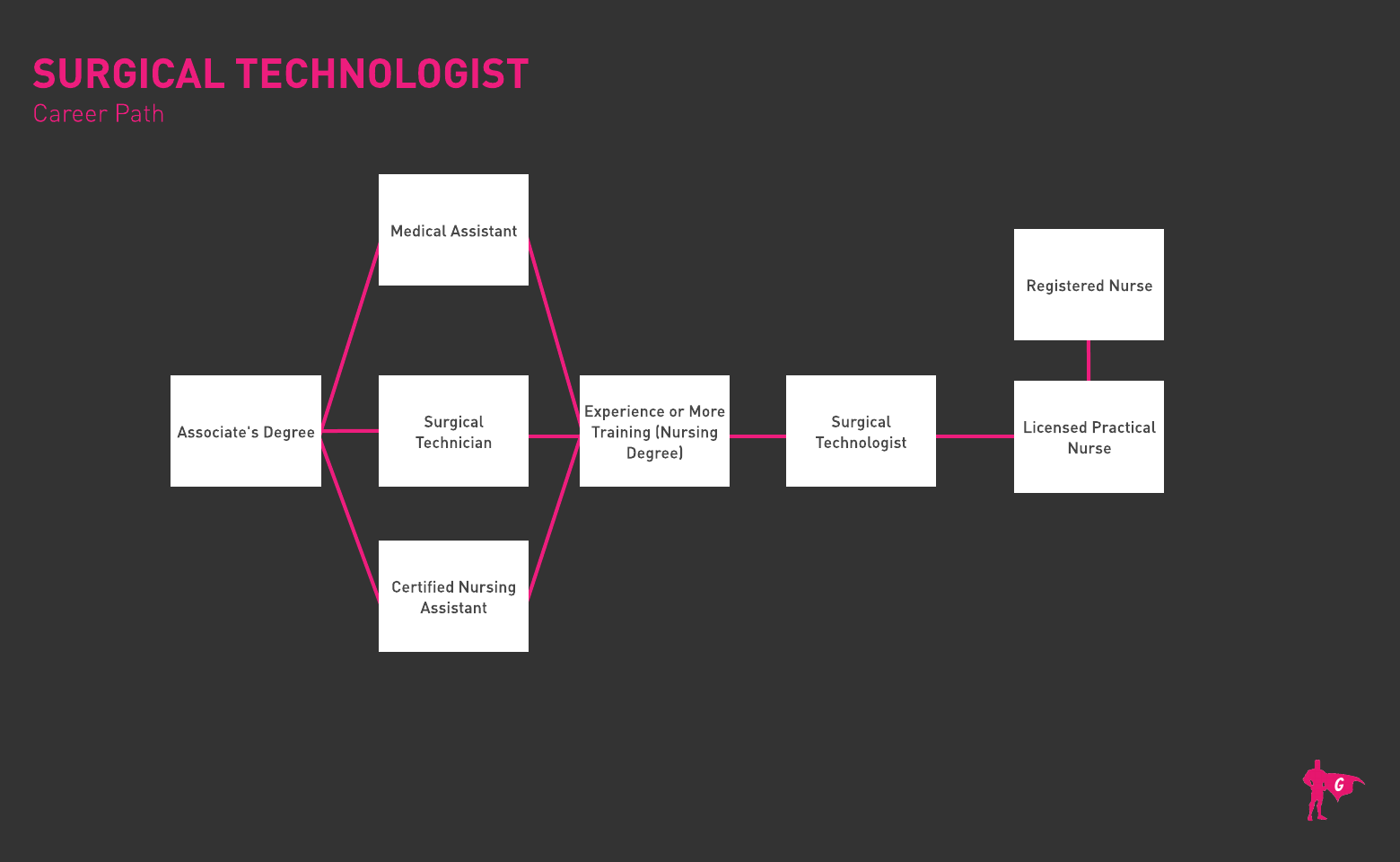 How to Land your 1st job
Have your education, training, and relevant certification completed

Ask your school's faculty or career center for tips about connecting with employers

Let your professional network know that you're job-seeking

Review job portals such as

Indeed

,

Glassdoor

,

HospitalCareers

, and

HealthJobsNationwide

Look at the career pages of local hospitals and surgeon's offices

Search for apprenticeship opportunities 

Consider speaking with a military recruiter about Surgical Technology jobs

Keep your social media clean and professional, in case job recruiters take a peek

Read

Surgical Technologist interview questions

, learn your career-related terminology, and practice your answers

Remember to get permission from potential references before giving out their contact info

Practice doing a few

mock interviews

with friends or relatives 
How to Climb the Ladder
Talk with your supervisor and let them know your career goals. Ask for their advice on how to move up

Earn a certification in a hard-to-fill specialty area

Note, the Bureau of Labor Statistics notes that techs will be increasingly needed to help with

older patients

in the years to come

Advancement opportunities for Surgical Technologists include working as a surgical assistant or nurse, which will require additional training. Becoming a registered nurse will mean returning to college to earn a BS in Nursing to qualify for licensure in most states

Master your duties, be on time, and follow all hygiene protocols to the letter

Stay up-to-date on relevant hospital or clinic policies and procedures 

Study manufacturer and software guides for medical equipment you operate

Ask lots of questions and keep learning from other members of the surgical team

Demonstrate leadership and train new staff diligently 

Get engaged with professional organizations. Attend events, volunteer to give speeches, hold positions on committees, and get articles published to advance your reputation
Recommended Tools/Resources
Plan B
Working as a Surgical Technologist can be exciting but exhausting work! If you're curious about additional healthcare careers, below are a few popular examples to consider: 
Cardiovascular Technologists and Technicians

Clinical Laboratory Technologists and Technicians

Dental Assistants

Diagnostic Medical Sonographers 

Endoscopy Technicians

Licensed Practical and Licensed Vocational Nurses

Medical Assistants

Medical Equipment Preparers

Physicians and Surgeons

Registered Nurses

Surgical Assistants

Surgical Technologists
Newsfeed Featured Jobs Online Courses and Tools