Spotlights
Job Description
Everyone can use a helping hand sometimes. It is the job of Social and Human Service Assistants to provide help to a wide range of citizen populations in times of need. They provide or connect people to services related to mental wellness, substance abuse treatment, job assistance, social welfare benefits, and much more. This work involves determining the best resources for each specific customer and their unique situation, then helping them apply to the best matches. 
 
There's a great deal of record keeping involved, with workers in this field having access to highly sensitive personal information such as criminal and drug histories. Social and Human Service Assistants are responsible for client progress tracking and use data to generate reports for state and local use. Tracking can include making follow-ups calls or appointments in or outside of the office. Additionally, there are community outreach efforts, such as attending meetings to share information about services an agency offers. Employees in this sector may work under job titles such as family service assistant, case work aide, clinical social work aide, or others. 
Rewarding Aspects of Career
Providing direct, often life-changing assistance to persons from all walks of life
Making an impact on families and helping to improve outcomes for children
Interacting with multiple state and local agencies and learning how they operate
Becoming a valued member of the community
2018 Employment
413,700
2028 Projected Employment
466,000
The Inside Scoop
Job Responsibilities
Working Schedule
 
Social and Human Service Assistants typically work 40 hour weeks, Monday through Friday, with occasional night or weekend commitments. Depending on your specific job, there is potential for unexpected or urgent calls requiring work after normal hours. Travel is required from time to time.
Typical Duties
 
Working with individuals, families, and organizations in the local community
Ensuring child welfare and safety, and enabling parents with resources they need
Coordinating daily living assistance services for elderly or disabled customers, such as cooking, meal delivery, bathing, and general errands
Helping military veterans transition into civilian routines again; finding suitable housing and employment opportunities, and directing them to veteran services
Placing clients with substance abuse needs into support groups or rehab centers
Connecting immigrated persons to job and housing resources, English language learning services, or free legal clinics who help prepare documents
Aiding clients suffering from mental health issues to access support networks, counseling services, and housing if needed
Working with former inmates struggling with daily life after periods of incarceration
Helping homeless populations locate essential services offering food and shelter, as well as job training and other resources aimed at reducing homelessness
Additional Responsibilities
Collaborating with local employers, promoting equal access to job opportunities and accommodations for disabled persons 
Potentially operating within in a variety of locations outside of the office, such as residences, medical clinics or hospitals, shelters, and other buildings
Skills Needed on the Job
Soft Skills
Ability to "troubleshoot" human problems and find realistic solutions
Awareness of sociology issues and trends
Basic counseling skills
Understanding the rules of mandatory reporting
Ability to safeguard sensitive information
Commitment to diversity and respect for other ethnicities and cultures 
Compassion and empathy, with the ability to be objective 
Excellent communication skills, including active listening
Good time management; highly organized
Above-average interpersonal skills
Comfortable operating independently 
Patience, resilience, and composure under stress
Good writing ability 
Perceptiveness; ability to discern when customers may be hiding problems
Resourcefulness and leadership
Sound judgment and decision-making, sometimes under pressure
Strong commitment to providing personal service 
Understanding of human psychology 
Technical Skills
General familiarity with computers (PC or Apple)
Familiarity with databases and query software applications 
Excellent email protocol and etiquette
Spreadsheet and presentation apps 
Use of electronic medical record software
Potentially voice recognition software usage
Different Types of Organizations
State and local government-managed human services offices    
Nonprofit organizations
For-profit social service agencies
Residential care facilities    
Rehabilitation centers
Expectations and Sacrifices
Social and Human Service Assistants may work with several cases each day. Often, any given case can require getting involved with serious or even life-threatening problems a client is coping with. This can take an emotional toll on the worker, who must be able to maintain their composure and objectivity throughout the day as they move from case to case. It is important to give every customer a high degree of attention and focus. This can be challenging at times if the worker finds themselves dwelling on a particular case that troubles them. 
 
Employees in this field are asked to write objective reports and evaluations. This can also be difficult when personal feelings are involved, so it is crucial to be aware of biases. Workers need to keep diligent records and stay organized, which requires methodical work practices. They must stay aware of continuous changes and updates to policies and resources. 
 
At times, they're expected to venture out of the office and meet customers in homes or other areas. Social and Human Service Assistants collaborate with several other agencies, including law enforcement and legal professionals. Every day they are tasked to clearly articulate important messages, sometimes regarding volatile situations. There are times when public speaking engagements are needed to advertise services. 
Current Trends
The 2020 COVID-19 pandemic altered the daily lives of most Americans. Many faced employment challenges; some were cut off from much-needed services. Others encountered health and substance abuse problems. Statistics revealed an alarming spike in domestic violence and suicide, as well. As states ease back on restrictions, Social and Human Service Assistants may count on influxes of new cases. People who are struggling to re-normalize their lives will need to seek out help, potentially putting a temporary strain on current workers. 
 
Longer-term, the US expects a rise in the number of older citizens as life expectancy increases. Social and human services agencies will need to prepare for extra demand on services. It's also anticipated that governmental policy shifts will aim to divert substance abusers into treatment options versus sentences of incarceration. This, too, will require added help from the social services sector. 
What kinds of things did people in this career enjoy doing when they were young...
Most people who enter these careers have always had a desire to help others. This could come from simply being raised in a family environment where such actions were the norm. It could also come from the opposite — from situations where a person didn't grow up with that type of love or affection, spurring them to find ways to offer it themselves through service to people in their community.
 
It takes a strong commitment to social change and improvement to work with those in need. Many workers may have been politically active during high school, perhaps running for student offices. They could also have been exposed to social issues during college and may have enjoyed organizing activities and events. Multicultural projects and organizations are often a passion for those in this field. It's also not uncommon for many Social and Human Service Assistants to have grown up in other countries or to have experienced discrimination or financial hardship in their lifetimes. 
Education and Training Needed
A high school diploma (or GED) is the minimum necessary to get started in this field
A bachelor's isn't needed for every job, but a relevant certificate or associate degree is helpful to learn about the subject matter
There are several applicable certifications. Examples include:

Human Services - Board Certified Practitioner
Certified in Family and Consumer Sciences    
Certified Personal and Family Finance Educator
Certified Employment Support Specialist
Home Visitor Child Development Associate
Case Manager Certification
Note, some certifications require a degree to obtain!

To qualify for roles with increased responsibility and pay, you'll generally need a bachelor's or master's with a major in human services, counseling, social work, social services, social science, or public policy
Per O*Net Online, 39% of workers have a bachelor's, 18% an associate's, and 16% "some college"
Social and Human Service Assistant internships can help teach practical skills
Employers may seek workers with demonstrated experience performing relevant duties
Expect duties and pay to be linked to education and experience levels
Any volunteer work related to helping others or providing direct care is beneficial
Experience assisting older adults is increasingly sought after
Bilingual expertise can be a major career asset in many areas
On-the-Job Training is offered for those without any college background
Internships are available in many areas and look great on a resume
Certificate or two-year degree options include courses on counseling, human development and behavior, sociology, psychology, gerontology, and social welfare
Things to look for in a program
Per O-Net Online, 27% of workers hold a bachelor's degree; 18% hold a master's
Certification and state licensure may be required for some jobs. These involve passing an exam. Certifications include, but are not limited to: 

Certified Advanced Children, Youth & Family Social Worker (C-ACYFSW)
Certified Clinical Alcohol, Tobacco & Other Drugs Social Worker (C-CATODSW)
Certified Social Work Case Manager (C-SWCM)
Clinical Social Worker in Gerontology (CSW-G)
Diplomate in Clinical Social Work (DCSW)
Licensed Bachelor of Social Work (LBSW)    
Licensed Clinical Social Worker (LCSW)
Military Service Members, Veterans & Their Families – Social Worker (MVF-SW)
Qualified Clinical Social Worker (QCSW)

Review accredited online programs if you don't live near a campus
Consider the cost of tuition, discounts, and local scholarship opportunities (in addition to federal aid such as FAFSA or Workforce Innovation and Opportunity Act benefits)
Think about your schedule and flexibility, when deciding whether to enroll in an on-campus, online, or hybrid program
Study in specialization areas such as rehabilitation, gerontology, or child welfare
Things to do in High School and College
In high school, stock up on advanced classes in psychology, sociology, social welfare policy, ethics, economics, and political science
Strengthen your communications skills such as English, writing, speaking, giving presentations, and negotiating
Volunteer to work with local social welfare organizations to gain real-world experience and exposure to problems, conflict resolution techniques, and more
Look for Social and Human Service Assistant internships in your local area
Decide if you want to complete a bachelor's or master's degree, or just launch into work with an associate or certificate
Think about the specialization areas you're interested in, such as family services, nursing and residential care, community and vocational rehabilitation services, government agencies, etc.
Note, Social and Human Service Assistants may go on to become Social Workers in different specialization areas such as:

Child, Family, and School Social Workers
Mental Health and Substance Abuse Social Workers
Healthcare Social Workers

Look for apprenticeships that offer paid experiences
Read magazines such as Social Work Today and watch videos on YouTube related to what social workers do and what impact they have on the lives of others
Get involved! Work with local shelters, food banks, at-risk youth programs, or cultural programs and organizations to learn more about issues people are facing 
Typical Roadmap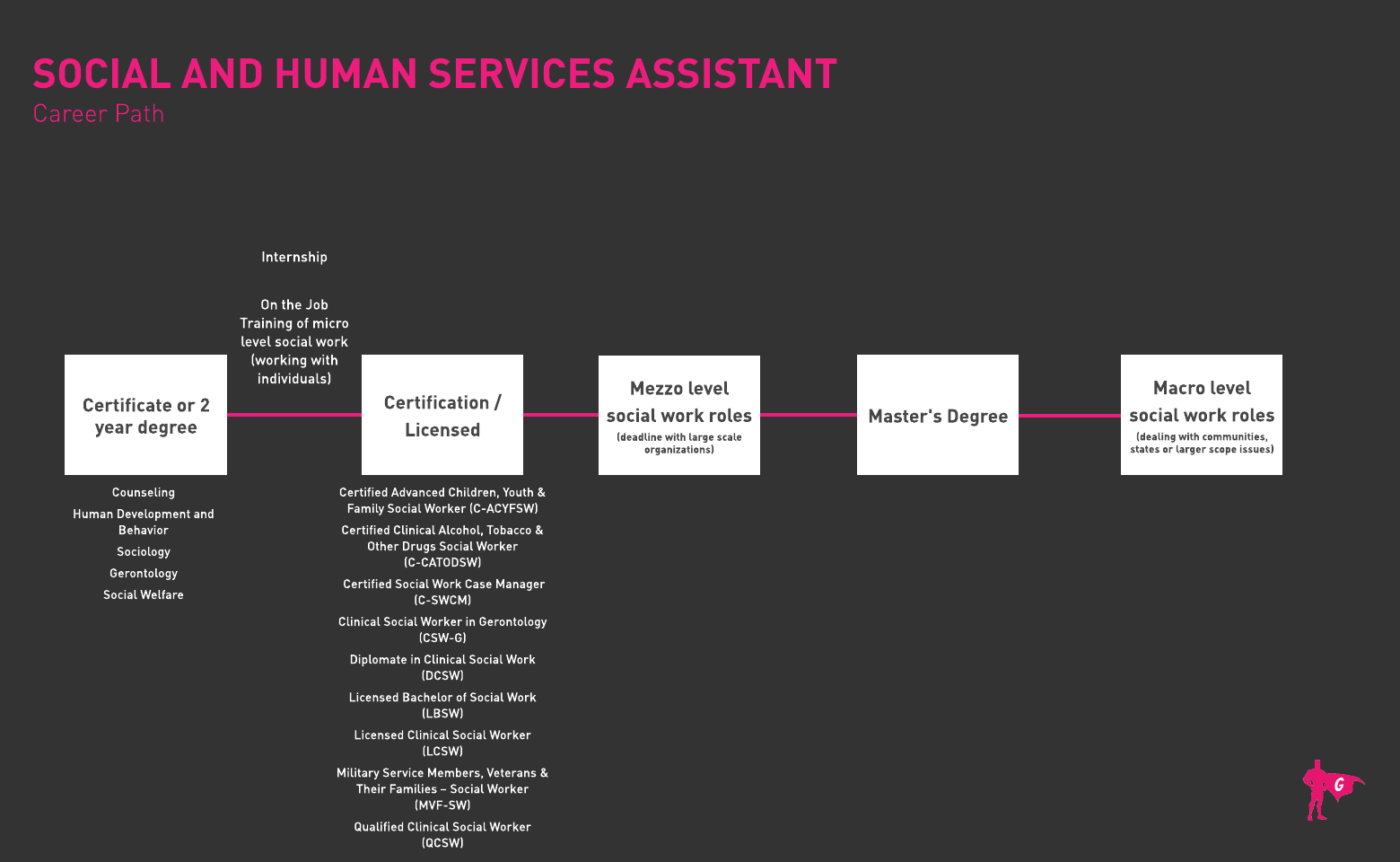 How to land your 1st job
Per BLS, ~59,100 Social and Human Service Workers jobs are projected per year through 2030
Pay attention to where the jobs are. 29% are with individual/family services; 11% are at nursing and residential care facilities; 11% are at local government agencies, 10% with state agencies; and 9% with community and vocational rehab services
Grow your network as you complete volunteer and internship work
Get involved with local groups and build your reputation as a knowledgeable, passionate person doing great things for the community. Host events, conduct site visits, give presentations, share information on social media, and make connections!
Advertise your availability on LinkedIn and other platforms
Speak to teachers, supervisors, and co-workers in advance to ask if they'll be references for you
Check out job portals such as Indeed, Glassdoor, and Zippia, as well as Craigslist and local classified ads
If you see an interesting job post, highlight keywords that stand out to you, then work those back into your resume. This can help your application get through automated tracking software
If you need help with your resume, get ideas from premade Social and Human Service Assistant resume templates
Before you start getting calls for interviews, read through a few Social and Human Service Assistant interview questions and answers
How to Climb the Ladder
Demonstrate compassion and efficiency in your duties with clients 
Be on time for work, and go the extra mile when the situation calls for it
Keep a positive, goal-oriented outlook even during tough times
Offer solutions instead of excuses
Stay professional and courteous, even when customers are venting frustrations
Start working on advanced education and training as soon as you can
Keep a sharp eye on trends, and work towards in-demand certifications
Become a policy expert by reading and keeping up with changes
Step up to the plate and demonstrate your desire to lead 
Be a role model employee. Offer to mentor new workers and organize activities
Join professional organizations for social workers
Get published! Write peer-reviewed magazine articles  or op-eds for online media
Volunteer to do as many community engagement events as you can
Recommended Resources
Websites
American Clinical Social Work Association
American Professional Society on the Abuse of Children
International Federation of Social Workers
National Association of Black Social Workers
National Association of Social Workers
National Organization for Human Services
National Rural Social Work Caucus
 School Social Work Association of America
Society for Social Work and Research
Society for Social Work Leadership in Health Care
Books
Becoming a Helper, 6th Edition, by Marianne Schneider Corey and Gerald Corey
Social Problems and Social Movements, by James DeFronzo and Jungyun Gill
Homeless Narratives & Pretreatment Pathways: From Words to Housing, by Jay Levy
An Introduction to Human Services: Policy and Practice, by Barbara Schram, Betty Mandell, et al.
Fundamentals of Case Management Practice: Skills for the Human Services, by Nancy Summers
Management of Human Service Programs, by Judith Lewis, Thomas Packard, et al.
Plan B
The Bureau of Labor Statics lists several similar occupations to explore:
Childcare Workers
Health Educators and Community Health Workers
Home Health Aides and Personal Care Aides
Marriage and Family Therapists
Probation Officers and Correctional Treatment Specialists
Rehabilitation Counselors
Social and Community Service Managers
Social Workers
Substance Abuse, Behavioral Disorder, and Mental Health Counselors
Newsfeed Featured Jobs Online Courses and Tools