Spotlights
Similar Titles
Content Writer, Copywriter, SEO Writer, Digital Content Writer, Web Content Writer, Content Creator, Online Copywriter, Content Strategist, SEO Copywriter, Digital Copywriter
Job Description
With nearly two billion websites — and hundreds of billions of webpages — in existence, it is incredible that search engines can find anything. Yet Google Search, Bing, Yahoo!, and other popular engines fetch thousands of relevant results instantly, using just a single keyword or phrase typed in by a user. 
 
Most users who submit a query into a search engine just scan the top results and ignore the rest. Clearly, this poses a huge problem for e-commerce companies and other organizations trying to stand out from the crowd. To rank highly on a search engine results page, they need the skills of a highly-qualified Search Engine Optimization (SEO) expert. Among the different types of SEO specialists are SEO Content Writers, who create blogs and articles for websites, so that search engines can more easily find and rank them. 
Rewarding Aspects of Career
Helping organizations boost their online visibility 
Enhancing sales for e-commerce businesses
Increasing traffic for non-business sites 
Enabling Internet users to easily find relevant answers to questions or other online resources, products, or services they want
The Inside Scoop
Job Responsibilities
Working Schedule
SEO Content Writers may work full- or part-time, depending on their employment status. Many writers operate in a freelance capacity, taking on small or large contracts that fill into their daily schedules.  
Typical Duties
Work with marketing teams, social media managers, or others to propose and discuss article ideas
Plan a content publishing schedule
Conduct keyword research to add appropriate words into the content to be written 
Scan news headlines for breaking news that could tie into your content
Research topics online, draft and submit content outlines, cite reputable, high domain authority sources
Listen to and incorporate feedback on outline changes  
Create original, structured content that helps boost search engine rankings while adding genuine value for readers
Ensure content is both easy and long enough for search engines to find and understand it
Use link-building strategies to increase traffic and visibility
Use website plugins to further optimize content before publishing
Additional Responsibilities
Update older content regularly to keep it fresh and relevant
Analyze competitor sites to gain insights
Stay up-to-date on trends and new developments related to SEO
Differentiate content from copywriting, but incorporate elements of copywriting, as needed (for instance, mention a certain product or service for sale within the body of the content)
Skills Needed on the Job
Soft Skills
Adaptability
Attention-to-detail
Creativity
Critical thinking
Curiosity
Discipline
Organization
Patience
Results-driven
Social perceptiveness
Strategic thinking
Strong listening skills 
Time management skills
Technical Skills
Creative and technical writing skills
Thorough reading and research skills
Experience in e-commerce 
Knowledge of social media analytics
Familiarity with editing software (such as Grammarly)
Knowledge of SEO tools, such as:

Google Analytics
Keyword Research (such as Semrush, Keyword Hero or Moz's Keyword Explorer)
Crawling and Indexing (such as Beam Us Up or Redirect Path Chrome extension)
Link checking (such as Check My Links, Ahrefs' Backlink Checker, or HEADMaster SEO)
XML Sitemaps
BROWSEO
Rank Checking (such as CanIRank)
Google Trends
Google My Business
Google's Mobile-Friendly Testing tool
On-page SEO (such as Counting Characters)
Competitor analysis (such as BuzzSumo and SimilarWeb)
Site speed
WordPress Yoast SEO plugin
Different Types of Organizations
Blogging sites
Colleges and universities
Digital/content marketing agencies
E-commerce businesses
Governmental organizations
Medical institutions
News and media agencies
Self-employed
Traditional companies with websites
Expectations and Sacrifices
SEO Content Writers are vital team members for any organization with a website (which is virtually everyone these days!). Their work serves to help users find their employers' sites, boosting traffic and engagement. For e-commerce businesses, this also translates into additional sales. 
 
With websites being easier and cheaper than ever to build, the number of online sites grows daily. Meanwhile, smart website owners are investing in SEO strategists to help their sites rank higher and thus raise brand awareness. 
 
Big companies with deep pockets can afford to sink more funding into such campaigns, making it tough for smaller enterprises to get noticed. But skilled SEO Content Writers can offer a relatively low-cost means of enhancing a site's digital footprint. It's critical for writers to understand which topics are being searched for, what keywords to use, how to structure content, and how to write in a way that is compelling and genuinely useful for readers. 
 
Because of the stationary aspect of the work, writers are at risk of developing repetitive stress injuries, neck and shoulder pain, and eye strain. It's important for them to take breaks and engage in regular physical activities for exercise and muscle relief. 
Current Trends
Companies often feature mascots or ambassadors who help potential customers connect and relate to a brand. As organizations continue to shift to online entities, the need for relatable, human touchpoints is as high as ever. SEO Content Writers can help by writing in a first-person style, using "I" and "we" pronouns to make content more personable. 
 
Using quotes is a handy trick to enhance content. As Pestle Analysis writes, quotes "assure the reader in the credibility of the arguments provided in the text." This, in turn, helps content be more persuasive. 
 
It is important for SEO Content Writers to keep the language of their articles natural, easy to understand, and long enough to get noticed but without being stuffed with useless filler. That said, keywords are still vital components of a good SEO article, with a target range of 80%  "evergreen keywords" plus 20% trending keywords.
What kinds of things did people in this career enjoy doing when they were young...
SEO Content Writers were likely avid readers who took to writing early on, perhaps penning short stories or throwing everything into homework essays. Good writers probably grew up naturally inquisitive, willing to explore a topic broadly, and follow any interesting tangents to get to the most interesting tidbits. 
 
Because of the analytical nature of Search Engine Optimization requirements, they must also be dispassionate when editing, able to view and adjust their work objectively. Accepting outside editorial feedback and criticism isn't always an inborn characteristic; these are skills likely learned at an early age, taught or enhanced by supportive parents or teachers. 
 
Content writers could have been introverts as kids, but many are outgoing. That doesn't mean they crave the spotlight. SEO Content Writers appreciate having their names referenced as authors but are typically comfortable turning in white label content (i.e., ghostwriting) when the job calls for it. 
Education and Training Needed
There are no degree requirements to get started, however, a bachelor's in one of the following majors can be helpful: digital communications, new media, English, literature, journalism, marketing, public relations, writing, or general liberal arts  
Holding an SEO certification can boost your SEO writing reputation. Popular certifications and courses include:

HubSpot Academy's SEO training course
Moz's SEO Essentials Certificate
Directive Institute's Online SEO Training
Yoast Academy's Online SEO courses

Indeed.com lists SEO Content Writing internships that can help you learn while you earn!
Many freelancers get started by taking small gigs on Upwork, Freelancer, or other sites, learning as they go and raising their rates as they gain experience and client reviews
Things to look for in a program
There is no hard requirement to earn a degree before applying for SEO content writing jobs. Many people start off freelancing or just blogging for fun
If you opt to earn a degree, you have several options but should understand the differences between majors. For example:

Writing - There are many different types of writing, including technical and creative writing. In general, writing degrees help students "write historical biographies or children's stories; novels or novellas; poetry, lyrics, plays or anything else that requires a streak of imagination."
English - A bachelor's in English is primarily to "train students to analyze the workings of the English language outside of literature, including language-based communication in all kinds of forms and contexts."
Literature - This degree is about discovering how to "analyze stories, novels, and poetry from a variety of historical time periods and culture."
Journalism - Journalism majors are about studying fact-checking, interviewing, and research techniques, which can also be used to "communicate [a] brand image and attract potential customers."
Public Relations - A PR degree teaches how to "issue statements and press releases to the public, sometimes by using social media, and how to work with journalists to answer questions of public interest."
Marketing - Marketing degree programs involve studying "the branding and promotion of products and services to the public, and how to target specific demographics."
Digital Communications - With less focus on writing, these degrees are more about exploring "communications performed with and by digital technology," which can include programming, graphic design, photography, and AV production.
New Media - A popular option for learning about media such as "newspaper articles and blogs to music and podcasts – that are delivered digitally."

Amazing SEO Content Writers rely on interdisciplinary skills drawn from many specialties. However, broadly speaking, you'll want to focus on studying writing and the latest SEO strategies and tools 
Most of the above degree types are highly suited for online and hybrid instruction. Just make sure programs are properly accredited and have a solid reputation
If you've already decided upon your major and don't have room for SEO and other technical skills courses, you can complete a certification to boost your resume (see the Education and Training section above)
Things to do in High School and College
Hone your research and writing skills at every opportunity, including while taking classes in English, literature, history, business, and other topics
Learn how to properly edit your own work, by being objective and willing to make cuts for the sake of brevity and clarity
Workshop your manuscripts and drafts; let others read your work and offer feedback so you can get used to hearing constructive criticism
Write and analyze online articles and blogs; study how they are structured and formatted, and pay attention to keyword usage
Volunteer to write for a local media outlet so you can meet people, practice writing about issues affecting your neighborhood, and gain an understanding of what matters in people's everyday lives
Seek out SEO Content Writer internships to gain practical job skills
Create your own website and practice blogging and optimizing content. Experiment with different plugins 
Complete relevant SEO training like Yoast Academy's free basic course or a full certification course, if desired
Try a content writing software like Surfer SEO or MarketMuse to get live practice with the help of programs specifically built for SEO
Get familiar with SEO tools and programs, such Semrush, Ahrefs' Backlink Checker, Google Trends, SimilarWeb, and Yoast
Typical Roadmap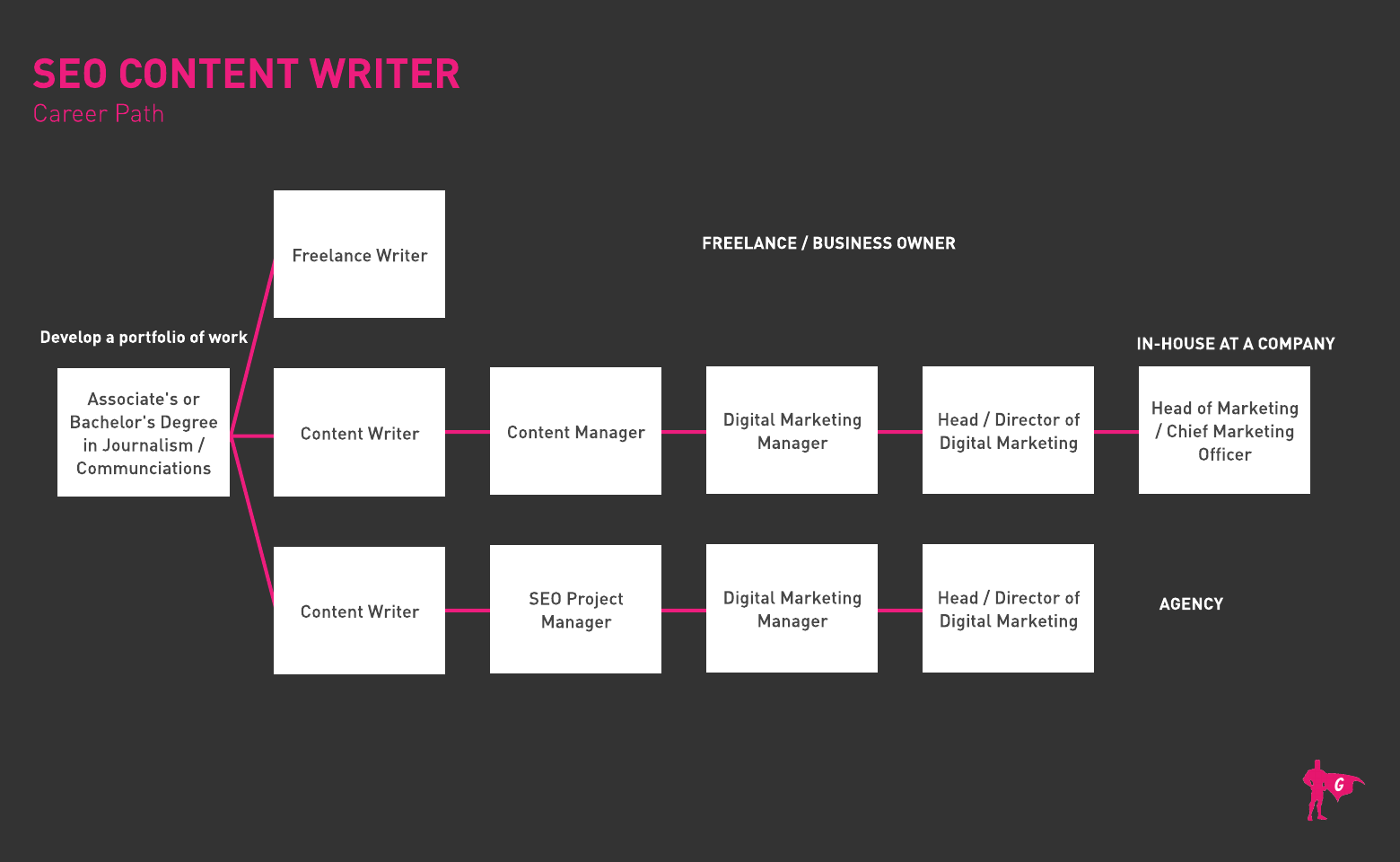 How to land your 1st job
Your first paid SEO Content Writing job might be a full-time role at a company or could be a one-time, remote work freelance contract 
As with many jobs, it's hard to get hired without experience. Luckily writers can get articles published on a variety of sites without being an employee or getting paid 
Getting published a few times helps you develop a portfolio of work to show potential clients and employers
Many sites allow users to submit almost anything for publication, such as Medium, Buzzfeed, Vocal, and more
Read job postings carefully and address the clients' or employers' needs directly in your application 
List all academic accomplishments, highlight your most current relevant work experience, and provide links or clips of your work
When possible, provide statistics regarding how your SEO skills translated to increased traffic or return on investment for past clients
If freelancing, do research to determine an appropriate hourly or per word rate for your experience level. Be competitive with pricing but don't sell yourself short! 

Charge a rate that compensates you fairly and demonstrates confidence

Polish your social media and LinkedIn accounts, in case employers research your online behavior 
Ask previous coworkers, supervisors, or teachers if they will serve as job references
Search employment portals like Indeed.com — but remember, you can land writing gigs through freelancer platforms such as Upwork, too!
Check out writing websites for job opportunities. Writer's Digest's Best Job and Market Websites 2021 is a great place to start! 
Search online for SEO Content Writer resume templates you can customize
Plan ahead for interviews by reading Glassdoor's SEO Content Writer interview questions 
How to Climb the Ladder
It can be tough to "move up" in a writing career, depending on your type of employment and the size of your employer
Many SEO Content Writers simply increase their rates if they want to earn more
If your employer is large enough and has a team of writers, it may be possible to work your way up to be a manager or supervisor
The best way to climb the ladder is for your work to provide demonstrably higher traffic and engagement for your employers' website(s)
Learn all you can about the high-tech SEO tools and tactics at your disposal
Write compelling, value-added content pieces that are optimized, easy to understand, and imminently sharable
Make sure your writing always meets all the employer's needs, including their preferred brand voice, rules listed in their brand guidelines, and any other formatting requirements
Meet deadlines, accept feedback for revisions graciously, and go out of your way to ensure customer satisfaction 
If you are freelancing, develop your reputation as a reliable, trusted "go-to" writer
Don't be afraid to learn about new niches and subjects, so you can expand your service offerings 
Complete advanced certifications or coursework; think hard about enrolling in a Master of Fine Arts degree, if it'll serve your goals and contribute to advancement 
Consider venturing out on your own as a digital entrepreneur or launching a monetized "side hustle" website to pull in extra income
Recommended Resources
Websites
American Society of Journalists and Authors
Association of Writers & Writing Programs
Backlink Checker
Beam Us Up
BuzzSumo 
CanIRank
Check My Links
Counting Characters
Google Analytics 
Google My Business
Google Trends
Google's Mobile-Friendly Testing tool
HubSpot Academy
Keyword Hero
Moz
National Association of Science Writers
Redirect Path Chrome extension)
Semrush
Society of Professional Journalists
Writers Guild of America East
Yoast Academy
Books
Plan B
SEO Content Writing can be a rewarding career path, but sometimes it is hard to find clients or employers. Competition is high, especially since there are few hard requirements to get started. 
 
The demand for SEO Content Writers should remain strong in the coming years, but if you're curious about other options, the Bureau of Labor Statistics features additional careers to consider, such as:
Agents and Business Managers of Artists, Performers, and Athletes 
Announcers    
Editors    
Fundraising Managers    
News Analysts, Reporters, and Journalists    
Public Relations Specialists    
Technical Writers    
Writers and Authors
 
Newsfeed Featured Jobs Online Courses and Tools