Spotlights
Similar Titles
Business Development Engineer, Inside Sales Engineer, Product Sales Engineer, Sales Applications Engineer, Sales Engineer, Technical Marketing Engineer, Technical Sales Engineer
Job Description
We've all heard of salespeople and we're all aware that there are various forms of engineering. But what do you call engineers who sell things? As you might expect, they're called Sales Engineers and it's their job to market large, complex equipment, systems, and services to prospective buyers. For example, they may sell things such as "business management software, telecommunications devices, HVAC systems, energy products and manufacturing equipment," per Indeed. 
 
As technical subject matter experts, they are also skilled in the art of Business-to-Business (B2B) sales, able to turn engineering jargon into understandable presentations that explain how their sophisticated products or services can solve the buyer's business-related problems. They must have a thorough understanding of what they're selling and be able to answer detailed questions as well as compellingly demonstrate benefits to less technical-oriented audiences. When they aren't out selling, Sales Engineers stay busy doing marketing research and are often involved with the research and development of new products.  
Rewarding Aspects of Career
Learning about exciting new technological developments 
Helping to expand business's capabilities by selling them relevant products or services
Facilitating deals that keep their employers in business, thus ensuring job stability for workers
2021 Employment
60,700
2031 Projected Employment
64,100
The Inside Scoop
Job Responsibilities
Working Schedule
 
Sales Engineers generally work full-time and sometimes extra, when travel is necessary. Travel may frequently be out-of-town or even out-of-state, depending on how broad their assigned territory is. They must keep their schedules flexible so they can meet potential buyers when everyone is available. 

Typical Duties
Learn all the details about various products/services to be sold
Reply to proposals seeking industry-related technical solutions 
Write and prepare product demonstrations
Travel to visit prospective customers and meet to discuss needs related to products/services the Sales Engineer represents 
Deliver technical presentations to potential buyers and other interested parties
Explain various features, specifications, and benefits (such as cost savings or improved productivity) of products or services being marketed
Answer technical questions and offer compelling sales pitches to distinguish products/services from competitors 
Make recommendations and offer supporting stats and figures
Customize products/services when applicable 
Negotiate prices and contracts with buyers, then close the deals 
Ensure products/services are delivered (and installed, if needed) correctly and promptly
Arrange for troubleshooting when unexpected issues arise
Work with sales and technical support teams to ensure smooth transactions with follow-up services delivered per any agreements
Additional Responsibilities
Respond to emails, website contact forms, and phone calls 
Examine credit ratings of prospects 
Utilize customer relationship management tools  
Stay in touch with customers to promote and market new items or renew orders. Ensure customers have copies of catalogs or samples
Help clients solve any problems that may arise with installations
Capture data and generate reports and other documentation 
Train other Sales Engineers  
Attend trade shows, conferences, and training seminars
Maintain thorough sales documentation and records of travel and expenses
Keep up-to-date on new developments, products, and services 
Conduct market research and aid with the development of new products
Skills Needed on the Job
Soft Skills
Accuracy
Active listening
Business acumen
Confidence 
Customer service 
Decisiveness
Detail-oriented
Email and phone etiquette 
Emotional intelligence
Empathy
Flexibility 
Integrity
Patience
Persistence 
Persuasiveness 
Problem-solving skills
Social selling
Storytelling
Teamwork
Technical Skills
Calendaring
Familiarity with presentation software and materials
Familiarity with various types of business software, including business intelligence programs, cloud-based management, database management, customer relationship management, enterprise resource planning, financial analysis, spreadsheets, transaction security, and videoconferencing 
Technical expertise in the products and services being sold
Different Types of Organizations
Computer system design companies
Manufacturing
Telecommunications
Wholesalers
Other organizations and companies 
Expectations and Sacrifices
Companies that make large, highly-technical products or services rely on Sales Engineers to market what they produce. Without salespeople out there hustling every day, the manufacturers' profits would tank, people would lose jobs, and ultimately the company might collapse. There's a lot of responsibility riding on Sales Engineers, who must maintain expertise and proficiency with various products and services while traveling frequently and keeping up customer relationships. The extensive travel can be hard on families, plus there's pressure to close deals in order to earn their commissions (which are a large part of their income). ~20% of a Sales Engineer's pay comes from commissions. 
Current Trends
Technology has been advancing at an exponential rate for decades. It evolves so quickly in virtually every industry that Sales Engineers must stay on top of the changes and innovations to remain relevant in the field. Artificial intelligence (AI) in particular is speeding ahead so rapidly that scientists have begun seriously asking when it will be smart enough to outsmart people. The Bureau of Labor Statistics notes that "Employment growth is likely to be strong for sales engineers selling computer software and hardware. Strong industry growth is expected in computer systems design and related services." 
What kinds of things did people in this career enjoy doing when they were young...
Engineering and sales require such vastly different skill sets that most people lean towards one set far more than the other. It may be uncommon for young people to have the traits of both roles at the same time. Engineers usually have an aptitude for math and enjoy figuring out how things work and tinkering with physical objects. Future salespersons often have the "gift of gab" and love to talk, share ideas, and collaborate with others to get things done. They may have liked watching charismatic characters in TV shows or movies, or were perhaps influenced by extroverted relatives. 
Education and Training Needed
Sales Engineers generally have a bachelor's in an engineering field

Common majors include computer engineering, electrical engineering, mechanical engineering, biomedical engineering, computer hardware engineering, and chemical engineering

Beyond STEM education, students must gain practical sales experience through sales-related jobs
Students can learn business and sales tactics in college through electives or a degree minor, but it's hard to beat real-world experience
O*Net lists optional certifications that Sales Engineers can apply for, such as the Association for Manufacturing Technology's Certified Manufacturing Technology Sales Engineer    
Things to look for in a program
Engineering college programs should be accredited by ABET, which is a requirement for later Professional Engineer licensure
Consider the cost of tuition, discounts, and local scholarship opportunities (in addition to federal aid)
Think about your schedule and flexibility when deciding whether to enroll in an on-campus, online, or hybrid program
Look for programs that offer business and marketing courses or minors
Review scholarship opportunities and STEM pathways
Consider the program's faculty awards and accomplishments such as teaching awards, IEEE and National Science Foundation awards, Fulbright Fellowships, etc.
Check out their facilities (especially if you're planning to attend in-person). Well-funded programs will have the most modern, cutting-edge research areas 
Look for affiliated centers and institutes. Most big programs collaborate with external partners which can significantly augment your learning experience
Review job placement stats and details about the program's alumni network 
Things to do in High School and College
Sign up for plenty of math, science, engineering, and technology courses in high school
Study hard to prepare for the academic rigors of a college engineering program
Try to land a tech internship while in college
Take plenty of communications, English, writing, speech, debate, business, and marketing courses to prep for the sales side of things
Apply for part-time sales-related jobs to get real-world experience 
Polish your phone etiquette and powers of persuasion 
Volunteer to serve on school committees or help with extracurricular activities, with a focus on roles that offer leadership and management experiences
Take Massive Open Online Courses (MOOCs) like the ones offered by edX or Udemy to polish up your sales and marketing skills 
Keep track of all your work and academic accomplishments for your resume and/or college applications 
Join professional organizations to network, learn, and have fun!

Comb through our below list of Recommended Websites to find professional groups to join. Also become an active participant in your school's engineering clubs

Look at job posts early to see what skills and credentials are most in-demand 
Ask a seasoned engineer if they can mentor you in exchange for helping them in some capacity
Call a few manufacturers to ask if you could shadow a salesperson for a day
Typical Roadmap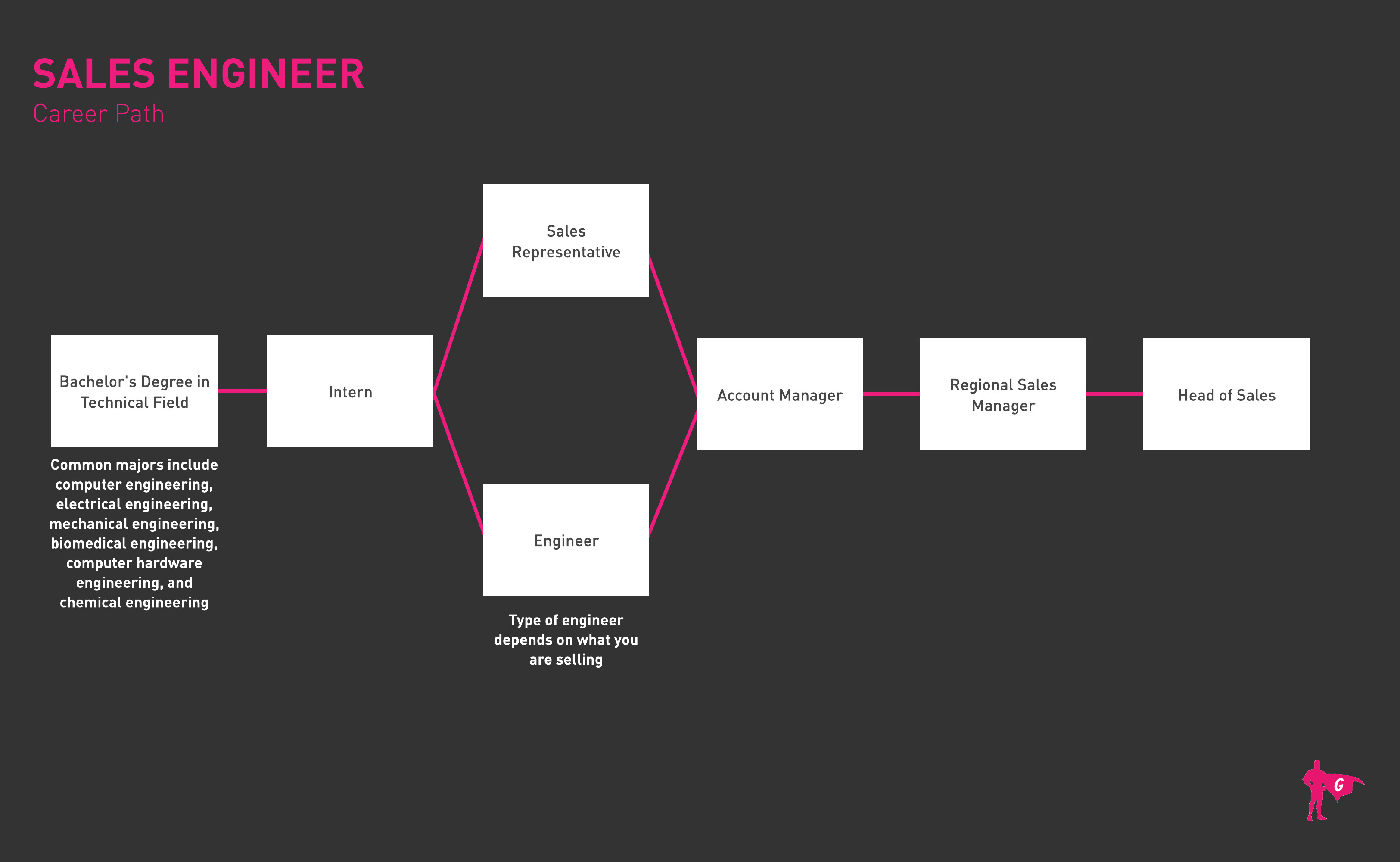 How to land your 1st job
Sales Engineers with the right mix of education and experience can usually find work without too much hassle 
If you don't have much sales experience, you might want to focus on landing a sales job first

Some Sales Engineers start out as Sales Development Representatives or Engineers. So one of those will be your first job. 

Know the sales lingo and best practices for finding leads, closing deals, and maintaining customer relationships
Make a profile on LinkedIn and other networking platforms
Scan portals like Indeed.com and Glassdoor for openings in your area
List quantifiable results (such as total dollar amounts of products sold) on your resume, when possible 
List all practical experience you have including internships
Stay connected to your professional network and ask for leads on upcoming job openings
Keep up-to-date on the latest developments related to the e[ngineering field you're in
Ask previous professors and supervisors to write recommendation letters or request their consent (in advance) to list them as references
Do your research on potential employers. Learn what kind of products and services they manufacture or sell and who their target buyers are
During interviews, demonstrate a keen awareness of trends in the industry
Review Sales Engineer resume templates and sample interview questions  
Learn how to dress for interview success
How to Climb the Ladder
Never stop learning about your field of engineering, the products/services you're selling, and advances in the industry
Focus any additional education and training on improving your ability to make sales for your employer
If there is a manufacturer-specific certification for the items you sell, get it!
Build your reputation as a subject matter expert who can impress clients 
Get on calls and keep your phone skills sharp 
If you have quotas, do your best to meet and exceed them
Keep learning all you can about advanced sales tactics, contract negotiation, prospecting leads, and making killer presentations
Watch or listen to demos as much as you can to stay fresh 
Work on proof of concepts that can help close deals
Treat everyone with respect, be on time and well-prepared for presentations, offer solutions, and stay focused on maintaining long-term customer relationships
Keep growing your professional network and making deep connections with major buyers
Stay active in professional engineering organizations, attend conferences and workshops, and offer to give lectures
Recommended Resources
Websites
Accreditation Board for Engineering and Technology 
American Society for Engineering Education
American Society of Mechanical Engineers
Association for High Technology Distribution 
IEEE 
Illuminating Engineering Society
International Society of Automation 
Manufacturers' Representatives Educational Research Foundation 
Manufacturers' Agents National Association 
MIT OpenCourseWare
National Society of Professional Engineers 
National Society of Sales Engineers
North American Association of Sales Engineers
PreSales Collective
SAE International 
SalesEngineers.com
SE Leadership Institute
Society of Women Engineers 
Vertical Flight Society
We The Sales Engineers
Books
Plan B
Being an engineer is hard work. So is being a salesperson. But a Sales Engineer? Now that's a challenging career choice! The benefits can be extraordinary and the compensation lucrative at times, but if you want to explore more career options, the Bureau of Labor Statistics lists the following paths to consider: 
 Aerospace Engineers    
Computer Hardware Engineers    
Electrical and Electronics Engineers    
Industrial Engineers    
Insurance Sales Agents    
Materials Engineers    
Mechanical Engineers    
Purchasing Managers, Buyers, and Purchasing Agents    
Securities, Commodities, and Financial Services Sales Agents    
Wholesale and Manufacturing Sales Representatives    
Newsfeed Featured Jobs Online Courses and Tools