Spotlights
Similar Titles
Respiratory Care Technician, Pulmonary Therapy Technician, Respiratory Therapist Assistant, Respiratory Support Technician, Respiratory Equipment Technician, Breathing Therapy Technician, Respiratory Health Technician, Pulmonary Function Technician, Ventilation Technician, Respiratory Treatment Assistant
Job Description
Respiratory problems impact millions of Americans every year. Serious issues such as asthma, chronic obstructive pulmonary disease, bronchitis, emphysema, lung cancer, cystic fibrosis, pneumonia, and pleural effusion can have serious life-threatening impacts if left untreated. Respiratory Therapy Technicians come to the rescue, helping patients of all ages who experience breathing difficulties. They're also instrumental in assisting patients affected by COVID-19, as well as rendering emergency aid for people who've had heart attacks or shocks. 
 
Part of their work entails measuring patient lung capacity and using blood gas analysis to test blood samples and determine oxygen levels. They help persons suffering from sleep apnea, hook patients up to ventilators when necessary for sufficient oxygen delivery, and dislodge lung mucus by doing physiotherapy. Respiratory Therapy Technicians may be tasked to visit patients at home to conduct ventilator maintenance, provide training, inspect for hazards, and offer education about the risks of smoking. 
Rewarding Aspects of Career
Rendering life-saving medical care to persons suffering from acute breathing issues
Improving the quality of life for persons with chronic conditions
Helping to educate patients about the risks of harmful behaviors such as smoking
Serving on the frontlines in the fight against lung-attacking viruses, diseases, and disorders
Proving critical care to society's most vulnerable populations, to include infants, the elderly, and those with severe breathing ailments
2019 Employment
135,800
2029 Projected Employment
162,000
The Inside Scoop
Job Responsibilities
Working Schedule
Respiratory Therapy Technicians work indoors with occasional travel required, depending on their duties. They work full-time and may expect evening, weekend, or holiday shifts. 
Typical Duties
Communicate with patients about their breathing problems and treatment
Run medical diagnostics such as blood gas analysis to determine oxygen levels
Use electrocardiograms, conduct stress testing, measure patient lung capacity
Help diagnose medical conditions
Work with medical staff and generate viable treatment options to include therapy and medications
Perform chest physiotherapy to loosen and dislodge mucus
Track patient progress and perform follow-ups
Perform endotracheal intubation; connect patients to ventilators when needed for oxygen delivery
Assess patient response to treatment
Operate applicable equipment such as aerosol generators, mechanical ventilators, or gas administration apparatus
Additional Responsibilities
Education patients on proper breathing apparatus and medicine usage
Conduct home visits to assess conditions and provide further training 
Teach patients and family members about the risks of smoking 
Train new staff members as needed
Aid with cardiopulmonary resuscitation 
Instruct patients on breathing techniques 
Skills Needed on the Job
Soft Skills
Clear communication skills 
Compassion and empathy
Critical thinking
Cultural sensitivity and awareness
Desire to help ill patients
Good listening skills 
Patience
Persistent 
Reasoning abilities to figure out problems
Resilience and composure; able to operate under pressure
Resourcefulness 
Skills for coordinating and instructing activities
Sound judgment and decision-making, sometimes under pressure
Technical Skills
Respiratory Therapy Technicians must know how to use a vast area of equipment, such as:
Adult or pediatric intensive care ventilators, apnea monitors, arterial blood gas monitors, and autotransfusion units
Bedside pulmonary function screeners, blood collection syringes bronchoscopes, cardiac output monitoring units, and chest percussors
Oxygen delivery connectors and monitors
Nebulizers, and noninvasive continuous positive air pressure machines
Medical aerosol tents, gas cylinders, oxygen masks, suction/vacuum appliances, and mercury blood pressure units
Clinical incubators, electrocardiography devices, electronic blood pressure units, endotracheal tubes, flow sensors, and ventilators
Intermittent positive pressure breathing machines, intraaortic balloon pumps, and stethoscopes
Sputum collection apparatus, tracheostomy tubes, treadmill exercisers, and vacuum blood collection tubes 
Pulmonary functioning tubing, pulse oximeter units, humidifiers and vaporizers, therapy compressors, resuscitation masks, and spirometers
Electronic medical record software
Different Types of Organizations
Hospitals
Nursing care facilities
Doctors' offices
Expectations and Sacrifices
Respiratory Therapy Technicians provide lifesaving medical assistance to patients, which can be a stressful experience. They're expected to maintain composure and perform duties effectively, no matter what person they're treating is experiencing. For example, the patient might stop breathing right in front of them. This can demand a level of emotional detachment during the situation, and those pent-up feelings of stress, fear, sadness, or anxiety will eventually want to come out. It's important for workers in this career field to take care of their own wellness needs and manage their stress levels. 
 
There's also the risk of exposure to infectious disease and other contagions when treating patients. In particular, those with lung conditions may cough a lot, spewing germs into the air surrounding them. For this reason, Respiratory Therapy Technicians should always do a careful assessment before treating their patient, and determine the proper personal protective equipment or mask to wear, when needed. 
Current Trends
Respiratory Therapy Technicians have been in high demand due to the COVID-19 pandemic. The job outlook is expected to expand as much as 19% in the coming decade, which is substantially higher than most fields. This is not simply because of the effect of the coronavirus, but also because people are living longer, but not necessarily healthier, lives. 
 
As a result, patients may develop any number of respiratory conditions requiring treatment and therapy from trained professionals. This may include increasingly providing care in non-hospital areas, such as nursing homes. 
 
Other trends include a focus on early detection and prevention, and continuing focus on air pollution and anti-smoking educational awareness. The Bureau of Labor Statistics predicts an emphasis on certification and a willingness to travel to rural areas. 
What kinds of things did people in this career enjoy doing when they were young...
Respiratory Therapy Technicians are devoted to helping others in their time of greatest need. These frontline workers may have always had a desire to come to the rescue of others, perhaps due to some childhood experience. While it's required for them to have compassion and empathy, they must also be objective and composed in stressful situations. They may have honed their skills as early leaders of activities in school, perhaps in sports or clubs. Chances are they also exhibited an aptitude for biology and science, or tech gadgets. It's also possible they thrive in high-stakes environments, which could have any number of reasons behind it, including early exposure to risky or chaotic situations. 
Education and Training Needed
Respiratory Therapy Technicians require an associate's degree at a minimum, with a bachelor's preferred for some positions
There are also required clinical components for hands-on practice
Programs should be accredited by the Commission on Accreditation for Respiratory Care 
Career-specific training includes learning CPR, testing procedures, therapy techniques, diagnostics, and how to operate a wide range of equipment 
After the associate's or bachelor's is completed, state licensure is required except in Alaska (where it's still highly recommended)
Graduates must pass a Therapist Multiple-Choice exam to earn their Certified Respiratory Therapist certificate from the National Board for Respiratory Care
An advanced certificate is also available to become a Registered Respiratory Therapist
Speciality certifications include:

Adult Critical Care Specialty
Certificate of Added Qualification in Neonatal Pediatric Transport
Certified Respiratory Therapist - Sleep Disorders Specialty
Certificate of Completion - Bronchoscopy
Things to look for in a program
According to O*Net Online, just 12% of Respiratory Therapy Technicians complete a bachelor's degree
For those looking to do an associate's only, find a reputable community college or university program accredited by the Commission on Accreditation for Respiratory Care 
Ensure the program features sufficient supervised, hands-on practical experience in a clinical setting
A bachelor's isn't required for all Respiratory Tech jobs, but it helps applicants be competitive. Check into bachelor's programs to ensure all associate-level credits would be transferable 
Whether attending a community college, vocational school, or four-year university, screen their their stats for acceptance and graduation rates, plus enrollment, class sizes, and job placement rates after graduation
Read up on the school's career resources to see how they can help you get a job as soon as possible after graduation. Many programs partner with local employers!
Things to do in High School and College
Study hard in classes related to math, physics, anatomy, physiology, chemistry, microbiology, and pharmacology
Look into internships or volunteer opportunities that can get you experience working in clinical settings. Any practical exposure to patients can be useful later
If time permits, study in advance for the Certified Respiratory Therapist certificate

An associate's must be completed before admission, but you can still prepare early
The National Board for Respiratory Care lists a Detailed Content Outline showing what's on the 160 question Therapist Multiple-Choice exam
The site also features a free practice exam, self-assessment, and exam FAQs

Learn about the various diseases, disorders, and other factors that affect lung health
Grow your professional network to learn about resources, job-seeking tips, and future openings
Study the missions of associated professional organizations, such as:

American Association for Respiratory Care
American Lung Association
American Thoracic Society
National Board for Respiratory Care
Respiratory Care Board
Typical Roadmap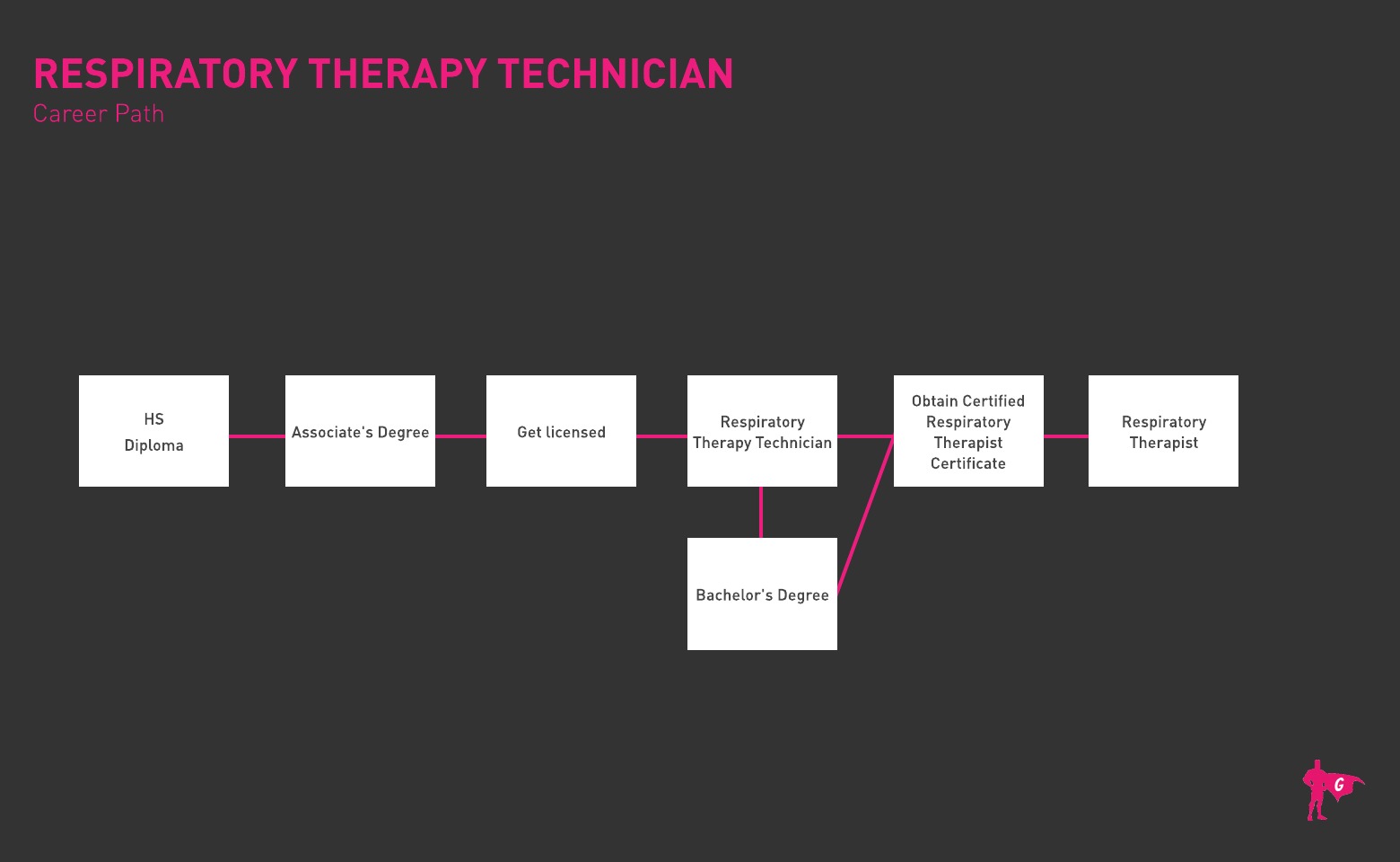 How to land your 1st job
Have all necessary educational, certification, and licensure requirements taken of care, as applicable for the specific job you want and the state it's in
Carefully read job ads to ensure you meet all listed qualifications and prior experience
List your education and work experiences on your resume, taking care to utilize keywords and phrasing that will address all posted requirements listed in the ad
Include details that corroborate and support your resume points, such as quantifiable data and impacts your actions had
Have someone (an editor or resume writer) assist or at least review your resume for errors
Search for openings on the big job portals like Indeed.com, Monster, and Glassdoor, but also use Google Careers as a backup search tool 
Beef up your LinkedIn profile. Hiring managers will look at your digital footprint, to include LinkedIn and perhaps even your social media activity
Put your network to use! CNBC writes that as many as 80% of jobs are found thanks to one person the job seeker knows, so the more connected you are, the better your odds!
Ask old supervisors and teachers to be reference providers or to write recommendation letters for you (Chances are, someone did that kind service for them in their past, so never feel shy about asking. They're probably happy to do it for you!)
Be polished and ready for interviews. Dress like a professional and read up on Respiratory Therapy Tech interview questions and answers, such as "How would you deal with an angry patient?"
How to Climb the Ladder
Respiratory Therapy Technician openings are increasing, which means there's plenty of room for advancement, too
If you started out with an associate's degree, consider pursuing that bachelor's degree next
If you haven't completed the Registered Respiratory Therapist certification, study up and knock that out to show you're ready for more responsibility
Keep up with changes in the field, by learning about new technologies, treatments, and therapies. Don't stop learning new things! 
Always be a consummate professional at work and a dedicated patient advocate
Offer compassionate patient care to those you assist, and treat them the way you'd want to be treated in their situation
Learn from everyone around you and become an invaluable team player
Mentor new staff and be the example for them to follow
Get out of your local bubble and engage with professional peers at state and national organizational conferences and meetings. See our Recommended Tools/Resources section for a list of professional organization websites! 
Get to know the job inside-and-out, and think about writing articles for reputable online news sites or even medical journals like Respiratory Therapy, the Journal of Pulmonary Technique and AARC Times
Recommended Resources
Websites
AARC Times
American Association for Respiratory Care
American College of Chest Physicians
American Lung Association
American Thoracic Society
California Society for Respiratory Care
Canadian Journal of Respiratory Therapy
Commission on Accreditation for Respiratory Care
National Board for Respiratory Care
Respiratory Care Board
Respiratory Therapy, the Journal of Pulmonary Technique
RT for Decision Makers in Respiratory Care
Books
Plan B
Respiratory Therapy Technicians have demanding, stressful jobs. They bear a large civic responsibility to care for persons suffering from severe, sometimes life-threatening issues! These are dream jobs for some, but a bit too much for others. 
 
A few alternative careers to consider can be found on the Bureau of Labor Statistics website. It lists the following similar occupations: 
Athletic Trainers
Exercise Physiologists
Medical and Health Services Managers
Occupational Therapists
Physical Therapists
Radiation Therapists
Registered Nurses
Newsfeed Featured Jobs Online Courses and Tools