Spotlights
Similar Titles
911 Dispatcher, Communications Officer, Communications Operator, Communications Specialist, Dispatcher, Emergency Communications Operator (ECO), Police Dispatcher, Public Safety Dispatcher, Telecommunicator, Emergency Response Dispatcher
Job Description
The world can be a dangerous place, but luckily we have agencies dedicated to promoting public safety and responding to incidents quickly. But how are those resources routed to the right locations at the right time? Through the work of Public Safety Telecommunicators! These specialized call center dispatchers are the vital link between a citizen in need and an emergency response unit. 
Using high-tech computer systems, they take calls, collect information, establish a connection with suitable police, medical, or fire responders, then calmly dispatch appropriate resources to the person or people in need. Telecommunicators may offer limited direct assistance to callers, such as reassurance or verbal help with administering first aid. Once responders are on the way, they stay tuned for new details that may emerge and provide extra information to the responding units.
Rewarding Aspects of Career
Routing emergency response units to people in need of help

Potentially helping to save lives

Fielding routine calls for non-emergency assistance

Preventing criminal activities from becoming even more serious
2021 Employment
99,500
2031 Projected Employment
103,200
The Inside Scoop
Job Responsibilities
Working Schedule
Public Safety Telecommunicators work full-time and sometimes 12-hour shifts, including nights, weekends, or holidays. 
Typical Duties
Field 911 calls and emergency text messages

Respond to incoming alarm systems communications or an alarm company's representative

Use

social media

integrated into emergency response systems

Collect information from callers such as their name, location, and details about the emergency or situation they are calling about

Determine if an emergency response unit such as police, medical units, or fire department are required

Assess priority of incidents when there are multiple situations being called in

As needed, connect with responder agencies via mobile data terminal, two-way radios, or other forms of communication. Share and summarize relevant details of the incident

Dispatch and coordinate responder personnel and vehicles. Monitor their status en route and after they arrive on scene

Provide support and verbal instructions (such as how to render first aid) to the caller while they wait 

Share administrative, non-emergency-related information with callers 

Maintain records of all calls. Add details into databases/programs

Use state and local databases to search for information such as motor vehicle records, protective orders, arrest warrants, or other information about potential criminal suspects
Additional Responsibilities
Stay up to date on new software 

Complete refresher training and acquire training certifications, as needed

Memorize information such as commonly-used phone numbers, geographic locations, street names, and operating procedures 

Maintain strong relations with responder agencies

Train new workers on relevant duties
Skills Needed on the Job
Soft Skills
Accuracy

Communication skills 

Composure

Decision-making

Dependability

Detail-oriented

Diligence

Empathy

Integrity 

Listening skills

Methodical 

Monitoring

Multi-tasking

Objectivity

Observant

Patient

Persistent

Relationship-building

Sense of urgency

Sound judgment 

Time management 
Technical Skills
911 and law enforcement databases

Computer-aided dispatch software, such as

Spillman Computer-Aided Dispatch

Knowledge of first aid and CPR

Knowledge of laws, regulations, and agency policies

Multi-line phone systems

Two-way radios

Typing
Different Types of Organizations
Ambulance services

Government agencies

Universities
Expectations and Sacrifices
When emergency situations come up, citizens call 911 and are connected with Public Safety Telecommunicators. It's up to these behind-the-scenes professionals to listen, ask the right questions, stay calm and focused, and determine the appropriate response services or other actions to take. Much depends on their skills and abilities, with lives and property often at risk while they are doing their jobs. Every moment is critical, and sometimes multiple calls come in around the same time, requiring Telecommunicators to prioritize emergencies while ensuring every caller is heard and responded to. 
The fast-paced, high-stakes environment can cause a lot of stress, yet the job demands workers maintain their calm demeanor and alertness over long periods (with some shifts lasting 12 hours while fielding dozens or even hundreds of calls). It can be an exhausting emotional rollercoaster ride, which is why Telecommunicators sometimes report feeling underappreciated or burned out.  
Current Trends
The reasons may be in dispute, but crime is undeniably on the rise in America and the capacity of first responders is often stretched thin in some areas. In recent years, workers in law enforcement, firefighting, and emergency medical response fields have increasingly utilized smartphones, body-worn cameras, mobile apps, AI, and upgraded public safety software to act more efficiently and effectively. Drones and real-time video feeds are also augmenting responders' situational awareness as they enter hazardous situations. These technological advantages also aid Telecommunicators, but they require training to understand and maximize the full range of benefits. 
What kinds of things did people in this career enjoy doing when they were younger…
Public Safety Telecommunicators may have enjoyed participating in school activities where they got to coordinate the roles of others. They are usually calm and objective, able to deal rationally with situations that might make their peers anxious. Many Telecommunicators are supporters of law enforcement, firefighters, and emergency medical responders, and may have long had an interest in working within those fields. 
Education and Training Needed
Education Needed
Public Safety Telecommunicators don't need a college degree. Many start with a high school diploma or equivalent 

Employers offer On-the-Job training to candidates who are highly motivated, and can pass a background check, drug screening, polygraph, plus medical exams (psychological, vision, and hearing). A minimum typing speed may also be required 

Knowledge of a second language is needed in some areas

Knowing and being able to talk others through CPR will be useful 

In addition to On-the-Job training, some agencies that run 9-1-1 call centers have a dispatch academy featuring academic coursework

Common training courses include local geography and agency policies and protocols, the use of computer-aided dispatch systems, and managing high-risk situations 

Many states require Telecommunicators be obtained a certification, which involves completion of a set amount of training hours along with continuing education every few years to stay current

Common certification options include:

Association of Public-Safety Communications Officials

- 

Registered Public-Safety Leader

Certified Public-Safety Executive

International Academies of Emergency Dispatch

- 

Emergency Telecommunicator Certification

Emergency Fire Dispatcher Instructor Certification

Emergency Medical Dispatcher Certification

Emergency Fire Dispatcher Certification

Emergency Police Dispatcher Certification

Executive Certification

Emergency Fire Dispatch - Q Certification

Emergency Police Dispatcher Instructor Certification

Emergency Telecommunicator Instructor Certification

Emergency Police Dispatcher - Q Certification

Emergency Medical Dispatcher Instructor Certification

National Emergency Number Association

- Emergency Number Professional
                   Coast Guard National Maritime Center - STCW - GMDSS Radio Operator
Things to look for in an University
Public Safety Telecommunicators do not need a college degree, however some workers may opt to take public safety communications, law enforcement, or Emergency Medical Technician courses at their local community college first

Roughly 9% of applicants have "some college, no degree" and 10% have an associate's degree. The rest are picked up with just a high school diploma or GED 

College is not required but could make you a more competitive candidate. Either way, once hired the employer will provide the training necessary for the position!
Things to do in High School and College
High school students can prepare by taking classes in typing, math, sociology, psychology, English composition, fitness, and computer science 

Learn CPR

and be able to explain it to others 

Participate in school activities where you can hone your soft skills such as speaking, active listening, time management, and conflict resolution

Make connections with people in the first responder world! Look for volunteer opportunities with police and firefighters to gain a better understanding of what they do all day

Ask if you can do a "sit-along" in a 9-1-1 call center 

Check out articles and

videos

about Public Safety Telecommunicator duties

Try to get some job experience in customer service, administrative support, or a call center position

Decide if you want to pursue college/vocational training courses to beef up your job application

Study the geographic region where you intend to work. Get some maps and learn the major roads, most traveled street names, highways and freeways, major buildings and landmarks 

Read or watch the news to gain an understanding of pervasive problems in your town or city, such as areas where there are high levels of theft

Keep a list of contacts (including phone numbers or emails) who might serve as future job references 

Stay out of trouble so you can pass the criminal background check!

Practice your professional demeanor and learn to control your emotions during periods of high stress
Typical Roadmap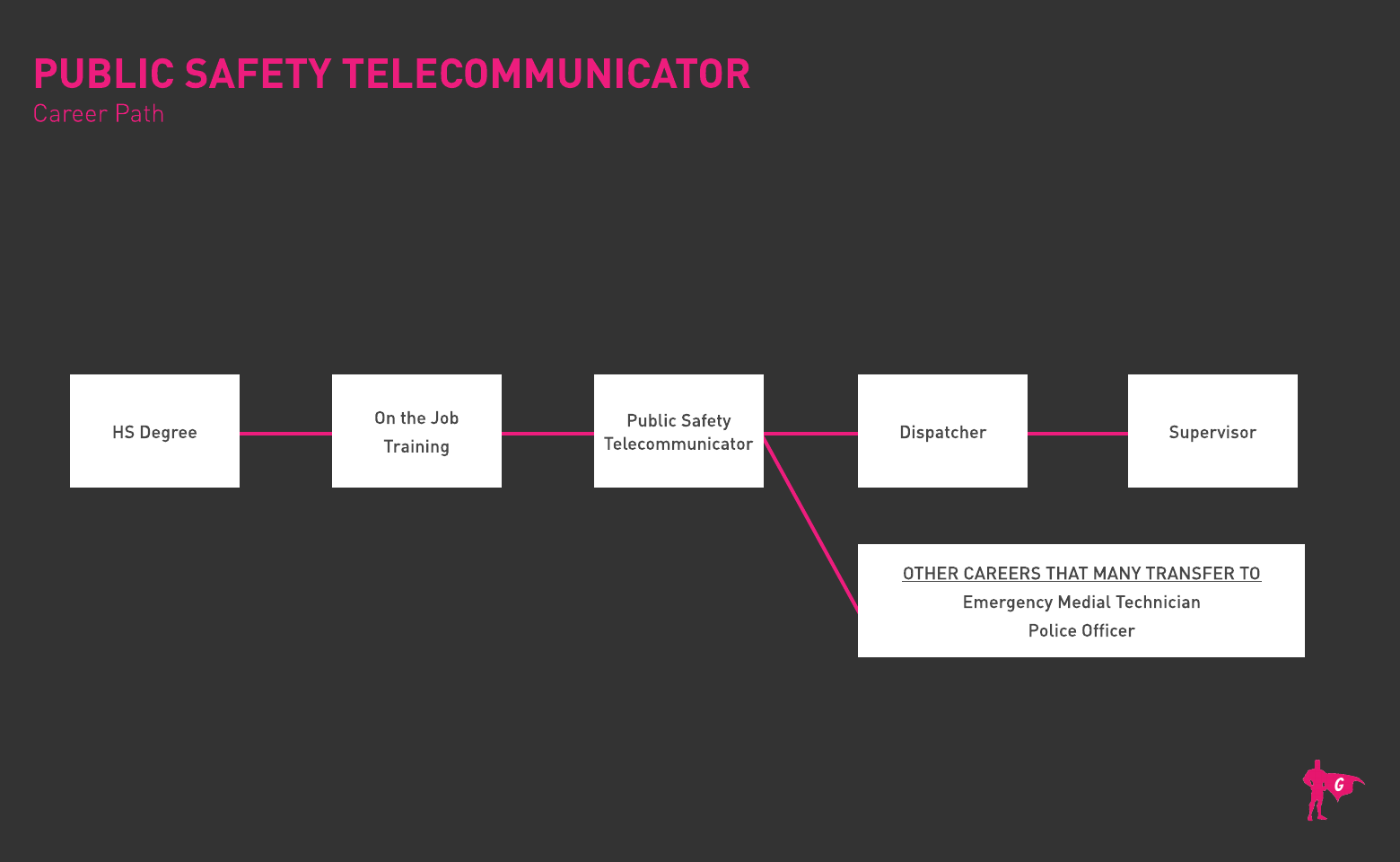 How to Land your 1st job
Let your professional network know that you are looking for work

Review job portals such as

Indeed

,

Glassdoor

,

Craigslist

, and local agency career pages

Help recruiters find you by posting your resume on job boards and

LinkedIn

Keep your social media clean and professional, in case recruiters take a peek

Read

Public Safety Telecommunicator interview questions

, learn your career-related terminology, and practice your answers

Consider moving to a state where there are more

employment opportunities

, such as Texas, California, New York, and Florida…but make sure you are certified to work in the state, if needed

Get permission from the people you want to use as job references

Practice doing

mock interviews

and mock call center conversations. Learn the basic questions that call centers ask in different types of emergencies
How to Climb the Ladder
Talk with your supervisor and let them know your career goals. Ask for their advice on how to move up

Earn certifications that will qualify you for specialized duties or higher levels of responsibility 

Maintain your composure at all times and treat all callers with respect

Always be committed to helping callers receive the services they need

Stay up-to-date on new programs and technologies

Know, comply with, and enforce all applicable federal, state, local, and organizational policies

Synergize your efforts with first responders and work together as a team to render assistance

Train new workers thoroughly and hold them to high standards

Get involved with your community, conduct outreach activities, and build your reputation as someone who is there to help

Engage regularly with professional organizations. Attend events and keep networking and building relationships!
Recommended Tools/Resources
Plan B
Public Safety Telecommunicators have intense jobs and sometimes they take work-related stress home. The career field can be rewarding but it has a high turnover rate and isn't for everyone. A few related career options include:
Air Traffic Controllers

Customer Service Representatives

Dispatchers, Except Police, Fire, and Ambulance

EMTs and Paramedics

Paramedics

Power Plant Operators, Distributors, and Dispatchers

Security Guards and Gambling Surveillance Officers

Security Workers

Switchboard Operators
Newsfeed Featured Jobs Online Courses and Tools