Spotlights
Job Description
Private Equity positions are highly sought-after careers. Private equity firms manage investment capital to own controlling interest in a number of companies. They will earn money through whole or partial ownership of the companies, as well as earning a fee for managing the companies. They do this through both financing the company and obtaining profits from the company. They also typically sell the company after several years for more than their purchase price.
Rewarding Aspects of Career
Supporting different types of companies
Excellent compensation if successful
Salary
First-year associate: $50,000 to $250,000, with an average of $125,000. An average first-year salary may be $81,000, with a bonus of 25-50 percent of base salary.
Second-year associate: $100,000 to $300,000, with an average of $135,000.
Third-year associate: $150,000 to $350,000, with an average of $160,000.
The Inside Scoop
Job Responsibilities
Duties as a private equity associate can include the following:
Analytical modeling: The primary function of the associate is to provide all analytics required for the principals and partners to make an informed decision about a deal. Common tasks include preparing preliminary due diligence reports and modeling with growth forecasts.
Portfolio company monitoring: Associates are usually assigned portfolio companies to monitor and must maintain up-to-date financials. 
Reviewing CIMs: CIMs or confidential information memorandum are documents investment banks use to provide data about new investment opportunities. Associates receive the CIMs, screen them for potential opportunities that fit within the firm's framework, and provide a simple one-page summary for the senior team. 
Fundraising: When new funds are being formed, associates assist with preliminary fundraising while senior executives handle most of the relationship and client interface.  
Skills Needed on the Job
Soft Skills
Stamina
Social Skills – Oral/Written Communication
Creativity
Analytical Skills
Technical Skills
Office software for word processing, spreadsheets, databases, and email.
Data Analysis software understanding.
Research ability for industry shifts and acquisitions.
Advanced business knowledge and how to attract investors.
Expectations and Sacrifices
Many firms have 2-3 year training programs for new employees.  As an entry level associate, much of the "grunt" work will fall on your shoulders so you can expect 12 or more hour days during these first few years.
You will be expected to already be well-versed in finance, so firms will take a hard look at your grades and even your school before offering to hire you.
Current Trends
Private Equity firms are growing in value, if not in employees. There is a greater need to acquire and use data analysis in finding excellent deals to invest in. Recently, invested companies have been reaching price targets faster – a sign of a coming recession. This can result in a greater need for private over public equity (like the stock market).
Much of the private equity growth has been in Europe, but growing concerns for a recession have slowed this somewhat. There is also a greater emphasis on a company's social and environmental impact.
What kinds of things did people in this career enjoy doing when they were young...
Raised money such as lemonade stands.
Participated in concessions sales at sporting events.
High achiever and competitive
Extremely attentive to detail
Interested in investing
Interest in long term projects 
Education and Training Needed
Bachelor's
Finance, accounting, statistics, mathematics, or economics
Private equity firms do not usually hire straight out of college or business school unless the student has previous significant private equity internships or work experience.
The most important qualification to become a private equity analyst is two to three years prior experience as an investment banking analyst. Some firms also hire former management consultants. 
Things to do in High School and College
Strive for a high GPA and a top tier school, such as Ivy League.
Business Professionals of America
Participate in Marketing clubs.
Work in the financial sector and obtain a good summer associate internship at an investment bank. 
Typical Roadmap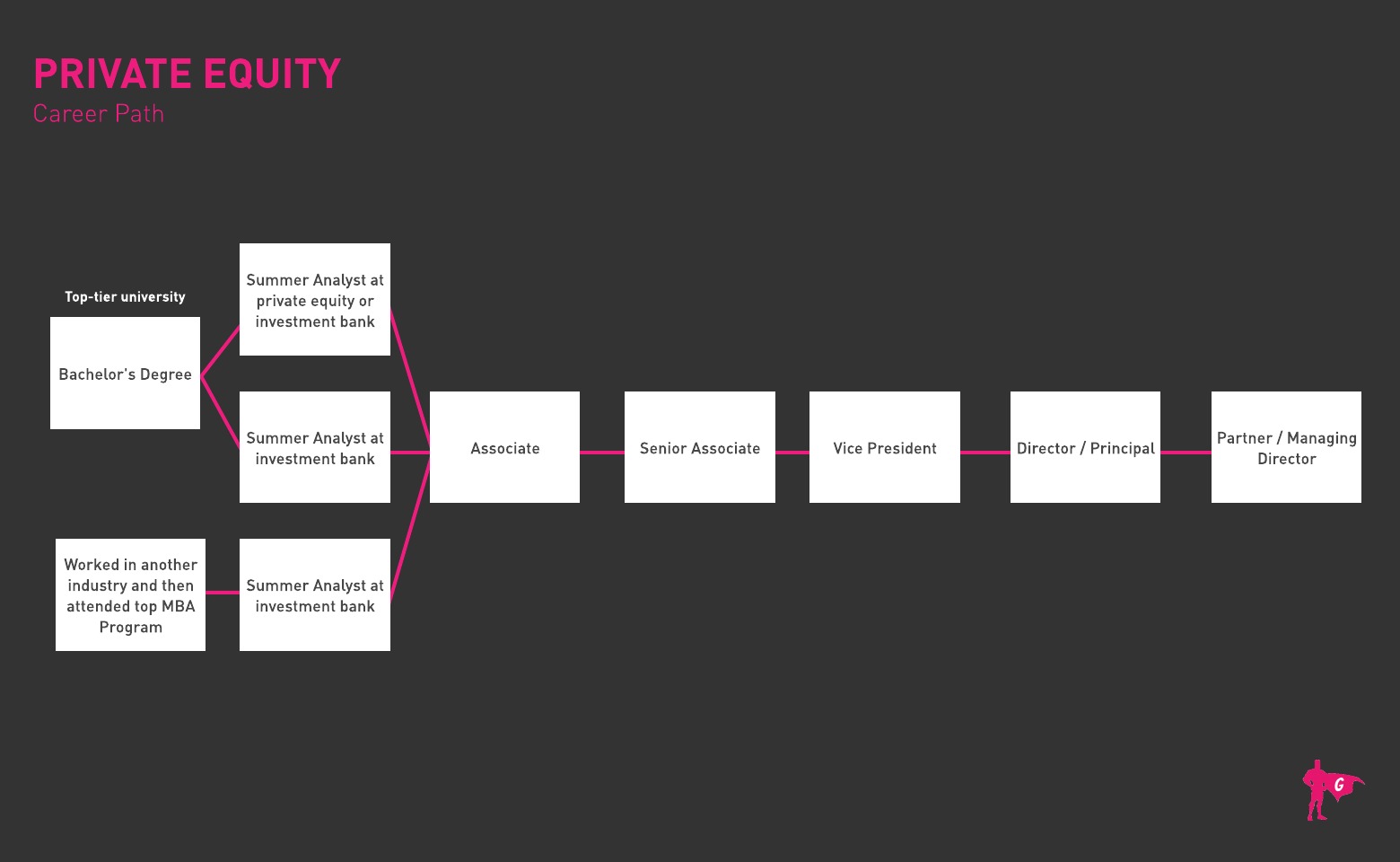 How to land your 1st job
The most common way to get into private equity is to get a summer analyst position at a private equity firm or investment bank during your undergraduate years. Both of these firms recruit from top tier universities. You will need to get have solid grades (GPA 3.5 and over). 
If you perform well at your summer analyst position, you will get an offer to join as an analyst after you graduate from college. 
Many investment banking analysts move laterally to a private equity firm as well. 
Recommended Resources
Websites
Investopedia – Learn about basic securities investment.
Corporate Finance Institute – More information about financial careers.
Publications
The Wall Street Journal
Barron's
Investor's Business Daily
Take Action Now:
Financial Industry Regulatory Authority – Learn about licensure for analysis
Global Academy of Finance and Management – Learn about (or start!) financial analysis certifications.
CFA Institute – More information about Securities
Plan B
Venture Capitalist
Investment Banker
Stockbroker
Financial Analyst
Words of Advice
Private Equity is a difficult field to enter. There are few positions, even with growth, and you will be expected to work long hours. Most individuals enter the field after already having worked long hours in other financial areas. However, the firms are typically small in size and have a strong communal team feeling. 
If you are set on a career in finance, Private Equity firms are one of the hardest firms to find employment with, as well as being a challenging job. However, if you are able to prove yourself as a profit creator and enjoyable co-worker you have a great chance at moving up the ladder.
Newsfeed Featured Jobs Online Courses and Tools