Spotlights
Similar Titles
A "portfolio manager" is a type of financial or investment fund manager.
Job Description
A Portfolio Manager is responsible for investing funds provided by investors. The fund can be provided by a venture capital firm, mutual funds, hedge fund, or other investment originators. They will decide the best way to invest the money to turn a profit. They select specific investments and execute trades in the market.
Rewarding Aspects of Career
Helping others succeed in investment.
To succeed, you keep up on current events and make big decisions.
Well compensated and regarded in this role.
Challenging work every day.
The Inside Scoop
Job Responsibilities
A portfolio manager can be an individual, or work with a group managing the same portfolio. During their workday they will spend a lot of time in meetings, on the phone, responding to email, or text messages. During this time, they can expect to:
Study economic trends, as well as current events and how the events may affect financial markets.
Analyze financial data and its historic performance.
Analyze company data as well as the company's individual performance.
Write reports or create presentations.
Meet with high-level investors.
Recommend investments for the funds.
A Portfolio Manager may also choose a more active role in the investments being managed. Passive managers will use data to invest in long-term investments typically understood to grow over time without much interaction. Active managers will trade more often and try to beat the market growth. Investors will decide which type of investment they want their managers to do.
For hedge fund managers
If this is a single-manager hedge fund, then the Portfolio Manager raised the capital and has responsibility for all of it; if it's a multi-manager fund, he/she was assigned a certain amount of assets under management (AUM) to invest. Regardless of the fund type, the PM makes final trading decisions, monitors risk and the entire portfolio, and oversees back/middle office operations such as compliance, IT, and accounting.
PREVIOUS JOBS BEFORE BECOMING A PORTFOLIO MANAGER: 
Analyst Tasks include: 
Monitoring industry and company trends.
Speaking with management, customers, and suppliers at potential or current portfolio companies.
Responding to questions from Senior Analysts and Portfolio Managers and explaining/defending your ideas.
Generating investment ideas.
Building financial models and valuations to support your ideas.
Conducting due diligence, often with on-site visits and "channel checks."
Senior Analyst (Section Head) tasks include: 
Similar tasks to Analyst but additional responsibilities: 
As the alternate names imply, you often specialize in one sector, industry, or strategy.
You spend more time pitching the Portfolio Managers on your ideas, coming up with ideas, and having Analysts flesh out and support those ideas.
You spend more time on management – developing Analysts below you to help with work, getting the PMs to trust you, and building a reputation with equity research analysts and management teams.
 
Skills Needed on the Job
Strong written/oral communication skills.
Excellent at data analysis and understanding data trends.
Deductive reasoning and understanding complex cause/effect relationships.
Computer literacy – including word processing, database analysis, and spreadsheets.
Highly skilled in mathematics, including calculus and statistics.
Customer Service skills
Administration and Management.
Economics and Accounting.
Different Types of Organizations
Wealth Management Firms
Pension Funds
Foundations (Endowment Funds)
Insurance Companies
Banks
Hedge Funds
Securities Companies
Expectations and Sacrifices
Like many financial sector positions, Portfolio Managers work long hours much of the time. This is not an entry level position, so you can expect to work for some time in a different financial analysis position. This means you will have spent time already being successful in one position before moving into another.
Current Trends
Portfolio Managers typically create profit through public securities growth. There is an increase in investment through Private Equity firms which takes some of this potential off the table.
Portfolio Management continues to increase its reliance on data collection and analysis. There is also an increase in technology use as software is able to run more complex predictions on a security's performance.
There is also an increase in handling items outside the financial scope. Companies are developing stronger environmental concerns and diversity in their human resources. Some portfolio managers are using these concerns to help increase a company's public perception and profit.
What kinds of things did people in this career enjoy doing when they were young...
Scorekeeping for sporting events.
Math lessons and class.
Running personal businesses such as lemonade stands.
Helping run concessions or other business-related activities.
Education and Training Needed
Bachelor's Degree

Financial Field
Internship
Include statistics and complex mathematics

Master's Degree – Business Administration, Finance Economics
Chartered Financial Analyst certification https://www.investopedia.com/articles/analyst/060302.asp

Four Years work experience, Three exams
Things to do in High School and College
Business Professionals of America or similar organizations.
Marketing clubs, participating in school stores or concessions.
Internships
Connect with professors and professionals in the field.
Typical Roadmap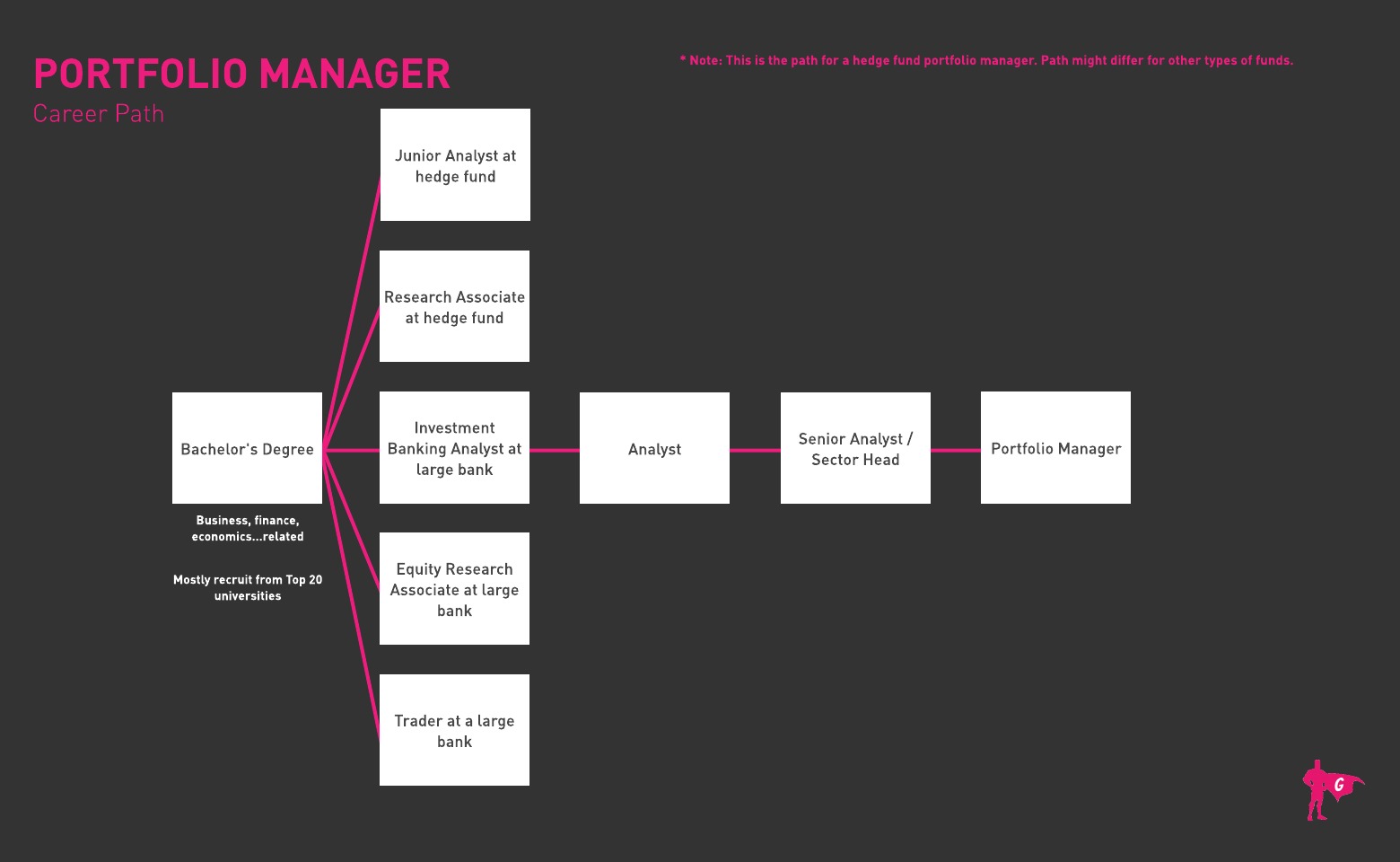 How to land your 1st job
A Portfolio Manager is not an entry level position. You will need to find an entry level position as a financial analyst in a firm, typically a "junior analyst." These positions are open to bachelor degree candidates. Professionals will spend several years gaining on-the-job experience before returning to school to earn a master's degree.
This, coupled with their job experience, provides them with the background to move into a senior analyst position. This is the individual who works directly for the Portfolio Manager, supervising a small team of Junior Analysts. Eventually, with success, they may move into a Portfolio Manager position.
Once you are a portfolio manager, depending on the size of the firm, you may move into a Senior Portfolio Manager position. For many, this will be the highest position available. However, you may be able to find a leadership position elsewhere or even start your own firm.
How to Climb the Ladder
The movement from school to Portfolio Manager is straight-forward. You will start at a firm as a junior analyst and work your way up if you demonstrate success. You will be expected to earn a Master's degree at some point, often while you are working.
Portfolio Manager's often run several teams via their senior analysts and do not have much room to move up themselves.
Recommended Resources
Websites
Investopedia – Learn about basic securities investment.
Publications
The Wall Street Journal
Barron's
Investor's Business Daily
Take Action Now:
Financial Industry Regulatory Authority – Learn about licensure for analysis
Global Academy of Finance and Management – Learn about (or start!) financial analysis certifications.
CFA Institute – More information about becoming a Chartered Financial Analyst.
Plan B
Investment Banker
Fund Manager
Corporate Finance
Venture Capitalist
Private Equity work
Words of Advice
In finance, relationships can be as important as money. During your school and entry-level work it is important to build a strong network. Every person you encounter could be a later reference, so it is important to hone your people skills. Moving up and finding positions is based on who you know, but also on how well you do at your job.
You will need to plan on performing well in finance, as well as likely obtaining a Master's Degree, to be moved into a senior level at a firm. You will then need to demonstrate further success before obtaining a Portfolio Manager position. However, if you are able to do so, you will be well compensated and be able to move into other financial positions easily if you desire.
Newsfeed Featured Jobs Online Courses and Tools