Spotlights
Similar Titles
Medical Appliance Technicians, Certified Pedorthotist, Hearing Aid Repair Technician, Lab Technician, Orthopedic Technician, Orthotic and Prosthetic Technician (O and P Technician), Orthotic Technician, Prosthetic Technician, Prosthetics Technician, Registered Prosthetic Orthotic Technician
Job Description
Medically speaking, our bodies are made up of systems, including major systems such as our nervous system or digestive system. But it's our musculoskeletal system that holds everything together! When problems arise with our bones, muscles, joints, ligaments, or tendons, we need the expert help of an orthopedist doctor. And those doctors, in turn, rely on the help of Orthopedic Technicians!
Orthopedic Technicians (aka Ortho Techs) perform a variety of tasks, such as applying and taking off casts, braces, bandages, and splints, making adjustments to equipment used for patient traction, and helping out during surgical procedures. They work directly with patients, advising them about procedures as well as proper care and maintenance for casts and other things applied to their bodies. Ortho Techs also fill out patient records, order and stock medical supplies and equipment, and train new staff, as needed. 
Rewarding Aspects of Career
Helping patients on their recovery journeys after injuries or surgeries 

Learning how the musculoskeletal system works and affects our lives 

Serving as a valuable member of a larger orthopedic team 
The Inside Scoop
Job Responsibilities
Working Schedule
Orthopedic Technicians work full-time, usually in office or clinical settings. Some may work in on-call situations and must be available after normal hours. 
Typical Duties
Take patients' vital signs

Coach patients (who may be wearing casts or braces) on the proper use of walking aids, such as canes, crutches, or walkers

Adjust crutch heights to better fit patients

Work with surgical or nonsurgical orthopedists, physician assistants, nurses, physical therapists, trainers, and other orthopedic team members, as needed

Prep patients for surgery and assist during surgical procedures using aseptic technique

Apply plaster or fiberglass casts, braces, splints, or bandages to patients. Review proper care to ensure comfort and avoidance of skin infections 

Set up skeletal or cervical traction mechanisms to help position bones or joints

Explain rehabilitation protocols and exercises to patients so they can do them at home

Fit patients with customized foot orthotic shoe inserts and

Durable Medical Equipment

Perform basic wound care; remove sutures
Additional Responsibilities
Keep inventory of and replenish medical supplies and equipment

Set up clinical rooms with supplies to be used 

Annotate patient records

Work with Computer Numerical Control (CNC) machines to fabricate

orthotics

 
Skills Needed on the Job
Soft Skills
Attention to detail

Independent

Initiative

Organized

Problem-solving

Reliable

Resourceful 

Safety conscious 

Strong communication skills 

Teamwork 

Time management
Technical Skills
Aseptic technique

Basic wound care and suture/staple removal

First Aid and CPR

Electronic health record software

Familiarity with

CNC machines

Knowledge of cast-making, braces, splints, and bandages

Knowledge of Durable Medical Equipment fitting

Knowledge of traction equipment 
Different Types of Organizations
Clinics, hospitals, outpatient facilities, and private practices 
Expectations and Sacrifices
Orthopedic Technicians need to understand their duties very well and keep up with changes because patients rely on them to recover as quickly as possible. They should stay in good physical condition to help patients move around, as needed. Some techs might have to work on-call in the event of an emergency where their services are needed. To qualify for some positions, certification from a third-party organization like the American Society of Orthopedic Professionals may be needed. 
Current Trends
Outpatient ambulatory surgical centers (ASCs) are increasingly popular in recent years because they help keep patients from visiting crowded hospitals. Another trend is the growing shift to do minimally/noninvasive procedures for patients who previously might have needed more complex operations. Two exciting new solutions—Tactoset and OVOMotion—are helping patients avoid more invasive surgeries. 
The world of orthopedics is also being impacted by the rise of robotics, AI, and virtual reality tools in the operating room. For patients requiring medication for pain relief, there's a demand for multimodal pain regimens to work as alternatives to traditional yet addictive opioid drugs. 
What kinds of things did people in this career enjoy doing when they were younger…
Ortho Techs might have enjoyed biology in school, and wanted to get into a medical field when they got older. They are empathetic, compassionate, and enjoy helping others. 
Education and Training Needed
Orthopedic Technicians can often get started with just a certificate or associate's degree

Zippia

notes that 28.5% of workers in this field have an associate's while 39% have a bachelor's. The rest have either a high school diploma plus sufficient related work experience, or a certificate or master's degree

Common areas of study include orthopedic technology, nursing, and medical technician training 

Some Ortho Techs start out in other medical roles, such as medical assistant, surgical technician, and certified nursing assistant

Employers may expect workers to be

First Aid

and

CPR-certified

Training or experience with electronic health records is also usefully needed 

Technicians will generally receive at least a month of On-the-Job training to become familiar with employer practices 

To further boost your credentials, the National Board for Certification of Orthopaedic Technologists offers two certifications—

Orthopaedic Technologist Certified

and

Orthopaedic Technologist-Surgery Certified

Workers can also apply for certification through the

American Board for Certification in Orthotics, Prosthetics & Pedorthics

or the

American Society of Orthopedic Professionals
Things to look for in an University
Many Orthopedic Technicians start out in other medical positions and work their way into the field without getting a college degree

An orthopedic technology certificate or associate's from a community college or vocational school is also often enough to get hired for entry-level roles

Search the web for program reviews from recent graduates and info about post-graduation job placement stats

Find out if the program has any partnerships with local employers 

Decide if you'll attend an on-campus program, online, or hybrid (a mix of both)

Compare the costs

of tuition and scholarship opportunities

Apply for

federal student aid

to see what kind of financial assistance offers you might get from the government and from the school itself
Things to do in High School and College
In high school, future Orthopedic Technician should study up on their biology, physical fitness, math, and computer science 

Apply for part-time jobs or internships where you can gain real-world experience in the medical field

Get certified in

First Aid and CPR

Read orthopedic magazines and blogs to become familiar with the terminology and practices

Reach out to working a Orthopedic Technician to do an

informational interview

Check out job postings well ahead of time, to learn about the most common application requirements

Decide if you want to get a related job first, then work your way into orthopedics; or, get some formal training first, then apply for Ortho Tech jobs

If you go for formal training, think about what's right for you—a certificate program, associate's, or bachelor's degree
Typical Roadmap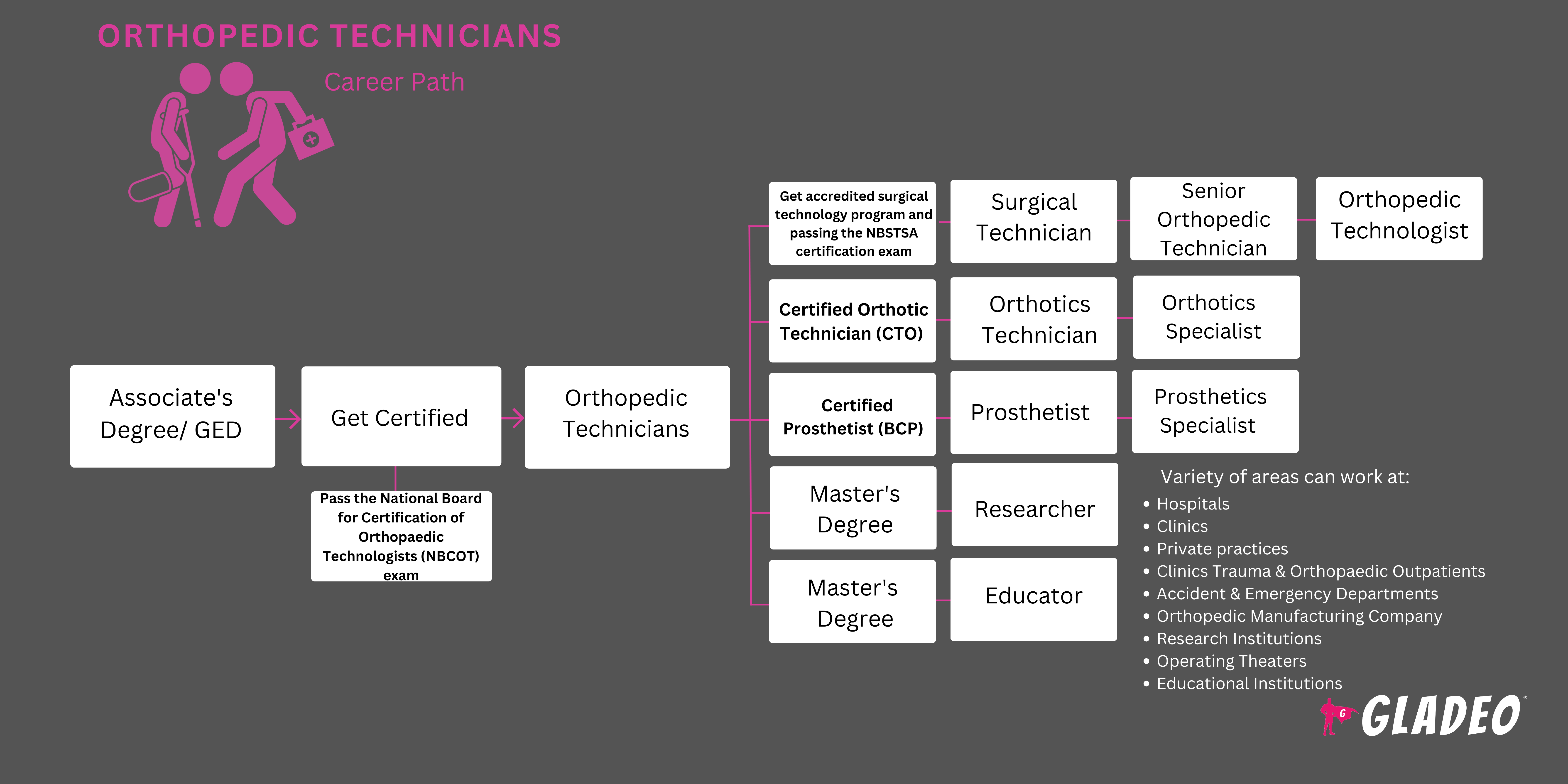 How to Land your 1st job
Scan popular job portals like

Indeed.com

. Upload your resume and set up notification alerts so you can hear about new postings right away

Review career- and industry-specific job boards, such as the National Board for Certification of Orthopaedic Technologists Inc.'s

Job Bank

or

Health eCareers 

If you attend college or vocational training, look for programs featuring internships,

externships

,

co-ops

, or practicums. These offer great first-hand experience, allow for networking opportunities, and look good on resumes!

Don't forget to speak with your institute's career center. Many schools serve as pipelines to local recruiters ready to hire Ortho Techs! 

School career centers can also offer assistance in writing resumes and doing interview practices. They also usually have details about upcoming job fairs

Advertise yourself on

LinkedIn

as open for work and optimize your profile to showcase your academic and work experiences 

Consider relocating to a city that may have more Orthopedic Technician job opportunities

Be familiar with the clinic or hospital you interview with. Study their websites, look at their facilities and typical patient types, and imagine yourself working with the team there

Review

Orthopedic Technician resume templates

for ideas

Make sure to add Orthopedic Technician

resume keywords

and skills, to help your application get past the Applicant Tracking System software  

For example, orthopedics (or "orthopaedics," which is the academic British English spelling), splint, clinic, hospital, patient care, wound care, and surgery

If you've completed First Aid and CPR training, make sure to list that

If eligible, try to knock out a National Board for Certification of Orthopaedic Technologists certifications for either

Orthopaedic Technologist Certified

or

Orthopaedic Technologist-Surgery Certified

for applying for jobs

The exams are given five times a year— in February, April, June, September, and November. The application fee is $85 and the exam fee is $450

The three eligibility routes are: a) having two years of work experience; b) having graduated from a structured Orthopedic Technologist program; or, c) be a Certified/Licensed Athletic Trainer

Talk to previous supervisors or teachers and ask if they're willing to serve as personal references. Get their permission first before giving listing them as contacts

Study

Orthopedic Technician sample interview questions

and know your terminology

Make sure you are

dressed appropriately

for the interview

Be enthusiastic during interviews! Run through a few mock interviews to practice ahead of time, so you won't be nervous! 
How to Climb the Ladder
Be on time, learn everything you can, and always display a professional attitude

Treat everyone with respect and courtesy, even if you're having an off day

Provide outstanding service to the patients you assist and earn their rave reviews

Be a proactive problem-solver who can work independently 

Tell your supervisor about your long-term career goals and ask for their advice about achieving them

Transform yourself into an invaluable asset that staff rely on 

Study industry magazines and articles, attend professional events and talk to peers who work at other sites to share information and ideas

Consider doing optional certifications through the National Board for Certification of Orthopaedic Technologists, such as

Orthopaedic Technologist Certified

or

Orthopaedic Technologist-Surgery Certified

Other certs can be earned through the

American Board for Certification in Orthotics, Prosthetics & Pedorthics

or the

American Society of Orthopedic Professionals

Going to college to level up your education is another way to qualify for advancement
Recommended Tools/Resources
Plan B
Working as an Orthopedic Technician can be a rewarding career for anyone who likes helping patients during their recovery journeys. For students curious about related medical career fields, below are a few similar occupations to think about!    
Dental Technician

Medical Appliance Technician

Medical Equipment Repairer

Ophthalmic Lab Technician

Respiratory Therapist
Newsfeed Featured Jobs Online Courses and Tools