Spotlights
Similar Titles
Fab Lab Coordinator, Makerspace Manager, Innovation Specialist, Creative Technologist, Prototyping Specialist, STEM/STEAM Coordinator, Design and Innovation Manager, Digital Fabrication Specialist, DIY Education Specialist, Technology Integration Specialist
Job Description
As broadly defined by We Are Teachers, a makerspace is "a room that contains tools and components, allowing people to enter with an idea and leave with a complete project." These creative communal spaces allow tech-savvy individuals and novices alike to partner up and learn from each other, with often unexpected (and delightful) consequences! Makerspace Specialists help promote this process, encouraging a do-it-yourself (DIY) attitude within the space and the movement-at-large. Specifically, they provide suitable, enabling environments within which they can facilitate activities without overly interfering. 
 
Makerspace Specialists encourage hands-on learning in these exploratory, innovative, and interdisciplinary environments. They're passionate builders themselves whose enthusiasm for scouting out new trends and learning styles becomes contagious. Though makerspaces may sound mildly chaotic, they do have rules, and it's the Makerspace Specialists' job to help enforce those. To accomplish their mission, they need excellent organization and management skills plus sufficient Science, Technology, Engineering, and Mathematics (STEM) and STEAM (i.e., STEM plus the Arts) expertise.
Rewarding Aspects of Career
Directly impacting student learning via collaborative projects
Exploring bold and fresh new ways of doing things
Helping to grow cultures of innovation within youthful groups
Developing one's leadership and mentorship abilities
Serving the local community and ensuring fun activities are available 
Setting the conditions for projects that may have wide-range benefits for the world
The Inside Scoop
Job Responsibilities
Working Schedule
Makerspace Specialists usually work standard full-time jobs but might participate in after-hour programs or special events. 
Typical Duties
Creating and maintaining a safe, respectful environment that's conducive to learning
Ensuring makerspaces are inclusive and empowering for students and faculty
Developing programs for launching makerspaces in suitable settings
Working in close liaison with students and subject matter experts
Collaborating with libraries and other educators to develop tech-oriented creative activities related to STEM/STEAM subjects like 3D printing, coding, and hands-on projects
Consulting and mentoring university students during classes and workshops
Ordering and managing inventory; keeping track of budgets and spending
Overseeing activities and behavior; correcting or aiding students when necessary
Additional Responsibilities
Meeting with building liaisons to discuss issues
Coordinating volunteer sign-ups 
Participating in relevant committees 
Collaborating with other makerspaces
Staffing makerspaces during evening hours, when needed
Training new makerspace employees 
Hosting workshops for students and faculty
Skills Needed on the Job
Soft Skills
Able to organize events and keep people focused
Collaborative style
Commitment to diversity and inclusion
Creativity
Energetic
Enthusiastic about STEM/STEAM topics
Friendly demeanor
Leadership and management skills
Sense of humor
Strong communication skills, including public speaking
Ability to teach and pass knowledge of skills 
Technical Skills
Aptitude for science, technology, engineering, and math...and arts! 
Knowledge and experience with 3D printing and large format printing
Hands-on experience using statistical and visualization software
Different Types of Organizations
Community-based organizations
Education institutions: secondary and postsecondary
Libraries
Expectations and Sacrifices
Makerspace Specialists should stay abreast of current developments and be ready to effectively implement emerging technologies. They bear a general responsible for helping to equip future leaders and innovators for the demands of the modern era. They're expected to train students and teachers in ways that add value during the learning process. 
 
Unlike many career fields, there aren't always clear expectations for makerspace project outcomes. After all, to keep the creativity flowing, learners must be willing to take risks. Makerspace Specialists must realize and explain to their students that they're operating in a specialized learning environment where failure is an acceptable outcome because it's part of the learning experience. They have to help students move beyond the books and theories and start putting ideas into real-world practice! 
Current Trends
As an international movement, the makerspace community is really on the rise! From libraries to schools and community rooms, Makerspace Specialists manage and coordinate vibrant environments where abstract concepts meet real-world applications. Library makerspaces, in particular, have begun transforming the role of libraries, turning them from areas of passive information consumption into living-learning environments where students must think critically to solve problems and reach goals. 
 
As technology continues to revolutionize the world we live in and impact virtually every known profession, students must increasingly become comfortable and competent working within STEM/STEAM contexts. Makerspace environments are an ideal playground for students who are new to tech to discover science and tech in a non-threatening way. At the same time, those with existing aptitudes can design, invent, and implement concepts that might later be developed into marketable products. 
What kinds of things did people in this career enjoy doing when they were young...
Most budding Makerspace Specialists were likely inclined to learn STEM subjects, of course. They might also have had an early interest in teaching others what they discovered, which is a critical aspect of success in this field. They're imaginative and love innovation! The very thought of pushing the envelope and cutting new paths through collaborative learning excites them to no end. 
Mobile technology and the Internet inspired many to enter this field, putting the tools of the 21st century to educational use while challenging traditional learning methodologies. In their younger days, Makerspace Specialists may have drawn inspiration from science fiction concepts, as well as from simply tinkering with increasingly sophisticated LEGO kits like MINDSTORMS. Though they might not think in terms of lofty, globe-spanning goals, there is no doubt that Makerspace Specialists make the educational process more fun, which can profoundly impact the future of humanity. 
 
Education and Training Needed
There are no hard requirements, but many employers prefer to hire workers with a relevant degree in a STEM/STEAM field and a background in design thinking protocols
Degrees may include either a bachelor's or master's in STEM education 
Having practical work experience in an educational classroom environment is also beneficial

Ideally, workers should have teaching experience with the age groups they intend to work with in their makerspaces

Additional practical training includes learning about Mac and iOS, Google Apps, and other collaborative tools
Teachers can complete online and in-person workshops or access other resources via Maker Ed to boost their knowledge and skills
Workers in school settings may be required to hold a state teaching certificate or license
Things to look for in a program
Check out U.S. News' Guide to STEM Majors and find programs that also offer teacher training
Ensure the institution is ABET-accredited if studying "applied and natural science, computing, engineering," or "engineering technology"
Though makerspaces require hands-on learning, that doesn't mean you can't study via online or hybrid programs that offer the flexibility you might need to attend classes
Find schools with active makerspace groups of their own
Don't forget to screen for potential scholarships or tuition discounts you might qualify for 
Things to do in High School and College
Take relevant courses in high school, including math, robotics, and coding
Learn as much as you can on your own or from being part of makerspaces
Talk to coordinators; pick their brains about what they did to qualify for their position
Make a portfolio of projects you work on and keep plenty of notes
Volunteer to help your school, library, or other local groups with running spaces
Join local science and tech clubs to network with others and discover new tricks
Take classes related to building your soft skills, including communication and leadership
Ask your school about opportunities to work with students in other areas outside of STEM, such as arts and crafts, so that you can gain experience with organizing activities
Keep up with emerging tech and current trends (see our Websites list below)
Typical Roadmap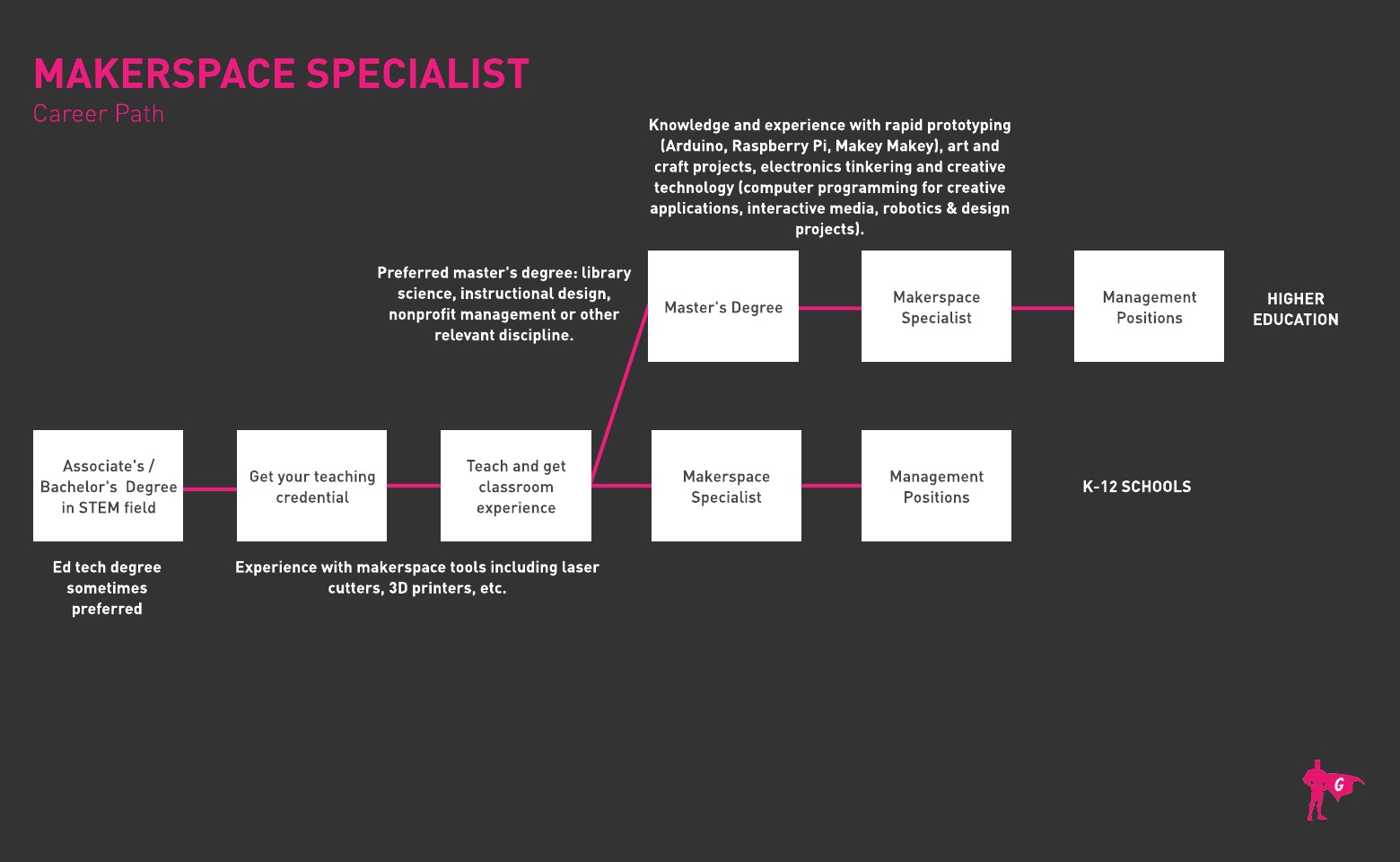 How to land your 1st job
Think like a recruiter! Read articles related to the types of skills and qualities employers are looking for in their makerspace gurus!
Let your makerspace colleagues know when you're ready to look for work
Check out popular employment portals such as Indeed, Monster, and Glassdoor, as well as smaller sites like Craigslist. Note, some employers may use different terminologies, such as Makerspace Coordinator or Manager
Ask your school's career center or program advisor about help with job-seeking
Take advantage of any school-based career resources, such as resume writing or mock interviews
Read employer job posts ahead of time to look at standard requirements listed
Tailor your resume so that your wording includes matches to the language used in the job posting. Incorporating applicable keywords can help your application make it through automated screening software 
Ask an editor or resume writer to take a look at your resume and portfolio
Add a URL to your online portfolio professional, listing specialized tech skills, personal projects, and links to other projects 
Relax during interviews and show your enthusiasm for the makerspace world!
How to Climb the Ladder
Talk with your supervisor to learn about promotion potential for your role
Let them see you are interested in succeeding in the job you were hired for but that you are willing to do what it takes to qualify for advancement opportunities 

Make sure you work someplace that actually has such options, or else you might need to move on later if you want to get ahead

Plan for the roles you want to tackle beyond your current Makerspace Specialist position. If you don't have a goal, you can't reach the goal!
Keep sharpening those STEM skills! Don't just facilitate learning, but also be a continual learner yourself 
Knock out your master's or additional STEM teacher certifications to keep moving up 
Show genuine passion for the work and inspire students to stay engaged and have fun
Check out Makerspace's Ultimate Makerspace Resource Guide for an endless trove of information and project ideas that'll keep your students occupied for months
Recommended Resources
Websites
3DBear AR
DIY.org
FabLearn
Hackaday
Innovative Learning Centre
Instructables
KitHub
Maker Ed
Makers Empire
Maker Shed
Makerspaces.com
Makezine
Renovated Learning
Technology Will Save Us
Thingiverse
Books
Plan B
The creative makerspace world can be fun but crazy sometimes. Many STEM educators are looking for jobs with a little more clear cut direction in terms of curriculum, so the Bureau of Labor Statistics offers many alternative career paths to consider, including: 
Adult Education
ESL Teachers
Career/Technical Education Teachers
Elementary, Middle, and High School Principals
Kindergarten and Elementary School Teachers
Middle School Teachers
Postsecondary Teachers
Preschool Teachers
Career Counselors
Special Education Teachers
 
Newsfeed Featured Jobs Online Courses and Tools