Spotlights
Similar Titles
Healthcare Executives
Healthcare Administrators
Health Information Management Director
Job Description
Health Service Managers are responsible for planning and directing the services provided in various healthcare organizations. Typically this career requires experience and knowledge in healthcare laws, regulations, and technology to improve the efficiency and quality of healthcare services at their facility.
Rewarding Aspects of Career
Employment security due to rapidly growing career field
Meaningful work and making a real difference in the lives of customers
Opportunities for career mobility
Diverse job opportunities
2016 Employment
352,200
2026 Projected Employment
424,300
The Inside Scoop
Job Responsibilities
Overseeing fiscal operations:

Manage the finances of the facility, such as patient fees and billing
Prepare and monitor budgets and spending to ensure departments operate within funding limits
Keep and organize records of the facility's services, such as the number of inpatient beds used; also determining rates for services

Making sure the facility adheres to the most current standards of medical and legal laws and regulations
*Note: The following responsibilities relate to the position of a Healthcare Administrator, but as these positions demand similar qualifications, often facilities (especially smaller ones) will expect an employee to take on tasks for both positions
Supervising employees:

Developing departmental goals and objectives
Recruiting and training staff members
Creating work schedules and assigning them to staff

Keeping lines of communication with co-workers throughout the facility (beyond subordinates):

Assembling reports to update management on plans for programs, services, and cost-cutting/quality enhancement
Working with department heads and medical staff to gauge their needs and expectations
Speaking for the facility at meetings with investors or on governing boards
Skills Needed
Soft Skills
Written and oral communication
Critical thinking and analytical skills
Decision-making
Interpersonal and leadership skills
Organization and time management (supervising, scheduling)
Hard Skills:
Budgeting
Customer billing
Project management
Technical Skills
Data management and query software: e.g. Microsoft Access, SQL
Medical software: e.g. Epic Systems, MEDITECH software, electronic health record (EHR) systems
Knowledge of advancements in healthcare technology and data analytics
Different Types of Organizations
Hospitals
Clinics
Managed care organizations
Public health agencies
Medical practice for a group of physicians
→ Within these organizations, health service managers may coordinate an entire facility or a specific department
Expectations and Sacrifices
Working long hours
Working at odd hours due to on-call schedules at a healthcare facility
Traveling to attend meetings or inspect satellite facilities (could be a positive aspect of the job too!)
Current Industry Trends
Cutting costs associated with operating a healthcare facility
IT management skills highly desired in health service managers
Use of social media to communicate with and educate current/prospective customers
Increasing protection of patient privacy
Education Needed
Basic Requirements:
Bachelor's degree in a related field (e.g. health administration, health management, nursing, public health administration, or business administration)
Master's degrees (e.g. health services, long-term care administration, public health, public administration, or business administration) are not required but are often preferred by employers, especially when the graduate program includes supervised administrative experience in a hospital or healthcare consulting setting
Work experience in healthcare administration: e.g. medical records and health information technicians or administrative assistants for a healthcare office
Requirements for Certification:
Certification is not a strict requirement for employment but can enhance a candidate's profile
Certification Organizations:
Certification in medical management
Health information management certification, and the
Certified Nursing Home Administrator
Certified Assisted Living Administrator distinctions.
Career Advancement:
Masters Degree
Experience
Things to do during high school/college
Take challenging and interdisciplinary course load, including courses in math, science, business, and english
Clubs that develop communication skills, such as debate/journalism
Seek leadership experience (e.g. board member of a school club)
Community engagement and healthcare experience: Volunteer to work at a doctor's office, hospital, or clinic
→ This could lead to opportunities to shadow or intern for a health service manager
Typical Roadmap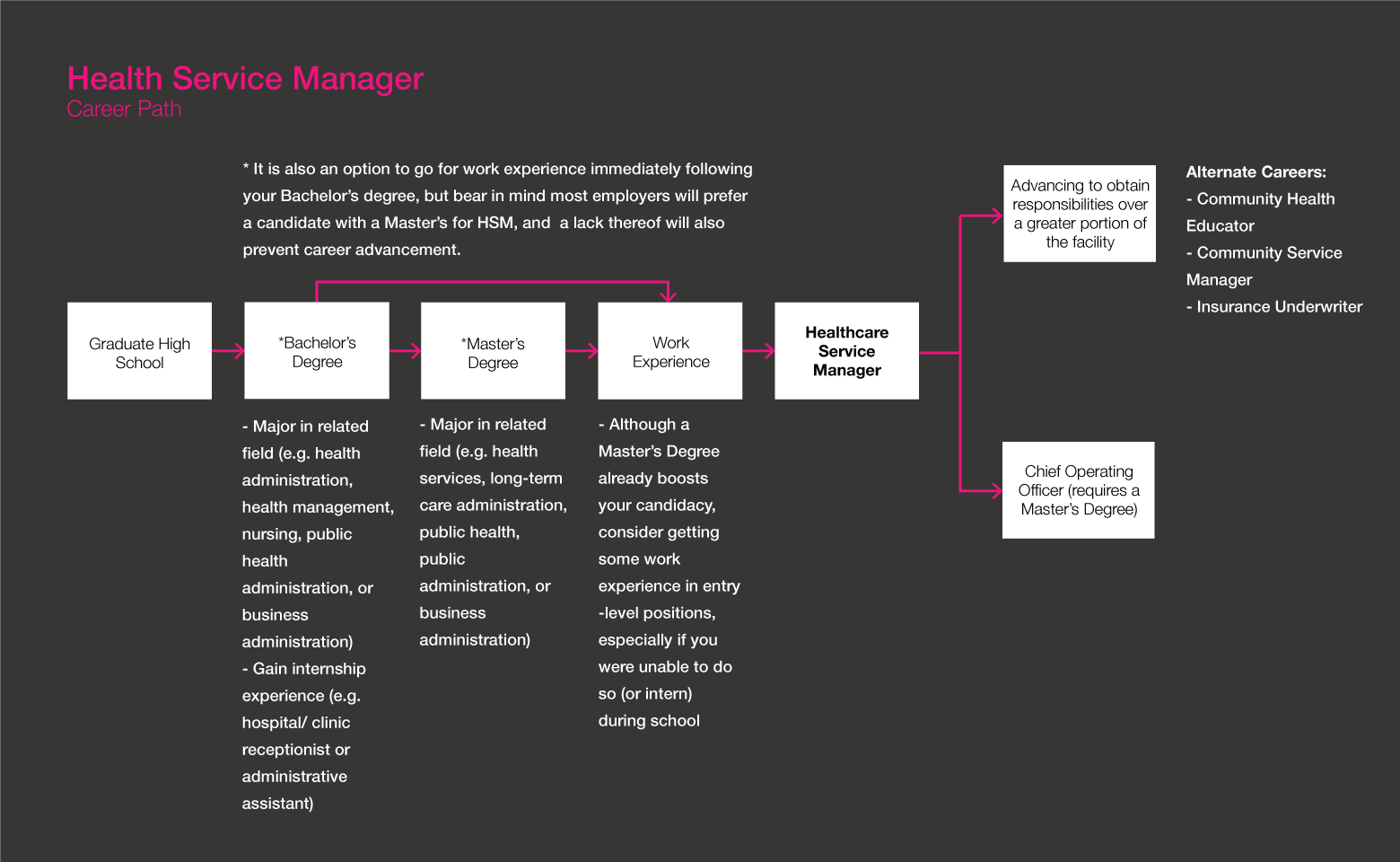 How to land your 1st job
A Bachelor's degree from a program certified by AUPHA (Association of University Programs in Health Administration) is especially well-recognized and requires completion of an internship in a healthcare setting, which can lead to employment following graduation

However, be sure to get your master's degree and skills in healthcare IT systems to give yourself the best chances of employment as a health service manager

Membership and engagement in a professional organization can promote a resume and allow for networking opportunities

Apply to the various organizations where a health service manager would be employed (previously listed)

Professional organizations such as AUPHA may also list available jobs and aids in the job search (http://www.aupha.org/home)
What it really takes to make it and succeed
Confidence and experience to make firm decisions
Diplomacy and effective communication to navigate various interests and lead a team effectively
Plan B
Community Health Educator
Community Service Manager
Insurance Underwriter
Newsfeed Featured Jobs Online Courses and Tools