Spotlights
Similar Titles
Graphic Artist, Production Artist, Layout Artist, Multimedia Designer, Illustrator, Medical Illustrator, Web Designer
Job Description
Graphic designers design or create graphics to meet specific commercial or promotional needs using a combination of typography, visual arts and page layout techniques to produce the final result. They may use a variety of mediums to achieve artistic or decorative effects.
Rewarding Aspects of Career
Seeing things you created in the store or on a website.
Being creative.
Getting to create something from scratch.
The Inside Scoop
Skills Needed on the Job
Hard Skills
Software

Adobe Photoshop
Adobe Illustrator
Adobe After Effects
Adobe InDesign
Sketch
Canva

Knowledge

Design Principles
Photo Composition
Photo Editing
Print Design
Typography
Conceptual Skills
Design for digital media: more and more companies need designers for their web presence, apps or social media presence. Print is still prevalent but if you want to be marketable, you must understand the digital media space.
Familiarity with Presentation Equipment
Fine Arts
Ideation: The creative process of generating, developing, and communicating new ideas, where an idea is understood as a basic element of thought that can be either visual, concrete, or abstract. Ideation comprises all stages of a thought cycle, from innovation, to development, to actualization.
Layout Design
Soft Skills
Attention to detail
Project management skills
Networking and "selling" yourself: Many graphic designers work project by project so they are constantly finding new clients and pitching their talent and services.
Active Listening and communication skills: You must be able to digest your client's needs and articulate your ideas and concepts both verbally and written.
Empathy
TIme Management: Lots of deadlines and handling many projects at the same time, so you need to know how to manage your time.
Persistence: Design is subjective so there will be changes and some things will be scrapped. Be patient and take stuff in stride and stay persistent.
Employment Types
In-House for a company: Working for a company that needs graphic design for their marketing or product.
Advertising/Branding/Design Agency: An agency is hired by companies to advertise or brand their product.
Freelance/Contract: You are your own boss. You work for many companies who need graphic design for their product or marketing of their product.
Current Industry Trends
Companies are using social media and constantly changing their websites, their Facebook page and e-mail campaigns. Thus, they need designers to constantly create new designs and pages.
With the increased use of the Internet, designers will be needed to create designs and images for portable devices, websites, electronic publications, and video entertainment media.
What kinds of things did people in this career enjoy doing when they were young...
Drawing!: Just couldn't stop doodling even during class.
Liked creating the programs or posters for school activities (like prom, sports events…etc).
2016 Employment
266,300
2026 Projected Employment
277,400
Education Needed
Graphic Designers generally need a bachelor's degree related to the subject, but other majors may be allowable as long as sufficient technical training has been completed
Fine arts, illustration, and advertising may be suitable alternative majors
The National Association of Schools of Art and Design lists accredited programs around the country that can provide ideal experiences for students seeking Graphic Design jobs. While these aren't necessary, they can certainly help candidates stand out against the competition
Roughly 23% of Graphic Designers hold an associate's or certificate versus a bachelor's
Graphic Designers should be familiar with various software, such as Adobe Creative Cloud, Adobe Fireworks, FreeHand MX, Illustrator, Photoshop, CorelDRAW, SmugMug Flickr, and Trimble SketchUp  
You must also be comfortable using a wide range of hardware devices, including laptops, desktops, hard drives, tablets, styluses, smartphones, studio cameras, and high-res monitors
University vs. Art School
If you eat, sleep, breathe, and obsess about art and your portfolio makes people weep,  go to art school.
If you like art, have a pretty good portfolio, think you want to earn a living as an artist but want to add some diversity to your education, go to university.
Art school is pretty expensive and very hard to get a scholarship.
Training at an art specific school might be better to learn how to conceive ideas to production. Some people say that state schools don't always train you with the whole process. Some art schools train you on how to market yourself, get and retain clients.
Things to do in High School and College
Practice drawing and using design software early and often, starting in middle or high school if possible
It helps to load up on art classes, but many artists are self-taught, using books, YouTube tutorials, or just trial and error to hone their craft
Use free tools to learn the basics and upgrade to paid professional tools when you can afford to and are ready to up your game
Look for volunteer opportunities with local papers, arts and culture centers, or businesses that need help with their graphics
Experiment with your style, techniques, and tools until you find the best ways to express yourself and represent your personal brand
Think long term and work on projects you'll be able to include in your portfolio. Study the portfolios of others and keep notes about any work that inspires you
Reach out to working Graphic Designers; ask questions about how they got started and what recommendations they have for you
Hop on freelance sites like 99Designs, Upwork, or Fiverr to get experience working with clients. Also consider taking some freelance work from an established agency
Learn about the business side of things by reading or watching interviews with people in the field
Don't focus only on one type of Graphic Designer job; try to broaden your horizons and consider all the areas it is possible to work in
Education Stats
13% with HS Diploma
14% with Associate's
43.1% with Bachelor's
7% with Master's
1.1% with Doctoral
Typical Roadmap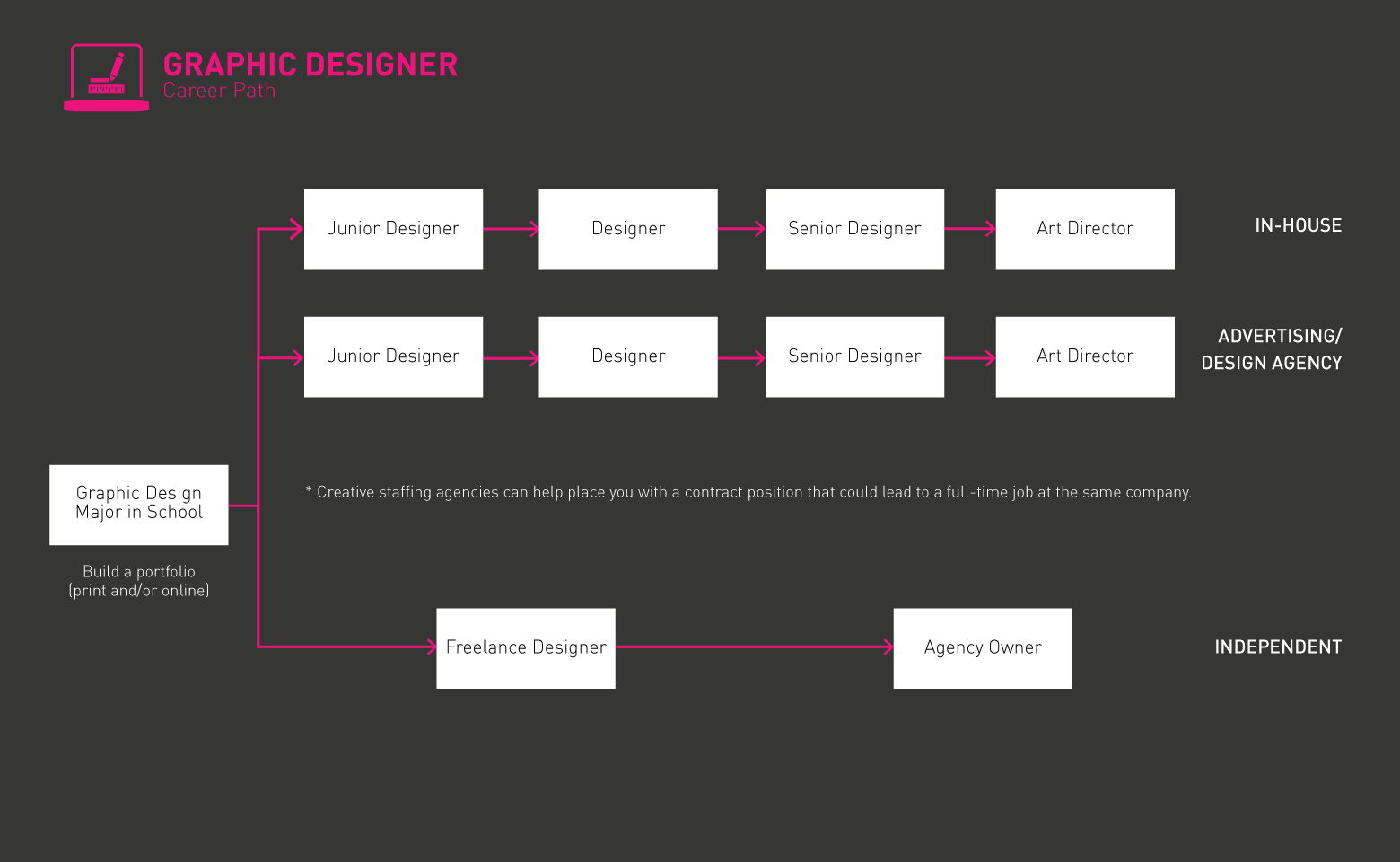 How to land your 1st job
Must have a portfolio.
Network!
Sign up at a creative staffing agency: The agency might place you at a company as a temporary employee. A lot of the times, the temporary position turns into a full-time position.
There is no shortage of talent entering the Graphic Design field, so to be competitive you'll want to come in with academic and work-related experiences, as well as a solid portfolio
Fortunately, just as there are a ton of aspiring Graphic Designers, there's also a growing demand for ~261,400 of them by 2030!
Completing an internship can help you get your foot in the door, gaining experience as well as potentially some great references. Some internships lead directly to jobs with the same company you interned with!
Holding a certification in popular graphic design software is also a fast way to demonstrate your proficiency to employers. Adobe's ~150-hour Certified Professional in Graphic Design & Illustration Using Adobe Illustrator is just one example
It pays to stay connected with past professors, supervisors, and other colleagues so, when the time comes, they can help keep you posted about job openings…and put in a good word for you
Create accounts on job portals such as Indeed.com; sign up for alerts so you'll get notified of new job ads. Make sure you meet all the listed qualifications before applying
Get connected with communities like the American Institute for Graphic Arts, the Graphic Design Subreddit, and GOTO Design to learn tips and get your work seen
Study sample Graphic Design job interview questions and answers ahead of time! 
Job Sites (both freelance and full-time positions) 
Creative staffing agencies
How to stay competitive and stay in the game
Get involved with AIGA – The Professional Association of Design.
Stay up to speed with new technology/styles in the industry.
Network!
Freelance: write up contracts, know your rates, know timing (how long it takes to finish the project), under promise/over deliver!
Qualities of those who climb the ladder and enjoy it
Raw talent.
Being able to adapt quickly.
Being able to work quickly, in a fast-paced environment.
Taking direction and being creative at the same time.
Recommended Tools/Resources
Websites
American Institute for Graphic Arts
Council for Advancement and Support of Education
GOTO Design
Graphic Artists Guild
Graphic Design Subreddit
KelbyOne
National Association of Schools of Art and Design
Society for Experiential Graphic Design
University and College Designers Association
Books
Words of Advice
"Seek out advice. There are probably a hundred job titles in the field of graphic design that are really different. Evaluate what you like about art and creating and try to talk to somebody that fits the route you are interested in." - Chrissi Hernandez, Art Director, Sephora
Newsfeed Featured Jobs Online Courses and Tools