Spotlights
Similar Titles
Circuits Engineer, Design Engineer, Electrical Controls Engineer, Electrical Design Engineer, Electrical Engineer, Electrical Project Engineer, Instrumentation and Electrical Reliability Engineer (I&E Reliability Engineer), Power Systems Engineer, Project Engineer, Test Engineer
Job Description
Electrical Engineering is considered one of the "newest" of all engineering fields, though it dates back to the early 19th century! Engineers in this field use physics and math principles related to electricity, electronics, and electromagnetism in order to work on existing equipment and develop new ideas for the future. Our entire modern age of lights, power, television, radio, computers, and mobile devices can be traced back to the efforts of Electrical Engineering pioneers like Tesla, Edison, Westinghouse, Marconi, and Farnsworth.
 
Indeed, there are few areas in today's world that aren't touched by Electrical Engineers somehow. From electric motors to navigation and communications systems, they're in the thick of things, designing tomorrow's latest innovations for private industry and governmental agencies. They rely on software to help with designs, work with clients and other engineers on the electrical details of projects, and ensure manufacturing and installation meets compliance standards, as well as the operational needs of their customers. They're also responsible for testing, maintenance, documentation, customer support, and upgrades in some cases. It's a busy career field, but who knows where we'd be without their ceaseless efforts to push the boundaries of what's possible? 
Rewarding Aspects of Career
Working with teams to meet objectives
Designing cutting-edge new products and equipment
Patenting original (and potentially lucrative) designs
Helping develop concepts into functioning realities
Creating technology that can improve people's lives
Altering the course of human history through inventions!
2018 Employment
191,900
2028 Projected Employment
201,100
The Inside Scoop
Job Responsibilities
Electrical Engineers usually hold full-time jobs working 40 hours a week. Overtime may be necessary when things fall behind schedule or a deadline gets bumped up. Unexpected problems can also lead to pulling more hours. Workers are typically indoors but may need to travel to conduct site visits. 
Typical Duties
Explore innovative methods to utilize electricity within products
Design a wide range of systems and products for different end uses, including commercial sales or governmental application 
Craft schematics of systems and maps
Determine the precise specs for a product's construction, operation, and installation 
Meet with other engineers to review projects and tasks
Oversee processes to ensure compliance during all phases of work, from manufacturing and construction to installation, testing, and more
Use software and computer-assisted technologies
Additional Responsibilities
Be "on-call" when problems arise; analyze problems and find effective solutions
Collaborate with production teams to keep things on-time, on-target (and on-budget)
Ensure compliance with state, federal, and international codes and standards  
Optimize processes, including teamwork
Skills Needed on the Job
Soft Skills
 
Ability to conceptualize 
Ability to facilitate collaboration between individuals and teams
Adaptive style
Strong people and communication skills
Articulate speaking and clear technical writing
Listening and reading for detail and deep understanding
Compliance- and safety-oriented
Strong security-consciousness 
Concentration and focus
Customer service 
Good record management skills 
Initiative
Investigative
Organized
Patience and analytical problem-solving
Realistic

Technical Skills
Scientific software:

Failure mode and effects analysis FMEA software
Minitab 
Powersim
MathWorks 

Computer-aided design (CAD) tools:

Autodesk AutoCAD
Bentley Microstation
Dassault Systemes CATIA
Zuken E3

C++, JHDL, Perl, Python
Operating system software, such as Linux, Windows, Shell script, UNIX
Development environment tools:

Microsoft VBScript
LabVIEW 
Verilog
VHSIC hardware description language
Different Types of Organizations
Engineering services    
Manufacturing companies
Military and governmental agencies
Power plants 
Research and development organizations; academic institutions
Expectations and Sacrifices
When it comes to designing products and components that work with electric power, many things can go wrong. Calculations must be precise, testing must be very thorough, and compliance with national and international standards is critical. There's no margin for error in most projects and the consequences for mistakes can cost lives and ruin businesses. Thus, expectations run high. Electrical Engineers may be "on-the-clock" for a 40-hour week, but free time is frequently dedicated to reading, learning, and keeping up with changes in the field. This commitment is one of the largest sacrifices because Electrical Engineers bear an enormous responsibility to their employers as well as the public, whose health and safety are often linked to the performance of finished products. Of course, workers themselves are also exposed to shock hazards and risk of injury, too. 
Current Trends
According to NESCO Resource, "[Electrical] Engineers have their pick of jobs." Whether that's entirely true or not, the point is that demand for talent is currently consistent. The Bureau of Labor Statistics predicts it will remain so, at 5% through 2028 (for Electrical Engineers; the average stats for Electrical and Electronics Engineers combined is just 2%). 
 
Specifically, BLS expects growth in "professional, scientific, and technical services firms" as demand for consumer electronics rises. Naturally, such goods are always evolving as technology advances, and it's the Electrical Engineers working hard to facilitate those innovations. In a way, they're ensuring their own job security! Apart from communications tech, hot markets include solar arrays and semiconductors. Experts are also needed for power grids and continuing automation of processes. 
What kinds of things did people in this career enjoy doing when they were young...
Engineers are realistic dreamers. They love gadgets and tinkering, exploring ways to turn ideas into realities through the application of scientific principles. Many engineers were heavily influenced by the works of early pioneers who paved the way for today's breakthroughs. They may see themselves, rightfully, as heirs to a long legacy of inventors and visionaries. 
 
Though they may often work in solitude, they often enjoy participating in groups, seeing their roles as serving a larger goal (the Institute of Electrical and Electronics Engineers, for example, has over 423,000 members worldwide). Many people who are drawn to this field were avid science fiction buffs growing up, intrigued by futurist technologies and hardware, and how those things can make life better. They aren't merely interested in whimsical notions of the future, though. They're able to focus and figure out how to practically achieve the things they envision, through meticulous planning, research, and testing. 
Education and Training Needed
70% of Electrical Engineers hold a bachelor's degree; 23% hold a master's. Many university programs feature dual bachelor's/master's degree tracks which take ~5 years 

Most major in electrical or electronics engineering, or electrical engineering technology programs that are accredited by ABET
A master's is often needed to teach or work in R&D

Internships, co-ops, and other practical work experiences are treasured by employers
A license isn't needed to get started, but there are state licensure options to consider later in one's career

Professional Engineering (PE) licensure leads to greater scopes of responsibility 
A PE must pass two exams:

Fundamentals of Engineering (FE)
Principles and Practice of Engineering (PE) exam

There are several optional Core and Advanced certifications to consider, including:

Associate Systems Engineering Professional
Certified Reliability Engineer 
Electronics in Traffic Signal Technician
Electrostatic Discharge Control (ESD) - Associate Engineer
Energy Efficiency Management Certificate Program
IPC-A-600 Acceptability of Printed Circuit Boards
Key Account Certificate Program
Residential Electronics Systems Integrator 
Things to look for in an university
Programs should be ABET-accredited, which is a requirement for later PE licensure
Scholarships and STEM pathways! How committed are your potential schools to improving access to help facilitate your entry into their programs? 
Consider the program's faculty awards and accomplishments
Prestigious honors include: teaching awards, IEEE and National Science Foundation awards and recognitions, Fulbright Fellowships, best papers, and distinguished lecturers
Check out their facilities (especially if you're planning to attend in-person). Well-funded programs will have the most modern, cutting-edge research areas 
Look for affiliated centers and institutes. Most big programs collaborate with external partners which can significantly augment your learning experience
Always see what schools offer graduates! Do they post job placement stats? Does the alumni network offer beneficial, career-enhancing mentorship and networking? 
Free career services, job fairs, and other services are always nice perks, but shouldn't be a deal-breaker
List of Programs
Check out U.S. News & World Report's 2020 rankings of Best Electrical Engineering Programs and Best Undergraduate Electrical / Electronic / Communications Engineering Programs. You might also take a peek at Apprenticeship.gov's list of related opportunities. For lists of certifications, visit O-Net Online and click on the Find Certifications button. 
Things to do in High School and College
It pays to get a jump start on college by taking prep classes in high school, such as math and physics. Strong English and technical writing skills will also pay off later 
If offered, consider taking electives in blueprints, computer apps, drafting, and of course electricity and electronics
Learn everything you can about the career field before signing up for classes. Know what you want to specialize in, and read job descriptions posted on employment portals

To go even further, make a list of organizations you dream of working for, and maybe reach out to current employees to pick their brains

Get practical experience, tinkering at home, through internships, or apprenticeships
Don't neglect soft skills. Engineers should be "people persons" too!

Volunteer to serve on school committees or help with extracurricular activities, with a focus on roles that offer leadership and management experiences

Comb through our below list of Recommended Websites to find professional groups to join. Also become an active participant in your school engineering clubs
Ask a seasoned Electrical Engineer if they can spare some time to mentor you in exchange for helping them in some capacity
Typical Roadmap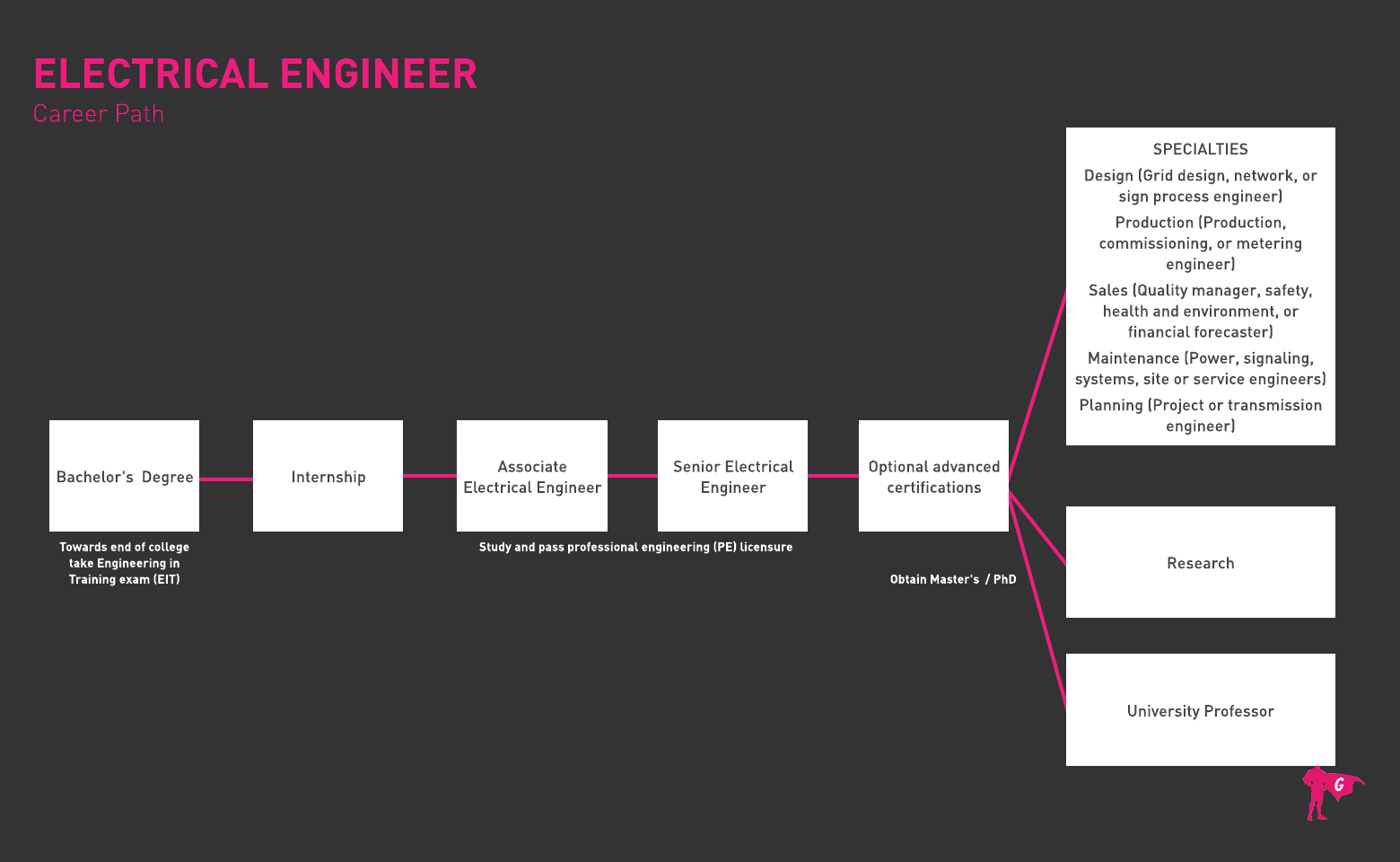 How to land your 1st job
According to PayScale, a whopping 85% of jobs are found through networking!
Sign up for notifications on job portals like Indeed, SimplyHired, Monster, USAJobs, ZipRecruiter, LinkedIn, Velvet Jobs, and Glassdoor 
Ask your school to connect you with recruiters. Take advantage of chances to intern with large companies. Many engineers arrange to have jobs waiting when they graduate
Think like the boss. Read NESCO's "Strategies for Hiring the Best Electrical Engineers"
Max out your school's career center offerings. Get resume help, do mock interviews, meet recruiters, and attend job fairs in professional attire with resumes in-hand
Apply like you mean it. Don't fire off the same generic application a thousand times. Tailor each to the specific job posting, and do your homework on the company
Research common interview questions, like those posted on LiveCareer or Glassdoor
How to Climb the Ladder
To move up, you must establish your target goal, set up milestones, and create a plan to achieve each milestone
Determine where you want to be in 5, 10, or 20 years, then map out your plans. Do you want to supervise others and lead teams? Do you want to be a manager? What about sales? Knowing the goals will help you adjust your education and training accordingly
Your organization will probably invest time and money in you and want to keep you, so make it clear that you're interested in getting promoted within the company if possible
Speak with your supervisor or management. Get advice and talk through options. There are endless possibilities within the Electrical Engineering field. Some are more lucrative while others are perhaps more personally rewarding. Ideally you can achieve both!

Most small- to mid-sized businesses have limited opportunities for advancement, so keep this in mind when applying. To move up any ladder, there must be empty rungs on it!

Get your PE license as soon as you can and demonstrate your commitment to excellence and your willingness to assume increased responsibilities early
Knock out additional certs when qualified to do so
Recommended Resources
Websites
Accreditation Board for Engineering and Technology 
All About Circuits
American Society for Engineering Education
Electrical 4 U
Electrical Engineering Portal
Electronics
Electronics Weekly
IEEE
Illuminating Engineering Society
Makezine
MIT OpenCourseWare
National Society of Professional Engineers 
National Society of Professional Engineers (NSPE)
Occupational Outlook Handbook: Electrical and electronics engineers 
SAE International 
Society of Women Engineers 
TutorialsPoint
Virtual Labs
Wolfram Demonstrations Project
Books
Plan B
There are many subfields of Electrical Engineering to specialize in, such as Power, Control, Electronics, Microelectronics, Nanoelectronics, Signal processing, Telecommunications, Instrumentation, and Computers. Electrical Engineering and its associated subfields are a blast for those who are passionate about the work. Yet some people find their thrills in other sectors. Some alternative engineering and non-engineering careers to consider are:
Aerospace Engineers
Architectural and Engineering Managers
Biomedical Engineers
Computer Hardware Engineers
Electrical and Electronics Engineering Technicians
Logistics Engineers 
Mechanical Engineers 
Network and Computer Systems Administrators
Photonics Engineers
Sales Engineers
Newsfeed Featured Jobs Online Courses and Tools