Spotlights
Similar Titles
Instructional Technology Specialist, Technology Integration Specialist, Educational Technologist, Digital Learning Specialist, eLearning Specialist, Technology Coordinator, EdTech Consultant, Learning Technology Specialist, Digital Education Specialist, Technology Coach
Job Description
Educational Technology Specialists go by many names, including Ed Design, Learning Development, Instructional Technology, or simply EdTech Specialists. Their job duties are almost as varied as their job titles, but basically these workers assist schools with integrating modern technological tools into the educational system. From administrative platforms to instructional apps used by teachers and students, there is a wide range of critical components Edtech Specialists use to get schools up-to-speed so they can stay relevant in today's high-tech world. Some maintain intranets and school networks, as well. 
 
Edtech Specialists can work virtually anywhere that people need to learn things. Many are in the K-12 sector, while others stick to higher education institutions or even companies and government offices. Organizations rely heavily on Edtech Specialists to assist with selecting appropriate tools to use, then to provide the training on how to use those tools once they're brought in. For example, an Edtech guru might advise teachers on how to adapt an existing curriculum for use via tables, laptops, and Zoom. They may assist administrative staff with finding ways to use data to determine problem areas within the student body. The possibilities, and responsibilities, are endless! 
Rewarding Aspects of Career
Helping schools and organizations improve their teaching and training capabilities
Empowering schools with tech that can identify gaps and areas for enhancement
Supporting the modernization of our national educational system
Benefiting students who need to learn important tech skills for their futures
 "My favorite part of the job is I get the opportunity to learn about what's actually out there, in terms of existing technology and apps and finding engaging ways to teach students that haven't been done in a traditional classroom.The education world is finally realizing that we can't continue teaching students in the twentieth century model." Kristian Markus, S.Ed.Tech. Associate Director of Educational Technology, Study Smart Tutors
The Inside Scoop
Job Responsibilities
Working Schedule
Edtech Specialists work standard full-time jobs, Monday through Friday. Those working at educational institutions will follow their employer's schedule of holidays and breaks during academic terms (i.e. Winter Break, Spring Break, Summer Break). 

Typical Duties
Review organizational hardware and software to identify areas to update and modernize
Work closely with organizations to determine their technology needs and wants
Offer ideas for tech purchases and describe possible uses and functionality
Help to procure necessary software licenses for use
Allocate funds to buy hardware such as cameras or tablets, with the assistance of the resource manager
Install or set up hardware and software, or aid computer support specialists with such setup
Demonstrate features and train teachers or students on platform or app usage
Offer suggestions for curriculum development that incorporates technology such as iPads, Google Classroom, and learning management systems
Show administrators how to maximize and extrapolate collected data to target problem areas so resources can be deployed
Assist schools with the professional development of teachers using tech in the classroom
Additional Responsibilities
Teach workshops or provide one-on-one training 
Possibly manage a school webpage or social media dedicated to relevant topics
Keep up-to-date on the latest developments and trends and discuss these with management 
Aid with maintenance of a network or intranet
Offer tech support for various systems, as needed 
Skills Needed on the Job
Soft Skills
 
Desire to help others 
Good at coordinating and instructing activities
Highly organized 
Informed social and cultural awareness 
Inquisitive 
Logical and objective
Patient and able to mentor others 
Persuasive
Resourceful
Sound judgment and decision-making
Strong communication skills
Tech-savvy
 Having strong writing skills (writing curriculum)
Technical Skills
Strong familiarity with educational software designed for K-12 and higher education  students
Knowledge of mobile technology   
Budget planning 
Knowledge of video software
Microsoft Office, Google apps, Macintosh software
Familiarity with computers (PC or Apple), networks, and website building
Understanding of school database automation systems 
Software: Light coding (HTML), apps out there (Jamboard, Screencastify)
Different Types of Organizations
K-12 schools (public and private)
Colleges, vocational schools, universities
Governmental/military organizations
Non-profit institutions
Private companies and corporations
Expectations and Sacrifices
Edtech Specialists are required to be fully up-to-speed on the latest educational technology trends, so they can best serve the organizations they work for. They have to be able to see the big picture in terms of what their employer needs for hardware and software, keeping in mind budgetary restrictions. 
 
They must also remember that once technology is brought in, users must be persuaded to adapt to it and learn how to use it. Sometimes such changes in group thinking aren't easy to achieve, and Edtech Specialists may run up against pushback as they work to train staff on how on new programs, apps, or devices. It can take patience and perseverance, especially when a deadline for implementation is putting pressure on the team to succeed.  
Current Trends
Edtech Specialists are in a somewhat new and burgeoning career field that is likely to expand as more and more schools and organizations come to see the advantages of incorporating technology. For-profit companies will especially get on board as they must stay competitive with peers in order to survive. 
 
Many Edtech Specialists begin as licensed teachers, which is a huge advantage since they have boots-on-the-ground knowledge of what students need and what motivates them to stay engaged. Today's younger generations have grown up with technology. They're comfortable with it and eager to use it as much as possible. Schools are rapidly realizing they must not only teach tech skills, but in many cases they must first train their own teachers and staff how to use tech tools. COVID-19 forced institutions around the nation into a scramble to adapt tech and curricula that could be taught online, and when the pandemic winds down, those tools and plans will still be in place, able to be built upon. 
Project-based learning and the technology that aids this type of learning. 
What kinds of things did people in this career enjoy doing when they were young...
Edtech Specialists may or may not have grown up with technology but they certainly gain an affinity for it at some point in their lives. Mainly, though, they can see and appreciate the value tech can add to virtually any situation, if used correctly. The ability to see the bigger picture or to think outside the box is something they might have always had, even as a child. 
 
Most likely they were very curious about things, wanting to learn more and to try doing tasks in different ways from the norm. They "color outside the lines," willing to take what might appear to be risks but only because they can see the advantages that others might not see. Another attribute is often their ability to persuade, to explain how something "could" work if given the chance!  
 
"When I was in high school, I was so into technology and I wanted to learn computer science. So I created a class to learn web development at my high school. " Kristian Markus, S.Ed.Tech. Associate Director of Educational Technology, Study Smart Tutors
Education and Training Needed
A related bachelor's degree is the minimum academic credential to get started; a master's degree is often needed

Edtech Specialists are frequently certified and licensed teachers with an endorsement in educational/instructional technology. They have classroom experience. 
Each state has different requirements, so a teaching license is not required everywhere
Endorsements may only require a few courses which can be done online
Common classes include: Web 2.0 for Educators, Software and the Curriculum, Distance Education Research and Design, and Integration of Instructional Design and Educational Technology

Prospective Edtech Specialists might opt to complete a school-based internship
Some hold a master's degree in education technology or a related field (M.Ed., EdM, EdS)
Things to look for in a program
Look for universities featuring educational training programs with solid reputations 
Stock up on classes related to curriculum development and classroom learning support
If working on an endorsement, ask if the credits are applicable to a future master's degree
Review U.S. News' Best Education Schools rankings to learn more about schools and programs
Carefully review each programs' website to learn about their enrollment and graduation data, diversity and inclusion, tuition rates, scholarships, and student organizations
Decide if online, in-person, or hybrid courses are best for your goals. Given that you'll be working in the Edtech sector, it might be useful to take some online classes to learn about their pros and cons from a student perspective
Things to do in High School and College
Load up on practical tech courses aimed at teaching end users how to get the most from a device, platform, or app
Take online courses to learn about different programming languages if they aren't available at your college. The more technical knowledge you have the more effective edtech specialist you will be. 
Sign up for classes on analyzing and using data! 
If applicable, learn some programming and coding skills to beef up your resume
Join computer clubs and volunteer to provide tech support to your school
Hone up on your communication skills because as a future tech mentor and advocate, you'll need them to teach and to persuade others 
Take writing courses so you can learn how to translate your thoughts into easy-to-understand content for written directions, instructions, or even curricula 
Develop your other soft skills, including leadership and team-building! 
Get as much teaching experience under your belt as you can, through paid or volunteer opportunities or internships
Work closely with your academic advisors to map your path to becoming an Edtech Specialist
Stay organized and keep track of your academic and work accomplishments for your resume or CV 
Be an active participant in professional organizations dedicated to the field, such as:

CoSN (Consortium for School Networking)
Foundation for Learning Equality
iNACOL (International Association of K-12 Online Learning)
ISTE (International Society for Technology in Education)
ITEEA (International Technology and Engineering Educators Association)
The Office of Innovation and Improvement
 "Have a diverse and well-rounded background. Gain knowledge on a lot of things. Be curious. Get your teaching credential, gain classroom experience, tutoring...etc." Kristian Markus, S.Ed.Tech. Associate Director of Educational Technology, Study Smart Tutors
Typical Roadmap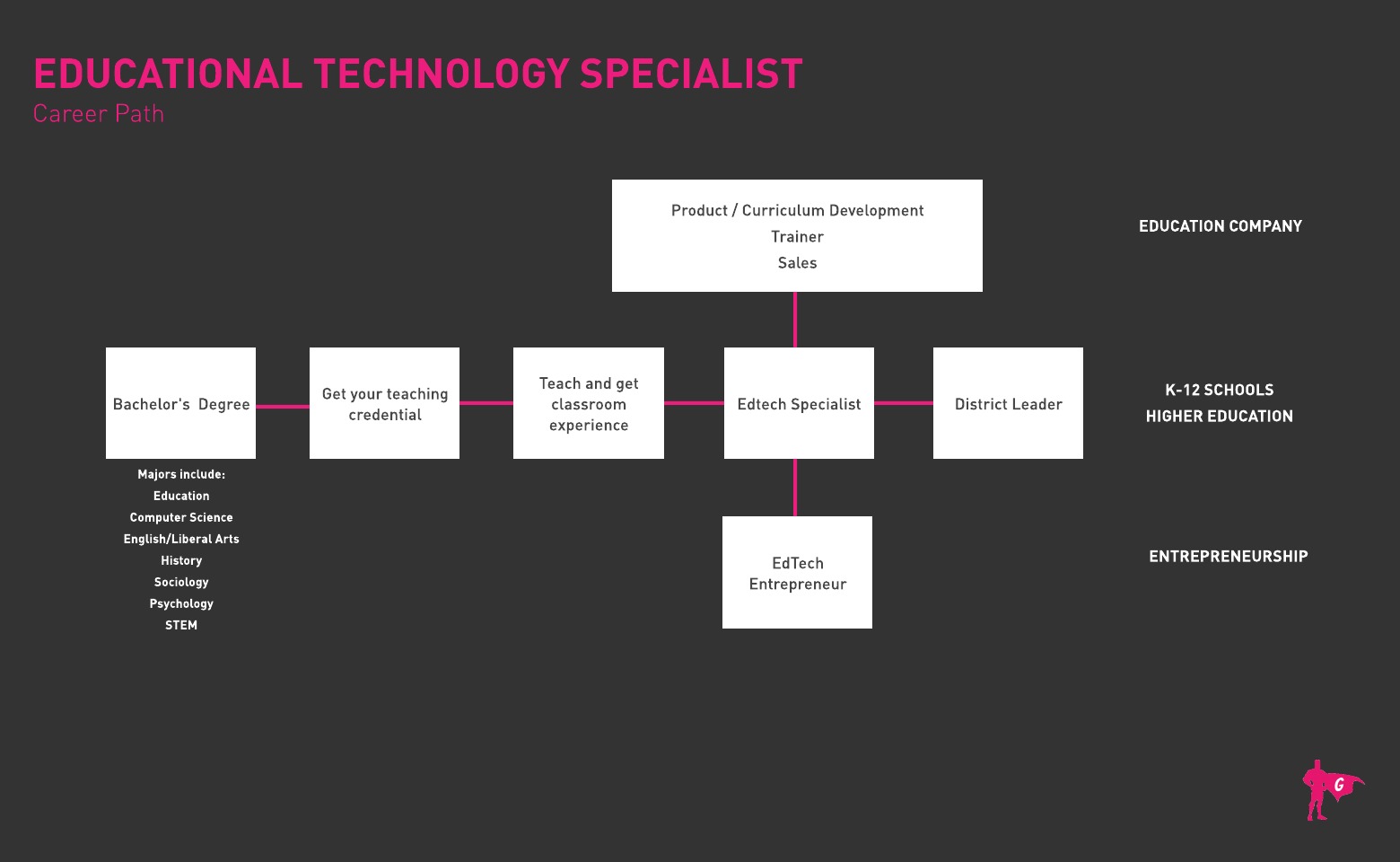 How to land your 1st job
Qualified Educational Technology specialists will most likely have little trouble finding work once their applicable degree or endorsement is finished
Work closely with your academic department or career center to locate and apply for good-paying jobs
Let your peer network know when you're about to start applying and keep reminding them to pass on tips
Scour job portals such as Indeed, Monster, Glassdoor, and even LinkedIn and set up alerts for new postings
Before applying, reach out to coworkers, professors, and supervisors to ask their permission to list them as references
When reviewing job ads, make sure you meet all listed qualifications and experience requirements. If you don't, it's probably a waste of time to apply
Polish your resume/CV and make it impactful by detailing hard stats when possible
Read industry websites and articles to keep current on trends so you can speak about them during interviews, if asked
How to Climb the Ladder
"Be curious and constantly be learning: Constantly brush up your skills. Because technology keeps changing, you have to brush up your skills and the newest technologies." Kristian Markus, S.Ed.Tech. Associate Director of Educational Technology, Study Smart Tutors
Show your dedication each day by being on-time, offering solutions to problems, and being positive about the changes technology can bring to your organization
Once you've mastered your primary duties, don't be afraid to ask for increased responsibilities 
Demonstrate your worth to management by adding value across the board, from leadership to end-users (to include teachers and students, if working at a school)
Maintain an impeccable work ethic and keep track of tangible performance indicators
Be a team player able to facilitate change in an efficient manner
Listen to teachers on the frontlines and to students who offer insights or complaints, and take action to clearly identify and resolve problems 
Always stay on top of breaking developments and be a vocal advocate for continual improvements
Engage with professional organizations, teach workshops, mentor teachers, and do everything you can to help students succeed
Time permitting, share your lessons learned with peers online, via a blog or portfolio
Recommended Resources
Websites
21 Apples
21st Century Educational Technology and Learning
Ask a Tech Teacher
Association for Educational Communications and Technology
Bud the Teacher
CoSN (Consortium for School Networking)
Digital Promise
EdTech Sandy K
edtech Vision
Educational Technology and Mobile Learning
Educational Technology Guy
E-Learning Queen
Emerging EdTech
FLE (Foundation for Learning Equality)
Free Technology for Teachers
FRS (Future Ready Schools)
Hack Education
High Techpectations
iLearn Technology
iNACOL (International Association of K-12 Online Learning)
International Society for Technology in Education 
ISTE Standards for Educators
ITEEA (International Technology and Engineering Educators Association)
OII (Office of Innovation and Improvement)
Teach42
Teacher Reboot Camp
The Innovative Educator
The Nerdy Teacher
Web20Classroom 
Books
Plan B
The exciting world of Edtech can be fast-paced and sometimes complicated. As critical as it is for our future, it is certainly not every educator's cup of tea, though! The Bureau of Labor Statistics offers many alternative career paths in the ed sector to consider, including: 
Adult Education
ESL Teachers
Career/Technical Education Teachers
Elementary, Middle, and High School Principals
Kindergarten and Elementary School Teachers
Middle School Teachers
Postsecondary Teachers
Preschool Teachers
Career Counselors
Special Education Teachers
Product Manager at an edtech company
Words of Advice
"It's a quickly growing industry. If you are curious and looking to be challenged (never doing the same thing), this is a great field for you. No two days are the same." Kristian Markus, S.Ed.Tech. Associate Director of Educational Technology, Study Smart Tutors
Newsfeed Featured Jobs Online Courses and Tools