Spotlights
Job Description
Costume designers  collaborate with the director and the set and lighting designers of a production, to create the look of each character by designing clothes and accessories the actors will wear in performance.
Rewarding Aspects of Career
Realize a passion for creating and storytelling
Producing work that means a lot to people, especially fans of a show, is very meaningful
Living up to fans' expectations is very fulfilling
The Inside Scoop
Job Responsibilities
Pre-production Days:
Receive script about 4 months before filming begins
Conduct research, or sourcing on the internet: e.g. historical research, if the project is a period drama
Some original projects may allow for more creativity and so require less preliminary research
Sketch, design, decide what fabrics will be used
Sizing information on the cast will be received about 3 weeks before filming begins (This is an unpredictable period where last minute castings or recastings may affect the sizing information, so a costume designer may have to create several pieces of their costume at different sizes)
Costumes are typically created before the costume designer even arrives on set, to ensure the shooting process can happen more efficiently
On-Set Days:
These are typically very long days!
Makeup and wardrobe departments are usually the first on set, arriving at very early hours to prepare the cast for shooting
Costume designers must also track scenes for continuity during filming (e.g. if a character is wearing a certain accessory in one take of a scene they must be wearing it in another take of the same scene)
Depending on the project, the length of filming and the number of copies of each costume, costume designers may also have to run costumes through laundry and make reparations to the costumes frequently
Skills Needed
Soft Skills
Active listening (responding and asking pertinent questions)
Coordination/Organization
Creative thinking
Decision-making/Problem-solving
Flexibility
Technical Skills
Artistic ability (e.g. sketching skills)
Sewing skills (highly desirable, not strictly required)
Different Types of Organizations
Union and Non-Union projects
TV
Film
Theatre
Expectations/Sacrifices Necessary
As with many artistic careers, have to deal with rejection and a lot of competition
Sacrificing time with family, due to an erratic work schedule
Current Industry Trends
Current Film and TV scripts seem to be leaning back towards the sci-fi genre, which awards a lot of creative leeway to costume designers
What kind of things did people in this career enjoy doing when they were younger…
Reading and watching movies/TV show, which develops a passion for storytelling
Sketching
Education and Training Needed
No formal education strictly required (but it is considerably more difficult to find employment without a certificate or degree)
Bachelor's in Fashion Design or Costume Design is preferable
*Note: Ensure the legitimacy of the design course and university you are attending by speaking with previous graduates to gauge their experience and success following graduation
Apprenticeship and/or experience
Internships and projects completed during studies should give rise to a portfolio of works that will be used to apply for jobs
Career Advancement
Specialized training courses or certifications while not necessary, may improve likelihood of promotions or securing more high-profile projects, especially if they are received from reputable fashion institutions like FIDM or Parsons.
Experience, portfolio, connections and reputation are key for career advancement in the Costume Design industry
Things to do during high school/college
Get involved with theatre. Costume departments in productions will always want help with costumes, so there may be plenty opportunities to gain experience as an intern or assistant

It also helps, in this line of work, to be a decent artist, so you may want to engage in some art or sketching classes

It is not strictly necessary to know how to sew, but this skill is very desirable in the costume design trade and it is not very difficult to pick up. For example, classes may be taken at little to no cost at Jo-ann Fabric and Craft Stores.

Experimenting with design and sewing will also help you get acquainted with important basic fabric rules, i.e. which fabrics support each other and can be used together.

Other valuable experiences involve any kind of set experience, for example as a Personal Assistant, since it will expose you to the pace and expectations of working on a movie or TV set.
Typical Roadmap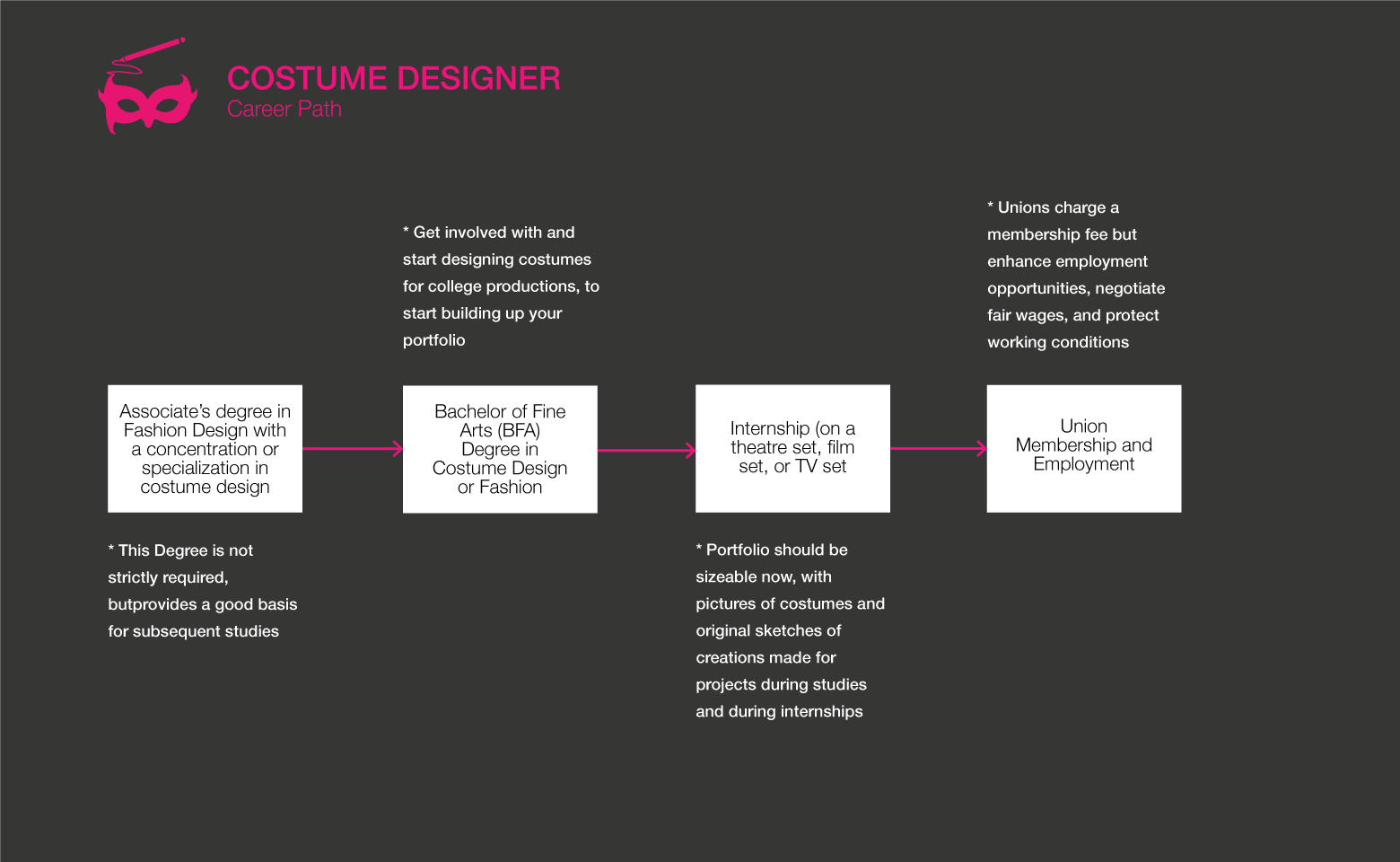 How to land your 1st job
Internships/assisting on set
Networking is very important in this field
Develop and advertise a good portfolio
Check online listings and calls for costume designers on various websites
Register with the Costume Designer Guild and/or International Alliance of Theatrical and Stage Employees (IATSE)
What it really takes to make it and succeed
Tenacity and 'putting yourself out there'
Networking
A good website with your resume and examples of your work (these can be made for free through certain Apps)
Building up a design portfolio and keeping it updated
"Connections get you in the door, skills keep you in the room"
Be reliable and fulfil your commitments
Reputation very important in this industry, so only take jobs within a certain time frame when you know you can actually do them.
How to Find a Mentor
Professors from university/college
Directors on set
Costume Designers Guild: membership is not a requirement, but member fees are much lower than other Guilds, and membership can helps you find work
Recommended Resources
A lot of resources can be found through the Costume Designers Guild, such as an online historical costume library with references for different time periods
Books recommended by a professional: Costuming for Film- The Art and the Craft, Creating the Illusion (History of designers in film)
*Note: abe.com is a good source for reference books at knocked-down prices
Plan B
Theatre is the biggest alternate from Film and TV for costume designers
Fashion design and apparel is another alternate
Newsfeed Featured Jobs Online Courses and Tools