Spotlights
Similar Titles
Back Hoe Operator, Engineering Equipment Operator, Equipment Operator (EO), Forklift Operator, Heavy Equipment Operator (HEO), Hot Mix Asphalt Operator, Machine Operator, Motor Grader Operator, Operating Engineer, Track Hoe Operator, Agriculture Equipment Operator
Job Description
It takes big machines to prepare sites for the construction of the buildings we live and work in. From bulldozers, tractors, back hoes, shovels, and front-end loaders, these pieces of heavy equipment are brought to move dirt, rocks, and sand then smooth over surfaces afterwards. It takes special training and skills to operate these big boys, without which we wouldn't have much of the modern society we enjoy today. Luckily we can thank hard-working Construction Equipment Operators for their dedication to tackling this work!
But Construction Equipment Operators goes even further that prepping building sites. Some employees specialize in paving and surfacing the roads we drive on. Others work with pile drivers to hammer massive beams into the ground that can hold up bridges, walls, piers, and oil rigs. There's no end to the different types of machines that require highly-skilled Construction Equipment Operators to operate and maintain. 
Rewarding Aspects of Career
Helping to prepare areas so that roads and structures can be created
Becoming an expert on operating complex equipment properly
Learning about the construction industry from the ground level
Working as a valued team member on multiple projects
2019 Employment
468,300
2029 Projected Employment
487,500
The Inside Scoop
Job Responsibilities
Working Schedule
Construction Equipment Operators work at least 40 hours a week, with overtime common. Night or weekend shifts may be expected. 
Typical Duties
Operate heavy equipment, sometimes as part of a coordinated effort with other operators
Prepare sites for new construction or modifications, repairs, and additions to existing sites
Depending on duties: dig, scoop, and move dirt, gravel, or sand; remove stumps; tear up old asphalt; smooth over surfaces; pave and surface roads; drive wood or metal beams into the ground 
Keep equipment clean and free from dirt, rocks, or grime that impacts performance
Inspect equipment; conduct general maintenance and repairs
Annotate problem logs; report issues if the equipment needs higher-level repairs
Practice safety protocols and report hazards and mishaps    
Follow guidance on machine alignment and positioning
Use hand signal or audio communications with co-workers about equipment movements    
Additional Responsibilities
Identify locations of any underground materials to avoid or work around
Ensure machines are properly fueled and lubricated, as necessary
Work with on-site supervisors; assist with planning and cost estimation, if needed  
If working in a confined space area, ensure sufficient oxygen is present
Skills Needed on the Job
Soft Skills
Ability to focus for long periods
Ability to pass background check/drug screening, for some jobs
Careful listening
Calm under pressure
Good with following directions
Independent
Integrity
Problem solving 
Physical fitness and stamina
Resilient
Safety-conscious 
Solid work ethic
Team-oriented
Time management 
Troubleshooting 
Technical Skills
Arm and hand steadiness 
Comfortable with heights, in some cases
Fast reaction time 
Finger dexterity
Good vision with normal color vision and depth perception
Hand-eye-foot coordination
Mechanical skills; knowledge of equipment maintenance 
Operation monitoring
Perceptual speed 
Precision
Different Types of Organizations
Government and military agencies
Heavy and civil engineering construction    
Specialty trade contractors    
Expectations and Sacrifices
Work is outdoors, in all types of weather conditions including rain and cold in many, but not all, situations. Sites are often dirty, dusty, loud, and smelly from equipment fumes. Construction Equipment Operators may need to travel to far away sites, so commute time is a factor unless workers are temporarily asked to live on or near the site. 
The work entails many hazards, so it's vital to always practice safety procedures and wear applicable protective equipment. Even with precautions taken, injuries can happen, including repetitive stress injuries from doing a particular task over and over. Hours can get long and there's sometimes pressure to work faster in an effort to reduce costs so a project can stay within budget. However, workers are expected to perform their jobs correctly and not take shortcuts that impact quality or safety. 
Current Trends
New construction projects are always in the works, and existing sites are constantly being upgraded or repaired. Meanwhile, roads and bridges require continual maintenance to ensure they're safe to use. As a result, Construction Equipment Operators can expect steady work in the coming decade. Still, the Bureau of Labor Statistics (BLS) only anticipates a 4% growth, meaning that while requirements will be stable, openings for new workers aren't expected to rise much. Most will be due to workers switching careers or retiring, making room for new employees to enter the field. 
Versatility is a key factor in being competitive. Those who can operate more than one kind of machine will have an edge, provided there is no decrease in ability and performance. BLS also expects that workers who complete apprenticeships will have an advantage in the job market, with most work available in metropolitan areas. It's important to remember that job opportunities can spike during warmer seasons, since inclement weather slows construction. 
What kinds of things did people in this career enjoy doing when they were young...
It's likely that Construction Equipment Operators always enjoyed being outside, not afraid to get a bit dirty. Many also had an early affinity for vehicles and engines, and might have spent a few hours tinkering in the garage. They enjoy learning how mechanical things work and have an aptitude for figuring things out. Another early trait of a future operator is motivation to get things done. Construction Equipment Operators don't work in theories and ideas; they literally get their hands on equipment to make things physically happen, and you can see the tangible results of their hard work! 
Education and Training Needed
A high school diploma or GED is needed to get started
An apprenticeship or some vocational training in auto mechanics and specific equipment operation can give a significant boost in competitiveness for job applicants
Apprenticeships can last up to 4 years, during which time the worker receives paid training while working
Other training includes learning safety practices and first aid
Workers will also learn about grading plans, maintenance and operation of the equipment they'll be using, GPS, and computerized controls, as applicable 
Commercial driver's licenses are a typical requirement
Special licensure is needed in certain states for backhoes, loaders, bulldozers, or pile drivers 
Things to look for in a program
A degree isn't necessary but many workers take vocational training prior to applying to a job/apprenticeship, to learn how to operate specific equipment
Decide which machines you want to learn how to use, such as backhoes, wheel loaders, scrapers, excavators, bulldozers, road graders, skid steers, and more
Look for training programs that feature hands-on practice or simulations
Check for state funding such as grants that pay for your classes
Associated Training Services lists several resources to consider, such as programs for:

Department of Workforce Development
Displaced workers
Veteran's benefits 
Vocational rehabilitation
Workforce Investment Act 

Review information about any job placement assistance after program completion
Things to do in High School and College
Think ahead about what types of machinery you want to operate and learn everything you can about them in advance
Take classes in auto mechanics, because those will help you perform routine maintenance when needed
Math and diagram reading classes can come in very handy later
Since the work can be long and arduous at times, being in shape can make things easier, so participate in sports, exercise, and healthy lifestyle options
Learn about safety, first aid administration, and labor laws that apply to your future work 
Communication skills are vital in any team environment, so ensure you have proficiency in English and consider taking a public speaking course to practice your delivery
Draft your resume early and add to it as you learn new things and develop skills 
Reach out to workers currently doing the job you want, and ask if they're willing to offer advice or even some mentorship as you get closer to applying for jobs, apprenticeships, or training programs
Stay out of trouble and keep a clean record, including avoiding traffic violations. Many companies conduct criminal background checks and drug screenings
Visit job sites, if possible, to see exactly what goes on and get a feel for the work. Don't wait for good weather days; check out sites under all conditions, not just optimal ones
Typical Roadmap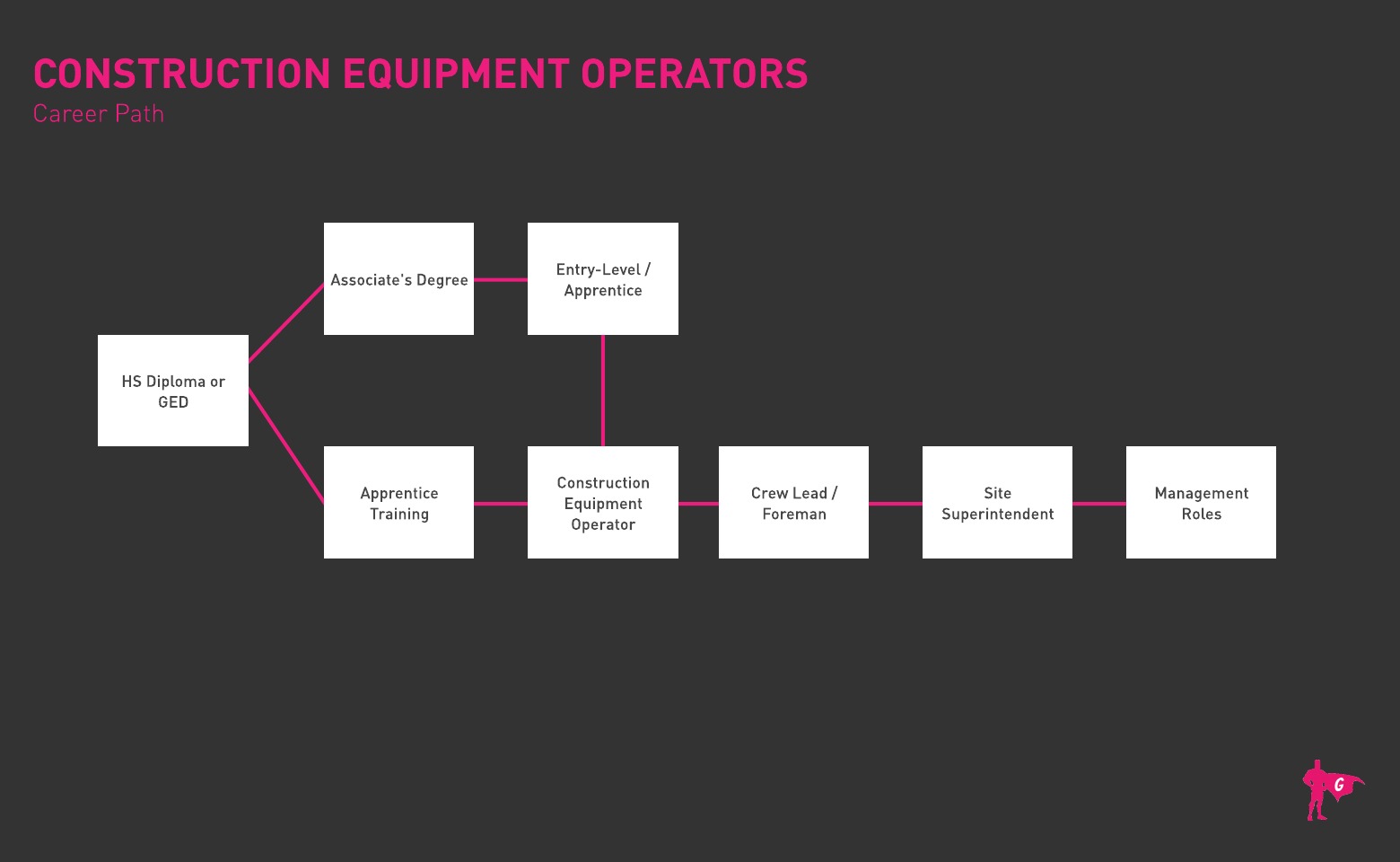 How to land your 1st job
Getting your first job depends on whether you want to do an apprenticeship or try to become qualified through vocational training
Having some education and training under your belt can potentially give you a boost, but many employers are happy to take workers they can train from scratch since such workers have not developed "bad habits" to break
Having CPR and first aid certification, plus knowledge of general safety, is always useful
Get your commercial driver's license and apply for any state licenses to operate specific machinery when the time is right
Read job ads carefully and only apply if you meet qualifications
If the ad says they'll do all the training On-The-Job, then focus your application around the soft skills you possess versus worrying about technical skills you haven't developed
Always be honest and transparent about your abilities and don't exaggerate them
Look for work and apprenticeships on Indeed and other job portals, but also check local listings on Craigslist and Apprenticeship.gov
Having a well-rounded LinkedIn profile can offer hiring managers more insight into your background as they screen applications

Keep the rest of your social media professional, in case they peek at that, too

If there is anything on your traffic or criminal record, be upfront if asked, and consider offering an explanatory statement to include any rehabilitatory training or actions completed
Reach out to potential reference providers. Ask if they'll write recommendation letters or be able to take calls or emails if a hiring manager wants to speak with them
Check out Mock Questions' Heavy Equipment Operator Interview Questions and how to answer them
How to Climb the Ladder
Always be on time for work and ready to get started
Maintain a positive attitude and behave professionally at all times. Be a strong follower but demonstrate leadership and management traits whenever possible
Work efficiently and effectively to keep things on schedule and on (or under) budget
Gain mastery over as many types of equipment as you can
Perform all maintenance and repair procedures in a timely manner
Knock out any certifications, licensure requirements, or other education and training 
If you have a complaint, also offer a viable solution at the same time
Become the "go-to" expert that the team comes to rely on 
Know your workplace protocols for what to do in all situations, including emergencies 
Be a safety subject matter expert
Help train and mentor new team members; ensure they're familiar with all standard operating procedures
Build strong relationships with team members. Try to avoid confrontations during stressful periods like poor weather or during overtime when tempers may run hot
Recommended Resources
Websites
Apprenticeship.gov
Helmets to Hardhats
International Union of Operating Engineers 
National Center for Construction Education and Research
The Associated General Contractors of America 
Books
Plan B
It's not easy work being a Construction Equipment Operator. Though it is a broad and exciting career field with ample opportunities, not everyone is cut out for it. That's okay, because there are plenty of jobs that are suited for persons who are still interested in similar positions. 
The Bureau of Labor Statistics' lists many related occupations to think about: 
Agricultural Workers
Farmers/Ranchers
Heavy and Tractor-trailer Truck Drivers
Material Moving Machine Operators
O*Net Online has a few to check out, too, besides the ones listed above:
Paving, Surfacing, and Tamping Equipment Operators    
Pile Driver Operators
Highway Maintenance Workers Bright Outlook
Excavating and Loading Machine and Dragline Operators, Surface Mining
Crane and Tower Operators
Newsfeed Featured Jobs Online Courses and Tools