Spotlights
Similar Titles
CNC Programmer, Manufacturing Engineer, CAM Software Developer, CNC Machinist, CAM Automation Engineer, CNC Applications Engineer, CAM Integration Specialist, CAM Team Lead, CAD/CAM Specialist
Job Description
How does an idea for a product become a reality? The first step is to create a visual design of the product concept using computer-aided design (CAD) software. Once this virtual model is finished, it's time to make the product's individual parts using computer-aided manufacturing (CAM) software and Computer Numerical Control (CNC) manufacturing machines. 
CAM Programmers work with the CAD and CAM software to tell the CNC machines how to cut, drill, mill and bore raw materials into whatever shapes the products' parts need to be in. They oversee and quality control these processes so that the machines engineer parts within desired parameters.  
As All3DP explains it, "CAM software prepares a drawing for production." The software uses G-code programming language to translate CAD models into instructions that CNC machines can follow. It literally tells "motors where to move, how fast to move, and the programmed path they should follow," while also checking for geometrical errors and calculating machine parameter adjustments.
Rewarding Aspects of Career
Programming software that makes vital parts needed to manufacture products

Contributing to the economy by providing a steady stream of parts used in countless industries  
"The most rewarding aspect of my career is undoubtedly my capacity to transform concepts into tangible realities. It is immensely gratifying to witness an idea evolve from its blueprint to a functional, spatial presence," says Chris Lee, CAM Programmer for Hadrian. "My career is devoted to bolstering America's capabilities in [the manufacturing] sector, a pursuit that instills a profound sense of purpose and fulfillment."
2021 Employment
25,800
2031 Projected Employment
0
THE INISDE SCOOP
Job Responsibilities
Working Schedule
CAM Programmers work full-time, with overtime necessary depending on goals and timeframes. Their duties are usually performed indoors in factories or shops, but work may require them to travel to various locations to complete on-site tasks. 
Typical Duties
Review sketches, technical drawings, 3D computer designs, blueprints, and other reference files

Review written descriptions and specifications of desired parts to be made

Discuss final product needs, quantities, and costs

Determine work processes sequence order

Use computer-aided design software to render models for computer-aided manufacturing software

Create or modify CAM programs to instruct machines

Keep track of software changes. Ensure updates are compatible with machines

Collaborate with CNC machine operators, or perform the operations as per the job description (some programmers are also machinists or operators)

Perform online and offline CNC machine programming as needed

Adjust machine components such as blades, holding fixtures, etc.

Determine which blank types to use to create a

workpiece

Verify the

tolerance

of materials to be machined

Create parts using processes such as turning, milling, drilling, shaping, and grinding

Keep an eye on machine

feeds and speeds

 

Screen items for defects. Make adjustments to machinery as needed

Use measuring instruments to determine the dimensions of the final fabricated pieces. Verify that completed products comply with requirements

Diagnose machine errors and make minor repairs

Store, label, and reference specification data
Additional Responsibilities
Wear required personal protective equipment and follow established safety protocols

Stay up-to-date on technical manuals

Maintain technical documentation and spreadsheets of data

Update material and consumable stock lists; order supplies

Train and mentor new CAM Programmers, machinists, operators, and technicians

Keep work areas clean and perform routine maintenance on machines
Skills Needed on the Job
Soft Skills
Alertness

Analytical

Cautious

Compliance-oriented

Critical thinking

Detail-oriented

Discipline

Methodical

Patience 

Planning and organization

Problem-solving skills

Sound judgment 

Stamina

Teamwork

Time management 
Technical Skills
Knowledge of

G-code programming language and commands

:

G: machine motion

M: miscellaneous machine action

F: feeds

S: speeds 

T: tools

Computer-aided manufacturing software like

Autodesk Fusion 360

,

SOLIDWORKS

,

Solid Edge

,

Siemens NX CAM

,

GibbsCAM

,

Mastercam

, etc.

Computer-aided design programs like

Autodesk AutoCAD

,

CATIA

,

PTC Creo Parametric

, and

SolidCAM

Procedure management programs like

Hexagon Metrology PC-DMIS

Familiarity with CNC machine tools (routers, water cutters, plasma cutters, laser cutters, milling machines, lathes, electrical discharge machines, etc.)

Familiarity with tools and equipment such as micrometers, calipers, shapers, grinders, and drilling machines 

Familiarity with processes such as metalworking, brazing, heat-treating, and welding

Familiarity with hydraulic systems, electrical wiring, lubricants, and batteries

Familiarity with metal and metal alloys, including steel, brass, aluminum, copper, zinc, lead, vanadium, and manganese
Different Types of Organizations
Machinery manufacturing/machine shops in a wide range of sectors
"Individuals pursuing a career in my field have the flexibility to explore opportunities across various types of organizations, ranging from large technology conglomerates to burgeoning startups," Chris Lee notes. "With CAM programming skills being widely applicable, professionals can find rewarding roles in an array of industries that rely on manufacturing processes. These sectors may include, but are not limited to, aerospace, defense, commercial manufacturing, and prototype development."
Expectations and Sacrifices
CAM Programmers are relied upon to write the instructions for CNC machines to produce products that conform to very precise specifications. Their work must be meticulous and error-free, as they consider multiple factors such as the right materials, tools, and equipment to use. 
Manufacturing worksites can be loud, with numerous hazards to be wary of. Programmers who work directly with or around CNC machines must be conscious of all risks and wear appropriate personal protective gear, including goggles, hearing protection, and gloves, as needed. 
Chris Lee provides an inside look: "A typical day for me begins with an in-depth review of the assigned project blueprint, focusing on identifying potential challenges or areas requiring specialized tooling and consideration. With a mental framework of my approach, I initiate a collaborative meeting with CAM programmers, CMM inspectors, and machine operators. We engage in a comprehensive discussion of the proposed strategies, addressing any additional concerns or potential obstacles. 
"Upon finalizing the most effective approach, I oversee the machine operation to produce the first article and submit it for inspection. Once the initial part is approved, I provide comprehensive work instructions to the operators to commence production. Concurrently, I manage any process errors that arise within our proprietary software or systems, diligently documenting and seeking solutions for the continual improvement of our processes. This ensures a seamless and efficient workflow, fostering an environment of excellence and innovation in our operations."
Current Trends
An interesting trend that affects computer-aided manufacturing is 3D printing. Shops can now print parts that CNC machines can polish up and finish, which may impact the demand for CAM programming in the future. Meanwhile, there's an increased demand for CAD and CAM capabilities to be integrated into single platforms (instead of relying on two different programs). Another trend is the use of CAM software digital twins that simulate everything a CNC machine will do. This allows the programmer to troubleshoot ahead of time and make adjustments before pushing the instructions to the actual CNC machine.
Some trends depend on the sector in which the CAM Programmer works. For example, Chris Lee outlines current trends in the aerospace industry. "As we witness the unfolding of a new space race, propelled by companies like SpaceX and their efforts to reduce orbital launch costs, the demand for skilled professionals in 5-axis programming has soared. Due to the intricate nature of the components involved in these cutting-edge projects, versatility and expertise across various machining processes are highly desirable."
Chris also notes that programmers "with experience in 3-axis, 4-axis, and 5-axis machining, as well as turning, and mill-turn operations, possess a significant competitive advantage in the field."
What kinds of things did people in this career enjoy doing when they were younger…
People who get into CAM Programming usually enjoy working with software as well as with their hands. They are safety-conscious and feel comfortable working around loud relatively dangerous machines. They might have enjoyed math and computer programming courses in high school or liked doing projects in shop classes. 
"Individuals in my occupation often exhibit a passion for creating and building from a young age," Chris Lee explains. "This enthusiasm may manifest through various mediums, such as paper crafts, plastics, or metalwork. Engaging in a wide range of interests and hobbies contributes to shaping a multifaceted mindset. Exposure to diverse experiences allows individuals to develop versatile problem-solving skills and innovative approaches, which are crucial in a dynamic field such as ours. Embracing these myriad interests and pursuits not only enriches one's personal life but also cultivates essential abilities that translate seamlessly into a successful career in this industry." 
Education and Training Needed
Education Needed
CAM Programmers need at least a high school diploma or GED, but a bachelor's degree is not required

Many workers in this field pursue a CAD/CAM bootcamp, certificate, or associate's degree at a community college or technical school. Common courses include:

Blueprint reading

CAM programming and G-code

CNC machine usage

Computer-aided design

Coordinate measurement

Dimensional metrology

Jig and fixture design

Lathe Programming

Math (calculus, trigonometry, linear algebra, geometry, statistics)

Mechanical drafting with CAD

Milling applications and programming

Shop safety

Tooling and machining

Turning applications

Welding and metal joining

Students can learn a lot from online courses such as Autodesk's 19-hour

Intro to CAD, CAM, and Practical CNC Machining

offered via Coursera. There's also a four-month Autodesk

CAD/CAM for Manufacturing Specialization

which includes a hands-on project!

Employers often look for a strong mix of academics and practical work experience. Well-qualified candidates may receive additional On-the-Job training or apprenticeship opportunities

Optional certifications can help CAM Programmers qualify for advancement. Certifications options include:

There are also manufacturer and software-specific certs available
"Formal education is not always a prerequisite for success," says Chris Lee. "Demonstrating a deep understanding and practical proficiency in the field can often outweigh the value of traditional education. This notion is reinforced by the limited availability of academic programs that concentrate specifically on the manufacturing process, as many courses tend to emphasize engineering principles and theoretical frameworks. Consequently, the ability to showcase tangible expertise and hands-on experience becomes a more significant factor in determining one's qualifications and readiness to excel in this dynamic and ever-evolving sector."
Things to look for in an University
CAM Programmers should consider if they want to complete a certificate or associate's at a technical school or community college

Consider the cost of tuition, discounts, and local scholarship opportunities (in addition to federal aid)

Think about your schedule and flexibility when deciding whether to enroll in an on-campus, online, or hybrid program. Some courses may be better done in person to get hands-on experience
Things to do in High School and College
Sign up for plenty of math (arithmetic, algebra, geometry, and trigonometry), physics, computer science, materials science, and shop classes in high school

Consider learning mechanical drawing and blueprint reading 

Take online CAD/CAM courses from

Coursera

,

Udemy

,

edX

,

Pluralsight

,

LinkedIn Learning

, or other sites

Enroll in a community college or vocational/technical school program to learn about CAD, CAM, and CNC machining

Gain real-world experience via part-time jobs related to machining or shop work

Start crafting your resume and add to it as you learn and gain work experience 

Review job postings in advance to see what the average requirements are

Make a list of your contacts (including email addresses or phone numbers) who might serve as future job references 

Study books, online articles, and video tutorials related to CAD, CAM Programming, and CNC machining

Join online forums to ask questions and learn from experienced programmers 

Engage with professional organizations to learn, share, make friends, and grow your network
Chris Lee suggests that "Students in high school and college should adopt an exploratory mindset and actively seize opportunities to broaden their experiences. Engaging in diverse activities and projects can help determine one's interests and preferences, providing valuable insights for future pursuits. Embracing both success and failure is essential, as understanding the reasons behind an outcome often leads to accelerated learning and personal growth."
"With the advent of the Internet, students now have access to a wealth of knowledge and resources that can enhance their skills and understanding. Utilizing platforms such as YouTube for tutorials and guidance can foster creativity and problem-solving abilities. Additionally, networking through social media platforms can connect students with industry professionals who appreciate and encourage curiosity. Engaging in meaningful conversations with experienced individuals can not only provide valuable insights but also potentially lay the groundwork for important professional relationships in the future."
Typical Roadmap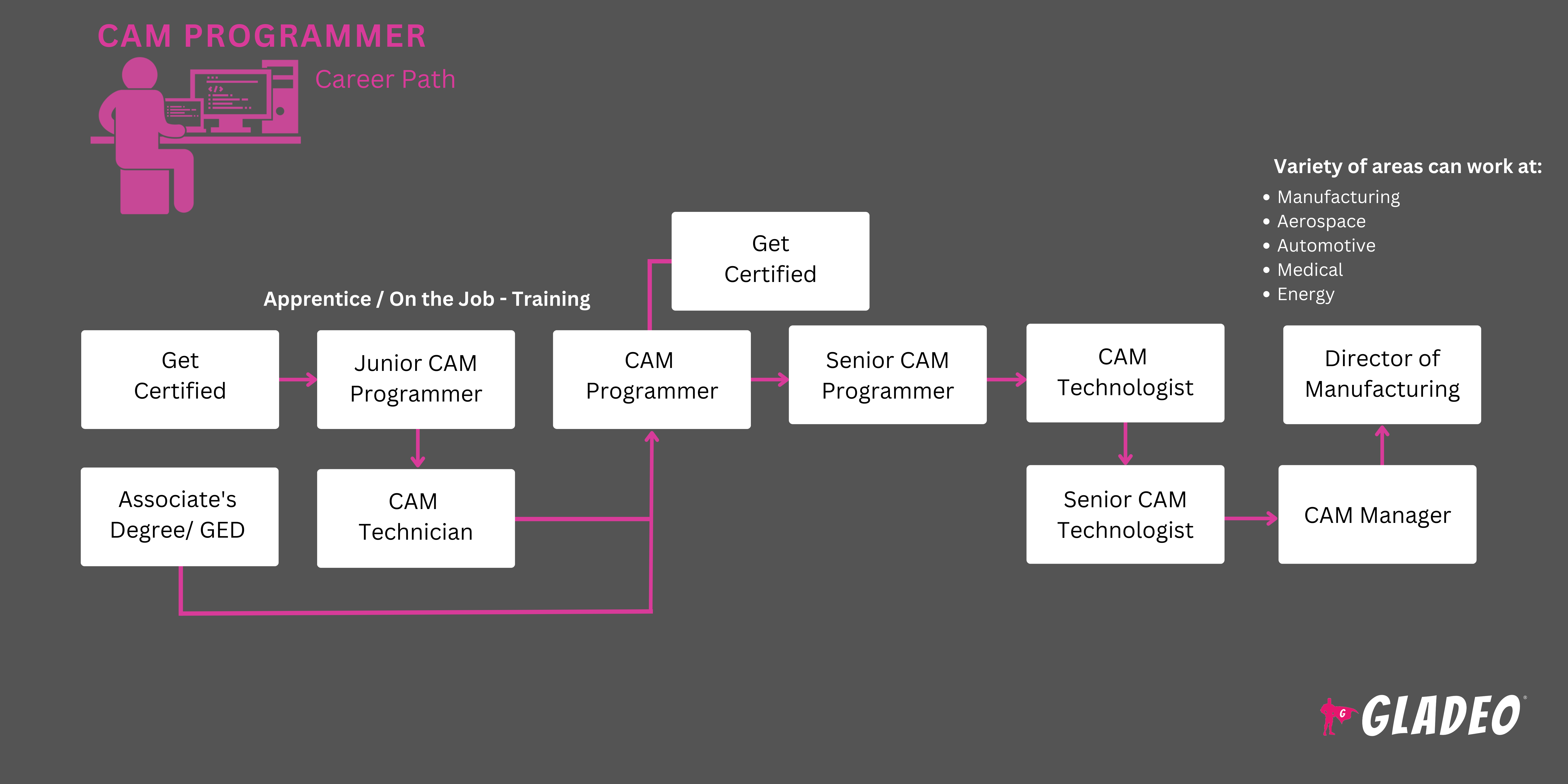 How to land your 1st job
Check out job portals such as

Indeed

,

Simply Hired

,

Glassdoor

, and

Craigslist

Get as much practical shop work experience under your belt as you can before applying

Consider enlisting in the military in a

machinist career field

. You'll get free paid training and can earn job experience which can be used in either a military or civilian career

Seek out

apprenticeships

sponsored by employers, unions, or trade associations

Ask working CAM Programmers and CNC machinists for job-seeking tips

Consider getting a certificate or associate's degree. Academic credentials may help you stand out against the competition

Ask your school's career center for help connecting with recruiters and job fairs

Ask potential references in advance to see if they'll recommend you or write letters of reference

Check out online resume templates and review potential job interview questions
"It is essential to demonstrate a proactive approach and an unwavering commitment to excellence," advises Chris Lee. "This means not only being physically present but also exhibiting readiness to work, learn, and grow professionally. Display genuine enthusiasm and passion for the field, as these traits will resonate with potential employers."
"Honesty and integrity play pivotal roles in the job search process. Be transparent about your skills and limitations, refraining from embellishing your resume. Employers appreciate candor and will make informed decisions about your suitability for a role. Recognize that, as a newcomer, you may require guidance and training, and express gratitude for the opportunity to learn and contribute."
"Developing and showcasing a diverse range of relevant skills will further enhance your chances of success. By combining a proactive attitude, a hunger for knowledge, and a foundation of pertinent abilities, you will be well-positioned to embark on a rewarding career in any industry."
How to Climb the Ladder
Study manufacturer and software guides. Become an expert on the programs and machines you use

Pay attention and take notes during any OJT you're offered

Follow procedures and ensure your programming results in accurately manufactured parts

Demonstrate that you can be trusted to work independently

Ask your supervisor how you can improve your CAD, CAM, and CNC machine knowledge and skills to better serve the company. If they suggest doing a certification, knock it out (but see if they'll pay for it)

Learn all you can from programmers with more experience than you. However, don't take shortcuts or pick up bad habits. Be sure to follow procedures as directed by your employer

Collaborate effectively on teams and focus on solving problems

Demonstrate leadership by setting an example for others to follow

Train new workers patiently and thoroughly. Make sure to always wear appropriate personal protective equipment to avoid mishaps as well as less obvious hazards such as hearing damage

Stay engaged with professional organizations and unions, such as the

International Association of Machinists and Aerospace Workers
In conclusion, Chris Lee suggests the following: "Remember that your attitude can be the key determinant of success in this field. Embrace the principle that it's not solely about what you know, but rather how you utilize and apply your knowledge. Maintain a humble demeanor and an open mind, welcoming every opportunity that comes your way. Exploring new experiences can lead to valuable learning and growth, enriching both your personal and professional life."
"Do not hesitate to admit when you don't have an answer but strive to develop the skills and resourcefulness needed to find solutions to challenges. Recognize the importance of teamwork and the value of relying on your colleagues to bridge knowledge gaps. This collaborative approach will contribute to your growth and make you a stronger candidate in the job market."
"Ultimately, the most sought-after companies are interested in your problem-solving abilities and thought processes rather than an encyclopedic knowledge of every subject. Acknowledging this fact and focusing on cultivating a growth mindset, adaptability, and strong collaboration skills will set you on a path to success in this dynamic and rewarding industry."
Recommended Tools/Resources
Websites
Books
In terms of resources, Chris Lee suggests using social media to network and YouTube to learn. "In addition," he writes, "consider seeking hands-on experiences within your local community. Approach businesses or workshops in your area and offer to help with tasks such as cleaning or organizing in exchange for an opportunity to learn and observe. Not only can this initiative lead to valuable learning experiences, but it may also result in potential job offers, as employers appreciate a proactive and dedicated attitude. Embrace creativity and be resourceful."
Plan B
Many CAM Programmers find the work interesting, but sometimes the job can get monotonous after a while. If you're interested in exploring similar occupations, we suggest the following to consider:
Boilermaker

Drafter

Graphic Designer

Industrial Designer

Industrial Machinery Mechanic

Lathe and Turning Machine Tool Setter

Metal and Plastic Machine Workers

Millwright

Tool and Die Maker

Welder
Newsfeed Featured Jobs Online Courses and Tools