Spotlights
Similar Titles
Audio Engineer
Sound Engineer
Recording Engineer
Sound Engineering Technician
Mixer
Studio Engineer
Theatrical and Broadcast Technician
Audio Engineering as a whole encompasses a number of other careers so titles can also include:
Music Producer
Post-Production Engineer for Film/Television
Live Audio Engineer
Job Description
Audio engineering refers to a wide range of jobs, typically in the entertainment industry, that all involve setting up, operating and maintaining equipment utilized in working with sound to create a more polished or complex end product. Jobs under the audio engineer blanket can vary from music producers to post-production sound design for movies, but a key element of the job is being knowledgeable in a subject and personable enough to help bring out a creator's best work.
"Working with an artist is the key element in being a music producer, in that it is ultimately about getting a performance out of the artist which is what they've always wanted to have. Giving that artist the inspiration or push to have a career all about being bigger than life. He is the liaison between the artist and the world, and pretty much can be a collaborator for music, lyric, staging, for different areas that unfold within their career." - Magic A. Moreno, Producer/Mixer/Recording Engineer, Magic Presence Studios
Rewarding Aspects of Career
"From a engineering standpoint, it's when you hear from an artist after you master their album — that's the stage after you mix. When they get it back and go 'oh my god, I had no idea I could sound like this,' that's truly transformative. It's sublime." - Magic A. Moreno, Producer/Mixer/Recording Engineer, Magic Presence Studios
Working in often desired industries (Music, Film, etc.)
Travel
2016 Employment
134,300
2026 Projected Employment
145,000
The Inside Scoop
Day in the Life
The typical "day in the life" of an audio engineer varies based on what kind of industry the engineer works in. For example:
In the music industry, most of a day is spent working with musicians and singers on developing an album by interlacing various sound files together on mixing software.
In post-production film audio, days are spent recording scores that are performed by orchestras and producing a final version to play over the movie.
"I'll mix for 16 hours, have them take me back to my hotel for eight to sleep. Then back for 16. It just rotates around the clock. I'll do that until I get done." - Magic
Different Types of Organizations
Music Production
Film Production
Television/Commercial Production
Video Game Production
Live Audio Venues
Education
Skills Needed on the Job
Attention to Detail
Tenacity
Computer/Technical Savvy
Communication Skills
Listening to/Monitoring Multiple Activities
Manual Dexterity
Problem-Solving Skills
Active Learning
Time Management
Social Perceptiveness
A Grasp of Popular Culture
Musicality
Fine Arts Knowledge
Good Team Player
Expectations and Sacrifices
Somewhat high education/knowledge barrier to keep up with constantly changing technologies, skills, popular culture trends, etc.
Large monetary investment if buying out software and technology to develop one's own career rather than joining a pre-existing studio.
Large time investment (saving a year's worth of finances is recommended for time it takes to get a foothold in a larger market, as most places don't hire without previous experience)
Possible long-term risk of hearing damage or afflictions like arthritis.
Current Industry Trends
Audio Engineers can download software to personal computers that replaces hardware technology necessary as recently as ten years ago.
As a result of this, people can more easily transition from studios to more compact household set-ups and be just as successful as a producer with some investment.
Depending on the industry of focus for an audio engineer, popular culture may vary what skills or knowledge is necessary over time.
For example, going from more 'Rock' or 'R&B' sound mixing in the late 20th century to 'Rap' and 'Techno' sound mixing in the 21st century.
What kinds of things did people in this career enjoy doing when they were young...
Technical hobbies, working with computers
Playing music, taking part in other performing arts
Audio engineering or mixing as a hobby, for example taking an interest in software like Garageband or analyzing different components of songs to isolate specific instruments.
Education and Training Needed
Audio Engineers don't always need a bachelor's degree to get started, but some students finish programs in fine arts, performing arts, or communications technology
Many Audio Engineering schools, such as the Los Angeles Recording School, offer compressed certificate, associate, and bachelor's programs  
Some workers don't go for a bachelor's but just finish an associate's in Audio Engineering 
Develop critical listening skills to "train your ears"  
Sample college courses may include "Recording Techniques, Recording Theory, The Business of Audio, Musicianship for Audio Engineers, Mixing Essentials, and Vocal Production"
Per O*Net, 22% of "Sound Engineering Techs" have an associate's and 22% have a bachelor's degree, while 19% have neither
Additional ad hoc certifications can bolster your credentials, such as:

Audiovisual and Integrated Experience Association - Certified Technology Specialist 
Avid Technology - 

Certified Operator for Pro Tools | Post    
Certified Operator: Pro Tools | Worksurface
Certified User: Pro Tools for Game Audio   
Certified Operator: Pro Tools | Music    
Certified Operator: Avid VENUE    
Certified Mixer: ICON Mixer    
Certified User: Media Composer    
Certified Professional: Media Composer    
Certified User: Sibelius    
Certified Expert: Pro Tools | S6    
Certified User: Avid VENUE | S6L    
Certified Professional: Avid VENUE | S6L  

Society of Broadcast Engineers - 

Certified Audio Engineer    

Certified AM Directional Specialist    
Certified 8-VSB Specialist    
Certified Broadcast Radio Engineer    
Certified Broadcast Networking Technologist    

In addition to educational requirements, many workers have years of hands-on experience working in various entry-level jobs at film or TV studios, music studios, ad agencies, radio stations, or even on road crews for touring bands
Audio Engineers must become familiar with a range of equipment including converters, digital audio workstations, dynamic range compressors, microphones, mixing consoles, music sequencers, and signal processors
Safety protocols are also an important part of the learning curve, as you will be working with electrical equipment
Things to do in High School and College
Stock up on courses in music, electronics, and communications
Join audiovisual clubs to get hands-on experience as well as learning teamwork and effective communications 
Consider applying for the audio-related internship jobs
If you've ever experienced hearing trouble, consider having your hearing tested to ensure you can work in this field
Start mixing your own songs for SoundCloud or Vevo. Look for friends and community members who want to join your projects!
Get familiar with the software and equipment used for recording, mixing, and reproducing sounds, to include music, singing, speaking, and effects 
Advertise your freelance services in the local area or online 
Launch an online sound portfolio to showcase your skills and work
Be persistent! Apply for audio internships at recording or production companies until you land one!
Ask questions when you don't understand a term or concept
Study books, articles, and video tutorials (see our list of Resources > Websites)
Interview a working Audio Engineer or watch video interviews. Ask if you can shadow them at work and take notes
Join professional organizations to learn about trends and grow your network 
Top Educational Institutions
1. Berklee College of Music, Boston, MA
2. Full Sail University, Winter Park, FL
3. New York University  - Steinhardt, New York City, NY
4. The Los Angeles Film School, Los Angeles, CA
5. Georgia Institute of Technology, Atlanta, GA
Typical Roadmap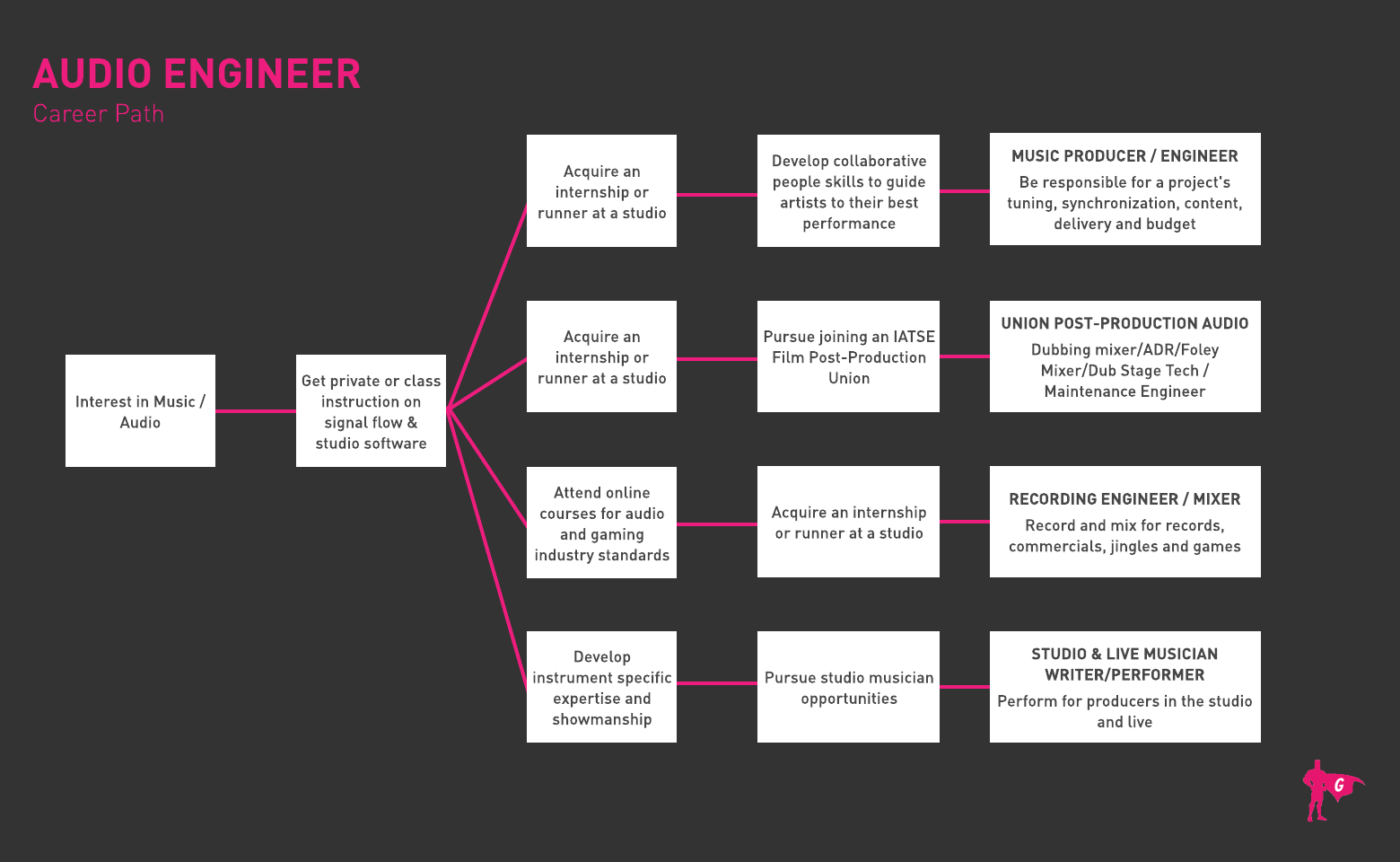 How to land your 1st job
Working as a gopher or a runner for a studio in one's desired industry can grant them access to industry professionals as teachers and networking opportunities.   
Be ready to work your way up! Many Audio Engineers start as assistants setting up recording and mixing sessions, microphones, and other audio equipment, as well as troubleshooting bad cables or helping musicians 
Let your network know you are looking for jobs or internships! Per CNBC, "Research shows that 70% of all jobs are not published publicly on jobs sites and as much as 80% of jobs are filled through personal and professional connections"
Gain as much practical experience as you can before applying, to show you are committed to working in this competitive field
Move to cities in states where there are more job opportunities, such as California and New York
Check out job portals such as Indeed, Simply Hired, and Glassdoor
Ask college teachers, former bosses, and co-workers in advance if they'll serve as personal references 
Talk with your college's career center for help with resumes, mock interviews, and job searches 
Review Audio Engineer resume templates to get ideas for formatting and phrasing
Be personable yet professional during interviews! Study Audio Engineer interview questions to prepare 
What it really takes to make it
Tenacity
A strong sense of musicality
Networking skills
Technical abilities
Business savvy
How to Find a Mentor
Working smaller jobs at studios producing the kind of content one is interested in can open opportunities to network with industry professionals.
Reaching out to individuals who mix and produce independent of larger studios and asking questions.
Recommended Tools/Resources
Organizations
The Audio Engineering Society - http://www.aes.org 
The Audiovisual and Integrated Experience Association - https://www.avixa.org 
The Engineering and Recording Society of Chicago - http://www.ears-chicago.org 
Websites/Blogs
The Stereo Bus - https://thestereobus.com 
WinkSound - https://www.youtube.com/user/WinkSound 
Music Radar - https://www.musicradar.com 
Los Angeles Recording Studios Directory (circa 2015) - http://musicconnection.com/pdf/industrycontacts/Directory_RecordingStudios_2015.pdf 
Magazines
Tape Op - https://tapeop.com 
Sound on Sound - https://www.soundonsound.com 
Audio Technology - http://www.audiotechnology.com.au 
Books
Plan B
Audio engineers can cycle between a number of industries if they want to continue doing the same kind of work: 
Music production
Film production
Television/Commercials
Live performance venues (concert halls, clubs, etc.) 
Video game sound design
Director
Performer
Agent/Representative for an artist
Working in a subsidiary supportive role for the given industry of interest (such as being a piano tuner)
Teaching
Electronics installation/repair
Words of Advice
"Start saying to yourself and to everyone around you what it is you want to do. Make up the story first, see it in your mind, then wait with anticipation for the universe to send you the opportunity. The universe loves a made-up mind. You have to stand at the edge of a cliff, look at reality and what it is you have the gumption to pursue. You can say 'I want to be the best six-gun shooter in the West,' but unless you're willing to get up everyday and put in four hours shooting a six-gun, it's not going to happen. You have to be tenacious, you have to say what it is you want reality to be. If you have all that together, go visit the studio." -  Magic A. Moreno, Producer/Mixer/Recording Engineer, Magic Presence Studios
Newsfeed Featured Jobs Online Courses and Tools