Spotlights
Similar Titles
Aeronautical Engineer, Aerospace Engineer, Aerospace Stress Engineer, Avionics Engineer, Design Engineer, Flight Controls Engineer, Flight Test Engineer, Structural Analysis Engineer, Systems Engineer, Test Engineer
Job Description
The world as we know it would be dramatically different without the work of Aerospace Engineers. No more airplanes for passengers to travel easily to any place on Earth. No more satellites to aid with communications, navigation, environmental monitoring, and national defense. And, of course, no more space exploration, either. Even though we might sometimes fail to remember the contributions of Aerospace Engineers to modern society, we'd certainly notice if we didn't have them!
Broadly speaking, workers in this field specialize in either aeronautical (i.e., commercial or military aircraft and propulsion systems) or astronautical (missiles and spacecraft, including satellites) engineering. Although there are many differences between the two specialties, there are many shared principles of physics that apply to both. 
There are several subareas in which Aerospace Engineers might specialize, such as materials, aerodynamic fluid flow, thermodynamics, celestial mechanics, structural design, navigation, guidance and control, propulsion, combustion, and more. Aerospace Engineering is an extremely diverse field and it's considered one of the hardest engineering majors to tackle. But the job outlook is strong, the pay is impressive, and job satisfaction rates fly high!
Rewarding Aspects of Career
Empowering space exploration   

Enabling people to travel around the world for business or personal reasons

Ensuring accurate navigational capabilities via satellites

Great income potential

Sense of accomplishment 

Working in a dynamic field that impacts almost everyone 

Working with technologies to determine hazardous weather conditions so affected residents can be warned in advance
2021 Employment
58,800
2031 Projected Employment
62,400
The Inside Scoop
Job Responsibilities
Working Schedule
Aerospace Engineers usually work full-time, with overtime needed in some cases to ensure projects are completed within timeframes and that work meets design and performance standards. 
Typical Duties
Review technical proposals to determine viability, safety, budgetary considerations, and compliance with environmental policies

Determine if the company can fully meet customer requirements 

Oversee the lifecycle of aircraft/aerospace parts, equipment, and vehicles from design to fabrication, manufacturing, and testing

Analyze product designs against aerospace engineering principles

Research vendors and suppliers to source the most suitable solutions 

Set quality assurance and testing standards and ensure designs meet the criteria

Establish completion timeframes and track progress

Design products and systems using math models or computer analysis

Run tests and experiments to ensure prototypes function per specification while withstanding anticipated stressors

Investigate problems, perform diagnostics, troubleshoot and inspect parts or products that don't operate within parameters due to malfunction or damage

Write reports and maintain documentation and records

Study aerospace impacts on the environment and continue to find ways to reduce emissions 

Evaluate the viability of alternative fuels 
Additional Responsibilities
Research and develop new aerospace technologies and potential capabilities

Train and supervise other team members, as needed

Stay up to date on industry changes and technological advancements

Attend professional organization events to share information and learn from others
Skills Needed on the Job
Soft Skills
Activities Coordination 

Analytical 

Attention to detail

Business acumen

Collaboration 

Creativity

Critical thinking

Decisive

Detail-oriented

Independent

Objective

Organized

Patient

Perceptive 

Problem solving

Reading comprehension 

Safety-oriented

Strong communication skills

Visualization 
Technical Skills
Aerospace design principles

Applied physics

Engineering and technology 

Knowledge of

fabrication and manufacturing

Mechanical aptitude

Operations analysis

Strong science and math skills (including algebra, linear algebra, trigonometry, calculus, and statistics)
Organization Types
Aerospace product and parts manufacturing    
Engineering services    
Federal government, excluding the postal service    
Navigational, measuring, electromedical, and control instruments manufacturing    
Research and development in the physical, engineering, and life sciences
Different Types of Organizations
Aerospace products, parts, and related fields of manufacturing

Defense contractors (such as Boeing, Airbus, Lockheed Martin, General Dynamics, GE Aviation, Northrop Grumman, Raytheon, etc.) 

Engineering services

Government agencies (such as NASA, National Geospatial-Intelligence Agency, National Reconnaissance Office. U.S. Air Force, U.S. Space Force, etc.)

Private companies (such as SpaceX, Blue Origin, Virgin Galactic, etc.) 

Research and development centers
Expectations and Sacrifices
In the realm of Aerospace Engineering, the stakes are sky-high! The safety of countless people rests in the hands of these experts responsible for the planes we fly in—or that fly over our heads! 
They are entrusted to ensure safe rocket and missile launches and to develop aircraft capable of deterring foreign militaries. Because of the sensitive nature of their work, Aerospace Engineers frequently need to obtain a security clearance requiring a background check. In addition, they must maintain their clearances through good personal conduct, managing debt, avoiding conflicts of interest or security violations, and staying away from drug or alcohol-related incidents (to name only a few of the behaviors that impact one's security clearance and jeopardize employability). 
A common sacrifice in this field is the possible need for frequent moves. The aerospace industry can experience ups and downs depending on demand and economic factors. 2017 saw top companies in the industry laying off engineers to cut costs, causing many workers to have to relocate to find jobs. Sometimes workers might even move overseas to find suitable jobs for their unique skills. 
Current Trends
Automation is ubiquitous and the aerospace industry is taking full advantage. Thanks to automation technologies and processes, workplace hazards related to aerospace manufacturing can be reduced, allowing human workers to focus on safer tasks. This trend is projected to continue, which means engineers must stay on top of how automation might affect their work tasks. 
Another trend impacting pretty much every industry is the push for environmentally-friendlier business. Per the BBC, "around 2.4% of global CO2 emissions come from aviation." Combined with other gasses and vapor trails, research indicates aviation accounts for ~5% of global warming. That's why the industry continues to seek lighter, stronger materials which lead to less aircraft fuel consumption and fewer emissions. 
A third major change seems to be the increased outsourcing of engineering services to speed up overall manufacturing times while boosting quality for specific components. Any time work is outsourced, engineers need to take notice of how it impacts their own jobs in the short and long-term.
What kinds of things did people in this career enjoy doing when they were younger…
The love of flying and space exploration has inspired countless Aerospace Engineers to take up this exciting field of study and join the storied ranks of its accomplished figures. In their youth, these would-be engineers may have been aviation buffs as well as science fiction fans eager to become part of something bigger, to contribute to the legacy of aeronautical and astronautical achievements. They might have wondered if one day they could join the aerospace community to work on the next technological innovation that would revolutionize the world. As engineers, they likely enjoyed tinkering with things, learning how mechanical objects worked and perhaps figuring out how to improve them.
Education and Training Needed
Aerospace Engineers need an

ABET-accredited

bachelor's in aerospace engineering or a closely related engineering field

Many students opt to pursue a dual bachelor's/master's which can save time and money

Common classes to expect may include:

Acoustics

Aerodynamics

Celestial mechanics

Combustion

Guidance and control

Instrumentation

Materials

Mechanics

Navigation

Propulsion

Robotics

Thermodynamics

Many programs partner with local businesses in the industry to offer internships and cooperative experiences that boost student understanding and develop practical skills 

Optional certifications are available, depending on academic and work prerequisites: 

Some aerospace employers, especially in the defense sector, require workers to pass a thorough background check and obtain a security clearance

Citizenship may be needed for some clearance situations
Things to look for in an University
Consider the cost of tuition, discounts, and local scholarship opportunities (in addition to federal aid)

Think about your schedule and flexibility when deciding whether to enroll in an on-campus, online, or hybrid program. Many Aerospace Engineering concepts are best learned in-person 

Check out the program's faculty awards and accomplishments to see what they've worked on

If attending on campus, look at the program's facilities and equipment 

Review job placement stats and details about the program's alumni network 
Things to do in High School and College
Volunteer for school activities where you can learn to work effectively as a team and manage projects 

Sign up for HS classes in chemistry, physics, advanced math, computer programming, drafting, and writing

Look for internships and cooperative experiences in college

Gain part-time work experience in a manufacturing facility to learn about operations

Write down the names and contact info of people who might serve as future job references 

Study books, articles, and video tutorials related to different aspects of Aerospace Engineering

Aerospace engineering is a broad discipline so do your research to specialize in a field that is right for you

Pin down the area a

specialization

as soon as possible to tailor your education accordingly

Compile a list of potential employers, then review their website career pages

Talk to seasoned engineers about how they got started and what their day-to-day is like

Join professional organizations to learn, share, make friends, and grow your network (see our list of

Resources > Websites

)

Finish relevant certifications when you can, to bolster credentials and make you more competitive in the job market

Start drafting your resume early and keep adding to it as you go, so you don't lose track of anything
Typical Roadmap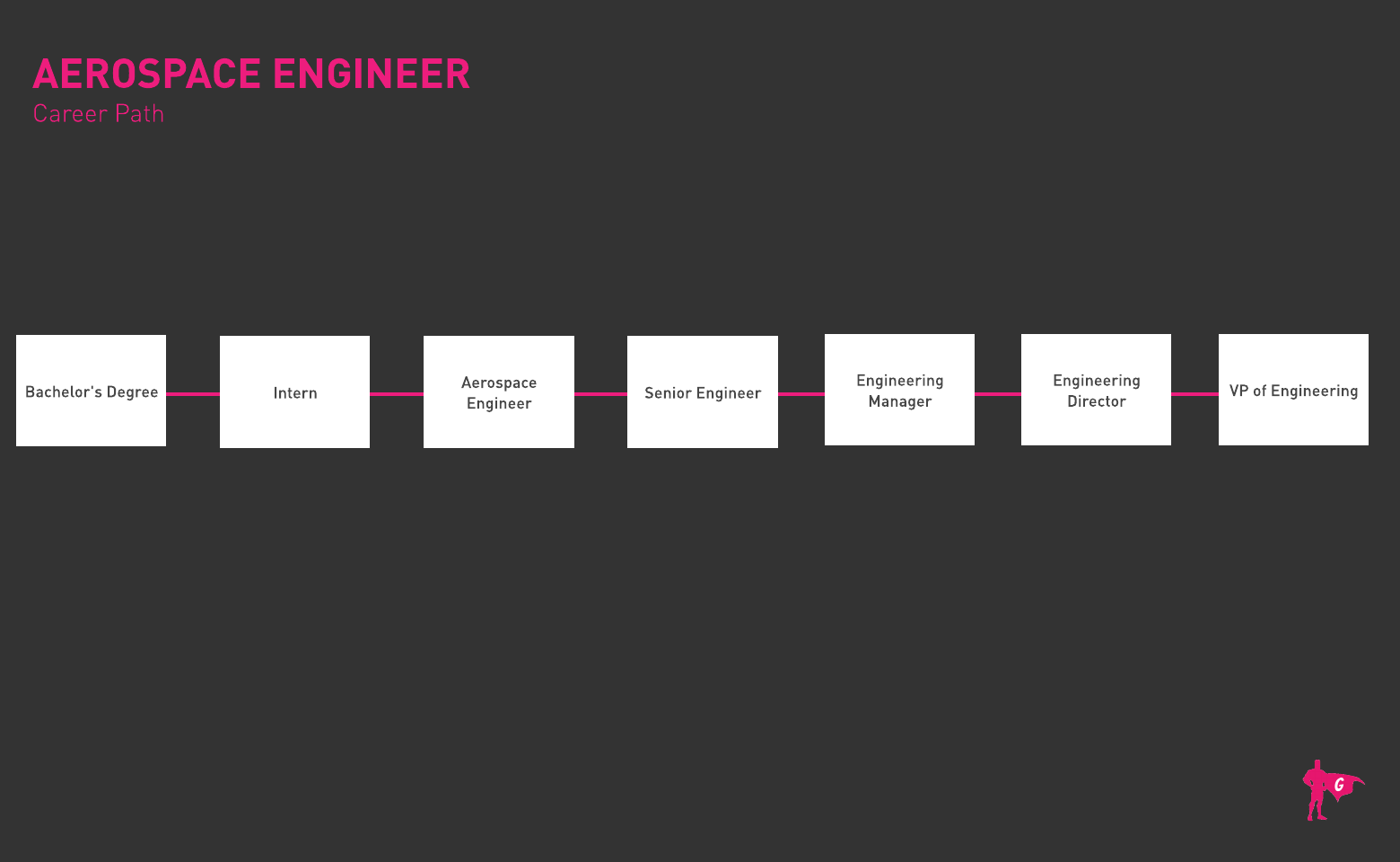 How to Land your 1st job
Tell your network you are ready to work!

Make a profile on job portals such as

Indeed

,

Simply Hired

,

Glassdoor

,

Zippia

, and relevant professional organization job boards

Look for jobs related to your area of specialization. Screen ads carefully and only apply if you're fully qualified

Tailor your resume to the job you're applying for, versus sending out the same resume to every employer

Aerospace-related apprenticeships

or cooperative experiences can help get your foot in the door. They look great on resumes plus may yield some personal references for later. You might even get a job offer from that company in the future!

Reach out to working Aerospace Engineers to ask for job-seeking tips

Move to where the most job opportunities are! Figure out where the top employers are primarily based

The states with the

highest employment level

for Aerospace Engineers are California, Texas, Florida, Washington, and Alabama

Many big companies recruit grads from local programs, so ask your college's program or career center for help connecting with recruiters and job fairs

They might also offer assistance with resume writing and mock interviewing

Review

Aerospace Engineer resume templates

to get ideas for wording and formats

List all education, skills, training, and work history on your resume

Consider having your resume drafted or reviewed by a professional resume writer or editor 

Ask former teachers and supervisors ahead of time if they'll serve as personal references. Don't catch them off guard by listing their contact info without permission

Study

Aerospace Engineer interview questions

to see what you might be asked

Make an account on

Quora

to ask job advice questions from workers in the field

Dress appropriately for

job interview success

! 
How to Climb the Ladder
Depending on the type of promotion you want, a Professional Engineering license could help. This involves passing two exams — the Fundamentals of Engineering and Professional Engineering, in addition to holding an ABET-accredited bachelor's plus four years of work experience

Stay on top of the changes in technology through online courses, a master's degree, or advanced certifications

Build your reputation as an engineer who is accurate, accountable, reliable, and innovative

Learn all you can from more senior engineers. Develop the mindset of a lifelong learner 

Make strong connections within the company as well as with business partners, stakeholders, and the industry at large

Demonstrate leadership as well as teamwork, depending on the situation. Raise the bar high and set an example for others to follow

Stay engaged with professional organizations by giving lectures at events, publishing articles, and contributing to the field

Win awards that can help enhance your professional reputation

Schedule a conversation with your supervisor or manager to discuss opportunities for advancement

If needed, consider applying to new jobs with more promotion potential. You might even have to be willing to move to a new state…or new country!
Recommended Tools/Resources
Plan B
As with all engineering jobs, the role of the Aerospace Engineer is highly challenging and features high stakes. The personal rewards and spirit of accomplishment can be great, but the job's simply not for everyone. The Bureau of Labor Statistics lists a few related occupations to think about, for those who still want to explore engineering career paths. 
Aerospace Engineering and Operations Technologists

Architectural and Engineering Managers

Computer Hardware Engineers

Electrical and Electronic Engineering Technologists

Electrical and Electronics Engineers

Industrial Engineers

Materials Engineers

Mechanical Engineers
Newsfeed Featured Jobs Online Courses and Tools